There has been some interest in an Oster Clipper maintenance thread. Here's my attempt at a beginning.

Attached to this clipper is a #10 blade. The #10 blade leaves about 1/16 inch of hair.

Removing the blade from the Oster A5 is quite easy! On the back of the clipper, just below the blade there is a black metal latch. It looks like an L-bracket with a rolled over edge.

You need to push that latch up towards the blade: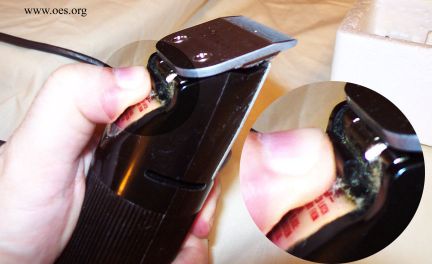 As you can see, it does take some effort to push this latch.

While you are holding the latch in, gently pull the top of the blade away from the clipper: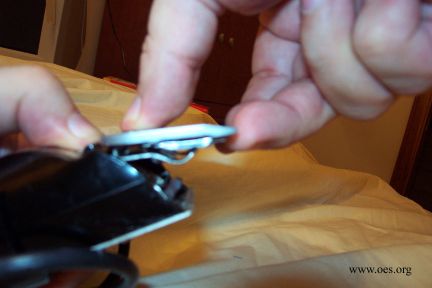 This blade is now in the fully open position.
I've turned the clipper sideways to better show what's going on, but I find it easier if the clippers are pointing straight away from you and you pull the blade back towards you. The blade will move only an inch or so, but you should feel it give a little snap when it gets into the open position. The open position is not quite completely vertical; the blade still leans a bit towards the clipper.

Once you've pulled the blade into this open position, simply slide the blade up off of the single silver lever that it is sitting on.



CAUTION:

The lever will need to be in the open position to re-install the blade. Be careful not to push that silver lever in towards the clipper while there is no blade on it! There is a large spring on it, and it will be quite difficult to get it back into the open position.

Here is the lever in the open position: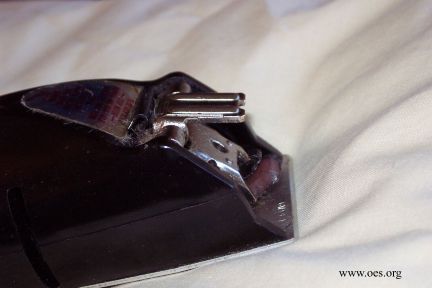 If you should accidentally close the lever, you will need to use a small flat-head screwdriver to pry it back into the open position.

Here I am, getting a corner of a screwdriver under the lever. Go at it from the side, and get just a little bit under and GENTLY work the screwdriver under and then up: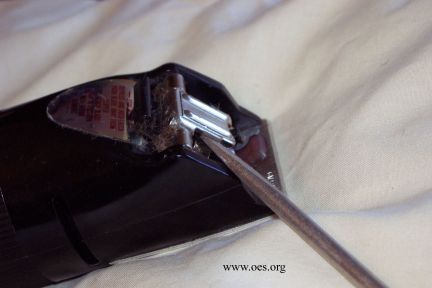 It does come up! Be gentle!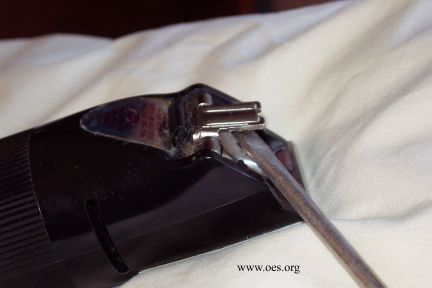 Now move on to cleaning and oiling your blade!