Im having a frustrating day today....all I have to do is draw a bathroom/closet/workstation...all combined into 2 rooms and for some reason...im drawing a blank..Ive done more erasing than drawing.....

I should just go home....
Respond to this topic here on forum.oes.org
Keep at it and something will flow in ideas


I just got all the appliances installed on friday, all stainless steel, now the bench tops and what colour to choose
I am at a blank too at the moment.
If your cabinet color is staying the same (reddish brown) and depending on the overall look you want...heres what I would do:

Metro-contemporary....Black
Country....med to dark green
Neutral....similar shade as cabinets
Safe...beige
Funky....apple green



dont forget to change out your knobs, that will finish the updated look...buy a few, put them on to get a better idea..stainless would help tie the whole thing together
I might post a picture for you to see Darcy as it is now, I have to get a frosted glass splashback behind the stove to the rangehood done, but the bench colours are going to be hard to choose as the kitchen is dark and under a mezzanine floor which is the ceiling. We have brick walls so might be interesting to see what you think might be a suitable colour.

We have bright red benches at the moment, very 80's


Like the idea of stainless steel knobs
Some days are just like that. No inspiration.

I have good news, Hubby decided that maybe our kitchen needs to be remodeled because our cabinets are looking crappy, even though I cleaned them. And, they are falling apart. The quality is just very poor even though they are not that old.

Here's a funny one for you. He thinks it should be easy to complete a remodel in a few days like on TV.
Even though I told him it takes about two months he wouldn't believe me.
So......that's a good thing because then he'll agree to it and I told him already so I can't help it if he doesn't believe me...


Can't wait to see your kitchen Lisaoes!
I think I want stainless too. I know they make a finish that doesn't get fingerprints but it looks like stainless but I don't know if it is or not. I also want a new energy efficient washer and dryer to help the environment and save money too of course. I really like this kenmore they've been advertising on TV that is a top load but saves 40 something % on energy and 50 something percent on water. And it comes in blue, which is my favorite color. But would it be stupid to have a blue washer and dryer? I am so used to being conservative with colors. Our current one is white. VERY old and not up to date with efficiency.

So guess what I'll be doing? WORKING very hard. Nothing's for free.
Darcy, when I'd have designer's block, I'd transfer to canary paper, turn it over and then upside down. New perspective helps.
Ok colour ideas for the Benches!!! Any suggestions would be greatly appreciated


Behind the stove to the rangehood a frosted glass splashback still to go in. New Stainless steel dishwasher on the other side.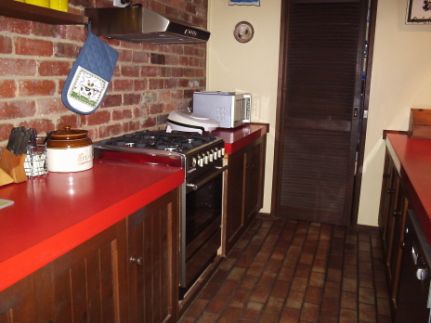 New Fridge, woo hoo, finger mark resistant, but no one said anything about sheepie girls nose prints
Easy to clean though just wipe with a soft cloth.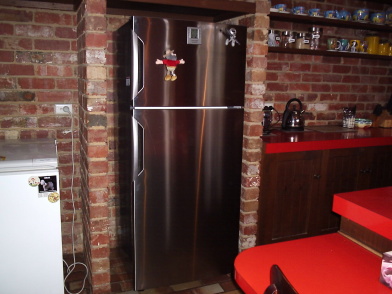 Darcy I hope your deisgners Block is now unclogged. Love the idea of the stainless steel knobs on the cupboard, think that will look great and help tie in the stainless steel appliances. Now what colour do you think would lift the rest of the Kitchen and lighten it up a bit. Anything but white am open to colour suggestions.
lol..go figure...the first color i thought of was white
what type of material are you using? formica? granite? or engineered stone? Black would still look good, but i would avoid that like the plague....you see EVERYTHING on it! the engineered stone, especially ceasar stone, has a white that looks like terrazzo...pretty freakin' cool! what about concrete? the red brick does make it a little harder...you have a lot of that going on with the walls and floors....so a ''non" color would work great...let me sleep on it.....
I say go dark, pull the color from the grout on the floor and make some of the darker wall bricks stand out.
Then again you're talking to the person with orange, asymmetrical countertops.
Definitely change the pulls on the cabinets and drawers. That was the first thing we did in our house, helped a lot!

P.S. LOVE the refrigerator!!!
I think the terrazo look that Darcy mentioned would be great.... you kind of have a bit of a creamy color in the bricks, it would bring that out nicely.
Lisa, look up www.caesarstoneus.com they have the color selection thats fantastic...look at the oyster...its not a true white but more of a creamy white with grey, gold and black flecks in it...it goes great with dark cabinets and stainless steel....I dont know if it is available down-under, but it should be......
Thanks Darcy the link is great for colours, the oyster is wonderful, hope I can get something similar here in that colour, would look great with the knob change on the cabinets and a lighter colour like that. Like the egg shell colour too, both very nice. Will lighten up the area and blend the stainless steel look in nicely.

Let you know how I go and will take another picture when the bench tops are done.

That won't be for a few weeks yet as we are off on holidays next weekend for a week, Woo Hoo no kids
Didn't find exactly what you're looking for? Search again here:
Custom Search