I would like to invite everyone to our second annual Philadelphia area Sheepdog picnic. This year we are meeting at Fort Washington State Park, which is very nice and easy to reach from the Pa Turnpike. Last year we had 16 or more Sheepies and had a great time! The date is May 16, and we have a pavillion in case of inclement waether. Contact me directly for info and directions. Everyone is welcome!
Chad IluvmyOES@aol.com
Respond to this topic here on forum.oes.org
What a wonderful group of OES and owners we had today! Thanks to everyone who came out! We had 15 OES this year. Looking forward to next year! Thanks everyone!
15 is a lotta sheepie! I would have loved to be there!

Was the weather good?

And most importantly... are there any pictures?



I am really in need of a sheepie fix today, too!
I do have a group photo. I actually sent it to you via "webmaster" for help in posting to the site. Did you get it? Hope I sent it correctly.
I haven't checked email yet today... I've been rebuilding my office


HEY! What a GREAT photo!!! I'll get it up somewhere PRONTO!

Here's a small version of it: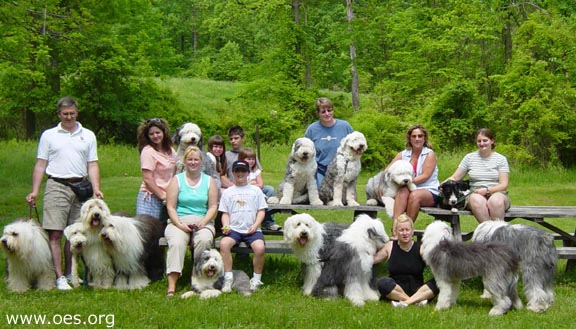 Here's a 400K version

Click here for a huge picture!
Wow! That's a lot of sheepies! How did they all behave? It looks as though they all got along... amazing....
Actually they were very well behaved. Even when I caused a bit of a delay during the picture! Darn newfangled digital gizmos! It was wonderful to walk along and pet so many sweet dogs. Also a nice warm up for the NEOESR Picnic in June. Here is the line-up... On the Left:K.C. with Charlie,Casey,Weezor, and Jasmine. Top row: Maria and family with Moe, Lori with Grady and Tori, Jean with Chloe, Kaite with Dudley. Bottom row: Nancy with Annie and her pet boy Joey, and Marian with Bennie, Sydney, Fred, and Rudy. Missing: Jen and Maddy.
YES the sheepies were very well behaved. Not one incident. Where else could you have 15 dogs without fur flying?? Sheepie's are a unique breed:) Hey Chad, did anyone from this forum show up today? I didn't ask, I just assumed that they were from the other list. Thank you so much for puttin' this together. Like you said, it was a good warmup for the NEOESR picnic.

Ree & Moe
im guessing there was a whole lot of grooming before the picnic cause that is a gorgeous group of sheepies!!
Quote:

did anyone from this forum show up today? Ree & Moe

Many folks follow both lists, sometimes with two different names, so it is hard to tell. I received a lot of e-mails from interested people who did not show. In trying to update the list last night I counted about 23 addresses. Now THAT would have been a HUGE picnic! Hope many of them will join us next year. I was impressed with the park,too. perfect place for our perfectly behaved dogs!
Didn't find exactly what you're looking for? Search again here:
Custom Search