A friend of mine's dog...a spaniel was in the show.
He sent me a picture of his dog on the grooming table and what is behind his dog? A gorgeous OES.
I have the picture if anyone is interested in seeing it.
Was wondering if it was anyone on here??
Respond to this topic here on forum.oes.org
You know, I don't know!
We've been to so many shows lately that I'm not sure if we were there or not. Do you know the dates of the show?

It probably wasn't us but put the pic up, we might be able to ID the dog for you. How funny that no matter what, there's always a sheepdog connection. Suddenly it's like 6 degrees of seperation!
Okay, I looked up that show and the only OES was CH Roseberry Robbed me of my Senses.
A very nice dog but nobody from here. The owner/breeder is Chris Gaburri from Pittsburgh. She has a good line of dogs, does rescue work and works with the National Club. So not one of "us" but a good person and dog none the less.
Maxmm wrote:

[She is] not one of "us" but [...]

Why not? Do you know how to invite her?
Next time I see her, I'll be sure to ask!
Here is the picture: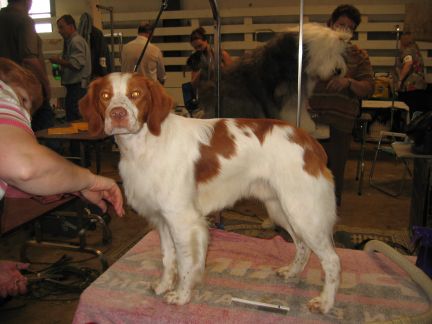 The spaniel is my friend John's dog Casey. Casey has earned 12 ribbons and three points towards his championship title.

So does anyone know the woman with the OES in the background??

If you view the original picture in the pic gallery it is much bigger.

Here is the link to the full size pic http://photos.oes.org/albums/userpics/1 ... 0_0043.JPG
That's Chris Gaburri and her special "Robbie" from a 3-boy litter they decided to use a "My Three Sons" theme. Chip and Ernie are Robbie's brothers.


Robbie is a Brittany. That is the breed I grew up with. My parents had a kennel and raised Brittanies for over 30 years. We showed in breed and obedience and field trialed them around the midwest as a family. They are nice dogs, although I have chosen other breeds as an adult! Thanks for the nice looking Brittany, Elissa, even though you were going for the OES in the background!
Didn't find exactly what you're looking for? Search again here:
Custom Search