Ok everbody. Pull out your home decorator hats and put them on... I need some advice.

We are installing a brass/antique gold chandelier in my dining room. The old fixture was a ceiling fan with a pull cord. In order to make the chandelier work, my dad has to install new wiring to setup the wall switch. (Remember? 1880 victorian = lack of wall switches) This requires him to basically go through my existing wall and ceiling to lay in and connect the wiring.

this also means that my exisitng wall paper (gold leaf pattern circa 1980s) will now have lots of patched holes and lines on that wall. Not very aesthetic.

I don't want to repaper or paint the entire room until we can afford to redo the walls (they need to be drywalled and insulated, the plaster is starting to crack and buckle) I also don't have an extra roll of that wallpaper, and it isn't my favorite to begin with. Here is a pic of the wallpaper pattern in question (you can see it behing Pippin). the color is pretty accurate.




So what should I do with the wall? Should I paint it as an accent wall, if so what color? I'm trying to maintain the Victorian feel of the house, if that helps anybody. Should I just bite the bullet and repaint the whole room?

HELP PLEASE!
Respond to this topic here on forum.oes.org
I love decorating questions!

You can always try doing just the one accent wall and if that ends up looking bad you can go ahead and paint the rest of the wall...that way you won't necessarily have to do too much work.

With goldish wallpaper and brass accessories, I'd say maybe a hunter green or burgundy (like your couch there).
How long will it be until you plan to repair the walls? I take it it's too long to leave the ripped up one? Did you already have a plan for what you wanted to do when the walls were fixed and "permanent?"
Wall repair will depend on the budget... but it will be a couple of years probably. My master plan for the dining room is:

Floor- stained and perfectly refinished hardwood
Walls- traditional panelled wainscott (mahognay or cherry stain) on the bottom, bold victorian color on the top, chair rail seperating the wainscot and regular wall
Ceiling- ceiling medallion around the chandelier (bought that Saturday
)
Light fixtures- 2 antique figural scones on the back wall (I have 1 so far), chandelier, candle sconces on the near wall (have those too)

Our budget is very limited right now, so I can't do any big $ projects... paint is about it.
Kar, if it were me...Id rip the old wallpaper off, fix whatever holes you need to, wash the walls, and leave them be until you are ready to paint, redrywall or whatever....If you do that yuck job now, when you are ready it will go a lot quicker and you'll fall in love with the finished product....unfinished walls cant be any worse that 80's wallpaper
We live in a century home, and any redecorating always includes repairs that are always long and drawn out.


Any way you could just hang a simple curtain down over the wall while it looks ugly? We did that once, and it wasn't bad. Or a fancy one, with gold tassles or something...if you want something more dressy...
Oh Nicole good idea...even better...buy inexpensive sheets ..solid or print, and staple gun it to the wall at the top sides and bottom........

youre so smart!
Darcy wrote:
....unfinished walls cant be any worse that 80's wallpaper


Wanna bet!
I thought the same thing UNTIL I made the horrible mistake of doing it!!!
It was a mess! An ugly mess!!! The old house I did that in didn't have drywall. It had those little slats of wood with cement in between each of them! (Sorry, don't know correct term).

Unless you know for sure what's behind that paper you can run into several layers of wall paper, ugly paint, no paint, asbestoes, lots of repair work, and on and on......... A lot of the cement stuff had fallen out behind the wall on my walls leaving a draft through the holes. So, if winter will be involved - BE CAREFUL! Know you insulation situation on outside walls before you tear into anything that you may regret before the $$$ is available to fix it.

Sounds like a lovely plan. Good luck, hope you get it finished soon.
Lath and plaster...lol...okay....you win
Darcy wrote:
Lath and plaster...lol...okay....you win


I think my disgusting experience, along with your knowledge makes us both winners.
Just wish it would've been the other way around. No, I wouldn't wish that on anyone! That was one project that I couldn't wait to finish. I did the "whole" house, and none of the rooms had less than 3 layers of paper to remove.
Accent wall sounds like the most simple solution. If you want it to look more fresh and clean probably paint the whole thing. The fabric sounds like a great idea but maybe beyond your budget unless you have a discount place.

That was pretty good advice about knowing what's under the walls.
It's not a matter of slapping on a coat of paint, too many variables. First, the paper must be well adhered. You don't want it pulling off with the heavy paint on top.

Also remember there are paper seams and perhaps texture that must be addressed. For seams, seal all with a skim coat of wallboard compound. The texture, well I guess you could skim coat the entire wall.

Problem is putting on water based material over wall paper might loosen the glue behind. So even if there's no texture (hopefully), you'll need to prime the whole wall with an oil based primer. Then paint away.

If there are any flaws in the wall, wouldn't a darker paint make them show up more? Darcy??

Still painting, even with proper prep, is a whole lot less trouble than stripping, patching, and adding wall board, sealing, sanding and painting.

susan
Darcy wrote:
Oh Nicole good idea...even better...buy inexpensive sheets ..solid or print, and staple gun it to the wall at the top sides and bottom........
youre so smart!


You can even just go buy fabric that would fit the room's decor in a bolt and put it up wallpaper style only with staples. I've seen that done and it looks pretty darn good. The added bonus: it covers up the nasty walls and there's no prep work like when painting.
How about moving the furniture around to hide the flaws??? Maybe you have a curio cabinet or something high to sit in front of it. May be a pain turning the light on and off by having to reach somewhat behind it, but won't cost you anything, and no one will see it unless they're right on it.

Paint - You're pattern will probably show through. Been there, done that.
But, it did make "my" ugly walls look cleaner.


Mouthypf
actually any wall color will make flaws stick out...especially lighter and darker tones.....a neurtral beige or taupe would be the best at hiding anything.....large pictures do wonders too at hiding big flaws...
OK WELL...

Putting fabric or furniture in front of the patched area won't work... remember the whole point of this exercise was to put in a wall switch for the chandelier??? Guess what you'd be covering up...

Besides which, I have wall sconces on that wall, one of which is fairly near the switch box, that also would interfere with the fabric.

From the various work that we have done (including cutting out 3 seperate holes in the wall for the switch box, trying to work around a 2x8 support stud) I can verify that we have only 1 layer of wallpaper on that wall. Yes it is lath and plaster throughout, which when we redo the walls, will have to be completely ripped out before we drywall....

a project for another year.

So my best bet is to rip down the ugly gold wall paper, from that wall at least, spackle and mud in the holes to even things out as best as I can, and paint.

color suggestions anyone?
My favorite color is a dunn edwards....underbrush (old color) (new underbrush is green)..the old color which is my all time favorite, which one day will grace MY walls is a goldish taupe....changes with light and so pretty
ooh, goldish taupe sounds like it would go well with your existing walls!
Look look! Here is my new chandelier: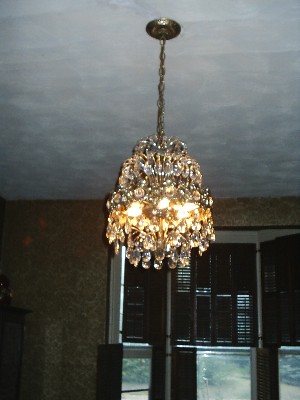 You can't even really see the ceiling patch job. The wall that got hacked apart, I didn't take a picture of, but we did have some bat escapees after the construction...

Don't ask.
B E A U T I F U L!!!
wow! I love it!!!! Its so sparkley and shiney!! It looks great!
Wow, that is beautiful.
I vote for something that will compliment, not compete with, that beautiful chandelier!
Where are the pictures of the bats?
no bat picstures, only emotional scarring after rescuing them at 3:30am from the mighty huntresses.
Didn't find exactly what you're looking for? Search again here:
Custom Search