Our neighbour are going to pick up a female 1/2 cocker spaniel 1/2 Bichon...similar to my puppy, but our's 3/4 Bichon 1/4 cocker. Same breeder tho.

Anyways I want to go buy them a nice but cheap gift for the puppy. any suggestion for something under $10...maybe $15.

What have you appreciated the most, toys, food, bling, homeade treats?

They are fabulous neighbours, their daughter babysits for us, and she has had a horrible year with the still birth at 8 mths gestation, and another recent miscarriage..a couple weeks ago.

Their daughter in high school is an honor student with a recent award. Their other daughter has cerbal Palsy because of an infection she got being a nurse while pregnant...she was caring twins and lost one, and the other now with this disability.

So I would LOVE to spend more, and get something amazing but we just can't. However this puppy is along time coming, and I have to get them something.

At Wal-Mart they have paw print bath towels. I was thinking that and a couple cheaper squeaky toys, and make some homeade treats???

Or should I just get them a small holey treat ball..they are $10, and make homeade treats.
Respond to this topic here on forum.oes.org
I like the idea of the treat ball with home-made treats!! Personal and sweet!
My little guy loves stuffed animals. I buy the ones in the baby department, not the pet department. They are better made and last longer. He LOVES beanie babies!!!!!!!!
Funny you should say that, I took a dollar store stuffed cow, gutted it and put in a squeaker...from a previous pet store stuffie that got ripped apart. I am a huge recycler. It just her size too....it is cute but she doesn't play with it.

Zoe doesn't like her stuffed toys, she doesn't play with toys at all...she likes food. We haven't had a small dog in years, and she is soooo different from the big dogs.
That's so sweet of you to get them a puppy gift! A friend of mine gave us those puppy teeth rings that look like keys. It's the cutest! I can't say it's Foz's favorite toy, but I love it!
Oh my gosh, Ty LOVES his stuffies, he carries them around the house, makes piles of them, gets up on the bed with them and trows them off. He is REALLY funny to watch. Tasker NEVER played with toys til Ty came, now Ty is teaching him!!
Would you like a homeade patchwork bed for your kennel...removable cover?

Just thinking I probably have enough scraps of fabric to sew something together, and still get a toy, and treats....make it a bigger gift.
Daisie wrote:

Would you like a homeade patchwork bed for your kennel...removable cover?

Just thinking I probably have enough scraps of fabric to sew something together, and still get a toy, and treats....make it a bigger gift.



Perfect! I definitely think you should do the removable cover for the bed! Homemade gifts are the best and every time they look at it they will think of you.
I was just digging through my scraps, I even have fabric with dogs on it. I made 2 baby soft fabric books, and forgot I had that.

I have to go to the Wal-Mart or a fabric store today and buy some buttons, maybe I can find some other cool discount fabric to finish it off.

I do love homeade stuff too, and I sew everything so it lasts. But I still think I will buy something for the puppy too, and then make some treats, the kids love to help with the cookie cutter (dog bone shaped of course)
I'm concerned a pup will bite the button offs. Can you make it like a pillow sham? They will love your gift!
Sorry I should have cleared that up. I need the buttons for my son's suit vest...just thinking if I am already at the fabric store...I can pick up some cheap $1/yrd/metre fabric.

No I would never put anything on the bed like that. Plain jane.
PetSmart sells new "squeakers" (cheap) that you can put back into a torn apart toy and re-sew it. We have a little tote full of them to replace the ones Chipper destroys.

The fabric ideas are awesome- how thoughtful!!!
Well it was my lucky day, the fabric store was clearing it's already clearance section. So I was able to pick up a few more small pieces of fabric, one even has dogs on it, the others are flowers and stripes. To add to my scraps...it will be very loud.

Then I got some cheap furry fabric, and I'm going to cut a big daisy out, and sew it ontop of the patches, then make the bottom like sham pillow cover so it's removable...if she want to add an old pillow to it for softness.

Then I got a rope bone, and a jingle ball. I will still try to make some dog treats. I have a snowman I bought from PetsMart last winter clearance for $1(it still has the tag on it)...it will be big for a puppy, but maybe this pup will like to drag bigger toys around.

So I was able to get some nice things for less than $15, including the card, gift bag, and tissue to stuff.
I have no idea as the only small dog I've ever had was a mean cocker spaniel when I was little... LOL

That's such a sweet idea though!
I've got the squares cut out, about to sew it together.

Funny is that I've been waiting forever for them to get a dog too. They were supposed to get a Beagle (the dad's fav dog), but when they met Zoe, they just fell in love.

Plus they love that she doesn't shed. So exciting for them, they've had so many losses, I just wanted to treat this as if they did bring home a real baby. After all it is not that different.


Edit with update:

The puppy is here, and she is gorgeous...looks like a cocker spaniel in the face and ears, the docked tail...cocker length, and it has a slight wave from the bichon. It is mostly white with an undertone of buff. They named her Haley.

Here is the bed I made for them.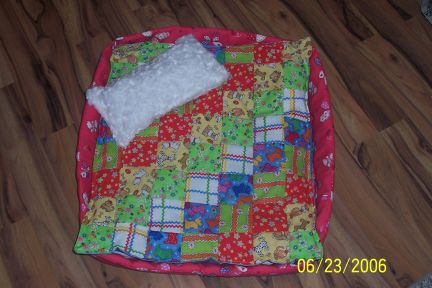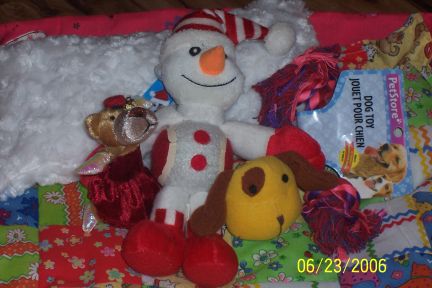 Sorry I guess I should have reposted and shown the pictures.
It's beautiful - what a thoughtful gift!!
Wow Daisie,
That is really nice! I am sure they will love it.
Didn't find exactly what you're looking for? Search again here:
Custom Search