How do they feel about water?
Respond to this topic here on forum.oes.org
Our guy loves water. He jumped in the little pool we got
for him, and waded all summer


It was refreshing
Panda loves thes ocean but not the pool.
Scruffy LOVES the water: streams, lakes, pools, sprinkelers, water bowl. If there is water she is in it. You would think she would be a better swimmer by now.
My first sheepie loved the water, but Pogo does not particularly care for it unless it's on his own terms (doesn't get in the pool when called but will drench himself playing in the sprinkler). He doesn't mind baths.
Remy's not a swimmer, but loves to stand in the lakes, or river, or kids wading pool.

On occasion in our walks she will walk through a sprinkler, not on purpose but doesn't avoid them either.
Not sure since he's never been around a pool. He LOOOOOOOVES the bathtub though.
Ava loves the pool, but I'm not sure about swimming - she's never been in water deep enough

we're going to the lake in a few weeks, so I'll update you then
Daisy loves to swim. It has been in the mid 90's for the last few days so the dog park is out except for very early mornings. With Ollie here, it's not such a big deal to miss the park for a couple of days, but Daisy likes to get out and go somewhere.

This morning I took both of them to the creek where we had been a few times before. As soon as we got there, Daisy walked into the water and started swimming around.

Although she will swim after a ball or toy, she also likes to just swim around. Since I'm still not 100% that she will come when called, I keep her on a long leash and get out into the water some myself. Ollie (just 8 wks old) actually got into the swimming a little bit himself since he insists on being with me. Just had to watch he didn't overtire himself.
Mojo loves play in the hose outside but hates taking a bath inside!
I took him to the park the other day and was going to see what he would do at the creek. There are so many geese and ducks there that the banks are a horrible mess of pooh. I didn't want him running around in that. Yuck! Will have to find somewhere else for him to try his sea legs.
oLIVE IS STILLNOT SURE ABOUT SWIMING, BUT SHE LOVES THE BOAT AND TO WADE IN THE WATER FROM THE BANK OF THE LAKE. IT WAS REALLY ROUGH THAT DAY SO MAYBE ON A DIFFERENT DAY WITHOUT SO MANY WAVES SHE WOULD SWIM OUT FUTHER.
It sounds like most of the other babies feel the same way as Callie. She loves to get wet and to wade in the water. But she doesn't like to swim when she can't touch the bottom. I think she panics a little bit.
Here's a funny story: a few days ago, my husband and I were swimming in our pool and Callie, as usual, was running around the edge being mad because she couldn't get to us. We told her she could get in, but of course she wouldn't. After a while, she settled down on the side in a precarious balancing position with her elbows on the edge, paws in the water, and butt up in the air. Along came Lambda (our pug) wanting to play. She jumped up at Callie's rear to get her attention, and it was just enough to knock her off balance. So the next thing we knew, Callie was in the pool head first. She swam immediately back to the edge and my husband boosted her out. We were so surprised (and so busy laughing) that we completely forgot that she still had on her red leather collar. A few hours later, I went to give her a bath and took off her collar to find a nice red stain on her pretty white hair. Even after a good scrubbing in the bath, it is still there! So now we have nicknamed her our little redneck dog. haha
Here's Foz after his first dip in the lake! Not sure if he enjoyed it but I'm sure we'll find out next time we go to the park. I don't know if Annie likes the water or not. They say she's good when she goes for a bath and does like to drink from a hose.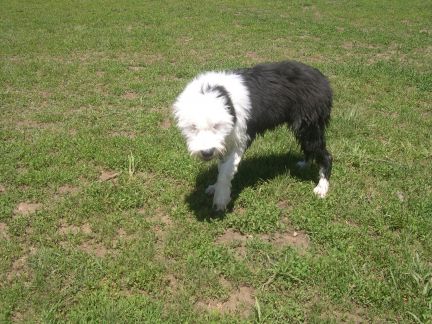 I was just pondering this last night. Once again, Maxwell and Miller complete oposites. Last night I was getting the sprinkler set up to turn on, and the short few minutes it was on, Max was in and out of it and full of mud within 3 minutes. Miller on the other hand, hates water. He almost acts like he is afraid of it. Part of me thinks that his previous owners used some type of spray water on him when he was bad. He will take a bath, but the hose or sprinkler he basically runs from. Also in the summer I fill up a baby pool and he won't even step foot in it where as max plays in it. Any suggestions on curing this behavior??
Bailey loves the hose, sprinklers, and any puddles he can find. He would probably like a kiddy pool or the lake where he could keep his paws on the ground. He hates the backyard pool though. We make him go in once a year just to be sure that he knows how to get out if he ever falls in when we're not watching. He's out of the pool like a rocket!
Swimming has always been one of Drez's favorite things to do.
We got our pool in '97 and the first time she went in, my husband carried her in and held her under her belly. Her feet immediately started swimming, so slowly he backed away from her. She swam to the steps, got out, then got right back in again.


She's always the first one in the pool when we open it for the season. And she herds people that are in the pool!
It's so funny to watch! She can be dead tired lying on the deck, and if someone goes in the pool, up she goes, right back in to "protect" them.
She swims and grunts and growls, like she's a lifeguard saying, "Go back to the steps." What a riot!

It's also great exercise for her. This way she can move without the stress on her hips.
Hmm, I really hope my girl takes to water. Seems such a waste I live on a lake. She won't go in. Last night she was with a bunch of dogs and they all went in the water and I thought YES she will go in now. NOPE!
Chipper loves the water. When he was with us Memorial Day weekend, we could not keep him out of the lake! The funniest part, he would go in about 1/2 way up his legs, and then just SIT.

He loved fetching his toys out of the lake, and woud swim after the boys.
Here is Scruffy swimming at the bosque near our house. And yes we even have tumble weeds in the water here in New Mexico.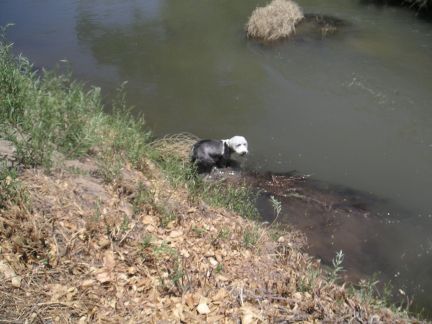 I am very happy that our boy is afraid of the waves. OES in full coat + lake + sand = one big mess!


Though he does like to park his face in his water bowl.
El Gato wrote:
I am very happy that our boy is afraid of the waves. OES in full coat + lake + sand = one big mess!
.

Boo loves the beach shes about 10in of coat and she went swimming in the sea at the weekend
The best part was all the sand in her coat and we were staying in a caravan for the weekend
soooooooo the smell of wet dog lovely.
We tried to teach our first oes to swim, but she'd jump out of the boat and sink like a rock
We'd have to jump in and save her... so, not a swimmer!

A friends oes used to love going in the pond, she'd actually sit with just her head poking up and wait for ducks to land.
We didn't even know Luke could swim until he went on a fishing trip with my husband and grandson. When they got to the river Luke jumped from the truck, ran straight to the water and started swimming away
Of course being male they were unprepared and had no hair dryer, towels or anything useful with them
. Fishing poles and worms become pretty useless at that point.
Sammy loves water, the sprinkler, the bath and if it's raining he just wants to go outside and play


We haven't taken him to a beach or lake yet but I think it will be interesting when we do
Didn't find exactly what you're looking for? Search again here:
Custom Search