Well,

There's no doubt about it, Pippin is a mini counter surfer in training!

We've had really horrid weather in MN the last 5 days. I have this huge fruit order that has needed to get planted- 2 apple trees, blueberries, cranberries and raspberries. 18 plants in all and no chance to do the planting! I finally got a small break in the weather yesterday, so I thought I'd take the opportunity and get some of my planting done.

So I made an "easy" meal for dinner- chicken fingers, fries and corn. Mike had been out working on getting the wood from the old deck cut up all afternoon, and he was really dirty, so instead of sitting down to dinner with the rest of us, he decided to take a shower before eating. By the time he was done, Christina and I had finished eating. I left the rest of the food on the table, and not thinking about it at all, rushed to get into the garden and start planting raspberries before it decided to storm on me again.

Well about 10 minutes later out comes Mike, looking somewhat disgruntled...
"Hey, Karen. Where are the chicken fingers?"
"They're on the table with the rest of the food dear"
"Uh, how come there's only one on the table???"

My face fell in chagrin. That's right, my little angelic fluff ball had countersurfed his way through daddy's chicken fingers!

"It's name is Pippin." I said with regret. Mike shook his head and went back to inside to eat his fries, corn, and single chicken finger.

At least Pip decided to share- he left Mike 1, instead of eating them all!!!!
Respond to this topic here on forum.oes.org
LMAO

Poor Mike
Poor Mike


The first victim of Pippin's countersurfing ventures.
Pip cant be that big already...how did he get to the plate?
Yep! He's huge already! He can put his paws on top of the table and do a head sweep for food about 2' in. He's TROUBLE! That's what that T on his butt stands for, didn't you know????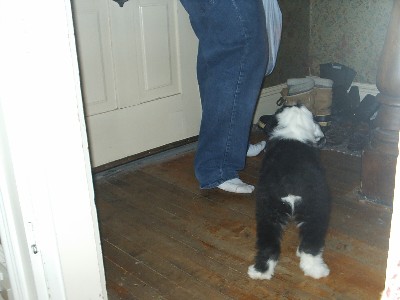 LOL
hahaha!
OMG Kar,
He's getting so BIG!!
I love the T on his butt.... LMAO
LOL
Pippin! Life is not dull at your place.
LOL
Too funny... lil thief in training.
I hope it doesn't give him diarreah though
ALL WAS OK THIS MORNING, SO HE MUST NOT HAVE SUFFERD ANY FOR HIS CRIME
Ha Ha Ha love naughty puppies


And yes he has grown
Oh geeze - what else can you say?!!!
What a cute butt picture. aweeee...

I think he's quite polite for leaving a little something for Daddy. that or PIPPIN is already trying to watch his weight.
LOL


Let the puppy proofing begin
Good luck with that Lark! You'll be amazed how fast they grow to the point where they can get to things you NEVER thought about. Pip loves to get onto my end table- no soda can or glass of juice is safe from him in the living room!
LOL, gotta love them. At least he did share. I love that little T on his butt.
At least you know now what you're in for for the next 12+ years!! He's such a cutie!
I don't think that watching his weight had anything to do with leaving one. Bet he heard Dad coming and bailed before he got caught in the act.
Didn't find exactly what you're looking for? Search again here:
Custom Search