Well, I got the baby to go to bed and had 0 problems. Why does Yuki have to be crying and moving around so much?!

Feeling bad that she is locked up in the kitchen (husband thought if he was gone, she would sleep with me), I let her out and she immediately jumps on me and goes to bed. Awee, cute. ...........................but not normal! That's what she does with daddy, not me.

I ask her what's wrong and she's starts rubbing her face against EVERYTHING. I turn on the light and her eye is swollen shut. It's so red that it.. well sounds gross but looks like her red nub tail.

Dr. put some stuff on her eye to take away the pain (after numbing it and examining it with a black light). Whatever she put in it, immediately made the swelling go down.

My poor baby. Her cornea isn't scratched, and the dr. didn't know what it was. She thinks she may have gotten some gravel or something in it, was able to dislodge it, but in the process ...creating several abrasions on her eye. She also said her eyelid rolled in pretty bad (which adds to the problem).

Anyway, she's back (it's 1:15 a.m. and $138 later) and I'm glad she's going to be okay. Just medicine for her eye for 7 days.

She passed out immediately when we got home.

Mr. J will want to see pics, so these are the 'after' pics but you can still tell her eye is swollen.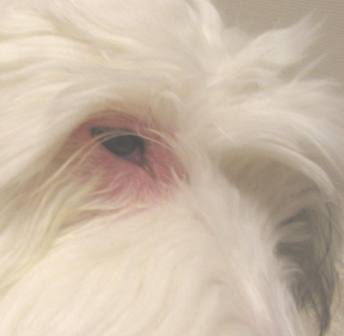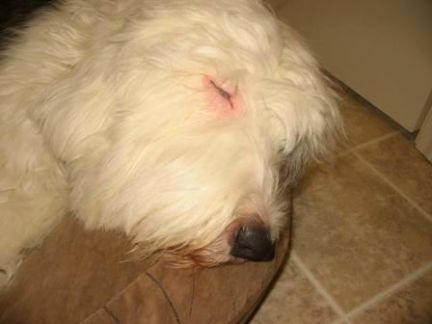 Respond to this topic here on forum.oes.org
Oh poor lil darling, glad her eye is going to settle down, looks so sore.

Give Yuki a big hug and cuddle from us all and hope you get a decent night sleep too, between sore eyes and bubba
Well, it's 3 a.m. ...and I'm dying to go to bed. There's something wrong with Yuki. After I posted this, she started to pace. Almost like she has to take a poop. Then she lays back down. Then "frantically" gets back up and doesn't know where to go. ...Cycle repeats.

They did stick a finger up her butt to check her anal glands (which were fine). I keep wondering if now she thinks she has to poop. I've taken her out more than 10 times now, and she hasn't done anything.

She's making me so nervous. I've never seen her so frantic. I just fed her breakfast in hopes it would steer her mind away from the problem issue. Nope.. didn't work.

The dr. I saw (and the clinic) is closed now for the night. I called the number they have on their machine and the Dr. just kept saying "no clue."

I hate seeing her so "stressed" and not knowing what to do. She is acting like she's got ants in her pants. Her butt looks fine (just looked up close). SSigh...

Jordan hasn't gotten up, and unfortunately it'll be morning soon. Here's hoping Yuki settles down.
She might be just irritated, the drops may have worn off. Did they give you some to take home?
Aww, poor Yuki!!
What a scary thing to happen seemingly out of nowhere. I hope her eye is better this morning.

As for her pacing, did the vet give her an injection of anything? Maybe she's having a reaction to that. Or maybe whatever the vet put in her eye stings a little and she's reacting to that.

Poor Leanne!
Hopefully you can get some rest today. Good luck!
Poor Yuki and Joah and little Mr J and big Mr. J too!


Maybe the others are on the right track and the pain is back after the drops have worn off? I hope it's something minor.
Oh gosh - poor Yuki!
I hope she was able to relax and you were all able to get some rest.
Let us know how she is this morning.
Aw, poor thing. She's probably just so nervous she doesn't know what to do. I hope things get better soon.
Poor Yuki! Her eye looks so sad. I hope she feels better soon and that you can get some rest. Poor baby. . .
Poor Yuki!! Hope she recovers soon!!

At least she didn't end with an eye patch at the vet. Then she'd be wandering around the house going, "arrrgggg".
Poor Yuki and Leanne! Glad the doctor was able to help a bit and the swelling will go down soon. Here's hoping you can all take a nap later!
Quote:

At least she didn't end with an eye patch at the vet. Then she'd be wandering around the house going, "arrrgggg".



that's funny stuff.


Well, an hour from when I last posted, Yuki settled down and went to bed. I added more medicine to her eye like suggested! She seems better now. I feel so much better. I hate not being able to do something for her. I wish it was as simple as giving her a warm bath and chicken noodle soup.
Poor girls!
Good - so glad to hear she's feeling better!
Hope you both got some sleep.
I'm so relieved. Did they tell you to administer drops on a regular schedule? I bet she'd like some chicken noodle soup!
Whew!

Nothing makes me fret more than knowing one of the kids is hurting and you don't know why.
I'm taking her back to the vet!


I feel so terrible not knowing what to do. She's doing it again. Frantically pacing. And now she's losing big patches of hair. Like, the whole floor is nothing but her hair. She went from no mats to an entire body of them.

She hasn't had a change in food.
She doesn't get any treats other than 1 Iams biscuit (broken in half/twice a day) for going poop.
There are no medications she could have gotten ahold of.
Our house is pretty clean and I don't see anything on the floor.
Nothing on the counters she could have eaten but a dishrag (which she's eaten before).

I don't know what's wrong. I hope if it's an allergy they can figure something out. She is so miserable.
Could she have been bitten by a spider or something? poor girl!
Maybe? I doubt it though. I don't see anything inflammed anywhere.


She just threw up too. Her appt. is at 11 (an hour from now).
HUG!!! POOR YUKI!

Maybe she is allergic to an indigenous Alaskan plant?? Are things starting to thaw up there, that she might have gotten into some pollen or leaves of something that was covered in snow when you came? Poor baby girl!!

Hope we hear some good news from you soon Jo!

Karen
Poor Yuki!! Poor Jo!! ((HUGS)) to you and belly rubs for Yuki. Hope the vet has some answers for you!!
Oh poor Yuki!! That's so scary but I'm confident that the Vet will be able to figure out what to do. Looking forward to an update. . .
This new dr thinks she was allergic to the eye medicine I was given. So no eye medicine for the next few days. Just 50 mg of benadryl twice a day. She seems happier now.
Weird. But that would make sense I guess. Benadryl is a miracle drug.
Hopefully that'll do it...poor girl.
Wow!
So this is internal medicine for her eye that you've stopped? Or is it the topical solution that goes right into her eye? Either way - yikes!


Take care of yourself, too. Hoping things calm down quickly.
It was like a gel that went across her eye.
Poor baby!! So glad she's starting to feel better!!
Oh dear, what a night you had. So glad Yuki is doing better. She would not be the first sheepie to have a reaction to medication, been there and the affects it has on them.


Hoping all will settle down now and the lot of you can get some catch up sleep.
Wow. What an emotional rollar-coaster. And you really could sense that there was something not quite right. Follow your gut, all the time. Good for you.
PHEW!!!!

Poor Yukster! How is she this morning? Better?
Hi J,

Sending lots of love and hugs your way. Poor Yuki and her mom..I hope everything is back to normal now. Her eye looked so sore in that photo ..give her a belly rub from me and the boys are sending sloppy sheepie kisses her way.


Marianne and the boys
Didn't find exactly what you're looking for? Search again here:
Custom Search