So we decided to paint the dining room this weekend. It was a very nice cranberry color (that was there when we moved in) but I wanted a more current color and something more 'me.' I've been thinking something along the lines of a steel blue/grey kind of color. Nothing too dark, but definitely more dark blue than light blue.

So we go to Lowes and find a color that we both like. It is a metallic medium blue color, and also a metallic darker blue color. You have to paint on a base color first, then do the metallic on top.

I'm a pretty good painter in general, but this turned out AWFUL. I used a roller and in many places you can see where I went in a different direction and didn't properly smooth it out, or you know when the roller starts to get dry and the paint goes on a little lighter...

Has anyone ever used something similar? The plan right now is to go over it with another coat, but I'm afraid that'll just make new roller marks and just be a waste of time. Any hints??
Respond to this topic here on forum.oes.org
Hire a proffesional painter!
...No really...is it a Ralph Lauren color...there paint is just horrible...never ever goes on smoothly.....
No, it's a Earth Elements paint. The base paint went on really well, it was just the top metallic paint that messed everything up
Some of those wind up pretty transparent on the first coat. It might look a lot better with one more. I did a test spot in my old house with a metallic silver that had a similar result. I went over it again and it looked quite a bit better. I ended up not painting the whole room because we decided to move so it just got painted over white.

I painted my home office tomato red. Even after using a red primer, the first coat looked so bad, I thought I had done something wrong. It took 4 coats of paint on top of the primer until it looked ok. I was so exhausted, that I gave up but it could probably still use one more!
Can you sponge something on tope, that usually gives it texture and takes care of roller marks.
I think it would look better smooth...it is a modern look, so I don't think something sponged on would give it the right look. I just looked on DIY and they had something on metallic paint and basically said that it is a hard paint to work with and to be careful that you go in the same direction. I just hope that if I go over it another time, the previous roller marks will not be visible...
metallic paints work best through spray nozzles.......rolling or brushing them on always leads to splotchiness and bubbling.
grrrrrr..............all i wanted was a pretty blue room....now I have a mess
Be careful of those metallic paints, you'll lose a ton of brain cells working with those things!!

Definitely try another layer. We did a granite finish in our bedroom and it took more applications than the instructions said to make it look right. I think they are just trying to suck you into buying their product by saying one coat or super easy or whatever. Grrrrr
Funny that this topic came up. Was picking an interior designer's brain this weekend about the Ralph Lauren metallics. He said that if you don't paint the room all at one shot, you will end up with uneven, splotchy areas. He seemed to want to discourage us from using it at all actually. Not sure about the other brands.
Well, from experience, even if you paint it all at once, you seem to get uneven splotches! I'll let y'all know how coat #2 goes tonight
I have to ask, is the base coat your color coat, and the metalic a sort of
metalic glaze?
You may get better results by using a product that you add to the
metalic coat. They usually sell it along side the paint - (but I don't know,
it may only come for water based paints.) It evens out the paint and
gives you a bit more work time - keeps it from drying so fast, helping
to avoid brush and roller marks.
I use a similar product when I paint on canvas, and in that case it
is called paint medium. It may be called that at the paint store, I don't
remember, but ask the paint person, they will know what it is.

Shellie
If it's oil based, I think the product is called Penetrol?

http://www.flood.com/Flood/CustomerSupp ... ol+FAQ.htm
Well, I looked up how to paint with metallic paint online and it basically said that it is difficult to work with and you just have to be careful...so I painted the second coat last night, being very careful and it looks much better. I would paint like a 2 foot section of the wall, then back up across the room and look to see if I left and roller marks. Took a while, but I guess it was worth it. The paint is American Tradition. You paint a base color in the general color tone that you want, then a metallic paint goes on top of that (I don't know if it is a glaze or paint, but I think it is paint).

So, all I have left to do is finish taping the bottom part of the room and then paint the stupid stripes on! I'll show y'all when I'm done.
I am trying to imagine this, can't wait to see the pics!
Sounds elegant looking.


Shellie
Ralph Lauren has special rollers for metallic paint. I found this out the hard way! (After we painted!) You are not supposed to use a standard paint roller for metallic paint.
Sorry...
I used the same paint,except a different color.
You do have to step back as you go,just like you did with the second coat.
I can't wait to see pics.
I hope your second coat is looking better this morning!

My sister tried a metallic glaze in her bedroom when she was younger. she painted it Vikings purple (not that she was trying for that particular shade, but thats what it looked like) and then did the metallic glaze and umm... yeah, not so much! Mymom ended up repainting the room periwinkle when she moved out... that is much more pleasant.

I hope your metallic project works better!!!!
Hmmm, I could have sworn that I posted the final result. Maybe I did in a different thread. Here it is...I love it--I hope potential home buyers will like it as well!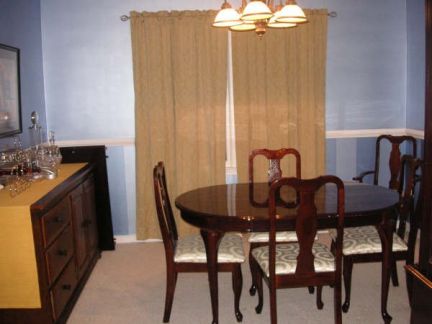 I think it looks very lovely!
Stacy wrote:

I think it looks very lovely!



Me too!
I know I am late in finding this post but I have a lot of experience with Ralph Loren metallic paint .


When we brought this house the dining room and kitchen walls were black !

( I added before and after pictures In my little Camera)

I had decided to paint stripes on my dining room walls with gold metallic and copper then stencil with mud compound . After I did the mud stencils I took some black and sponged over the stencils to make it look old.

I love the Ralph Loren metallic paint but it is a 'Must' to use the special rollers that they sell for the job. I tried to skimp on the cheaper rollers but it looked like 'POO' .

I got to admit it is a lot of work but if you take your time and let each coat dry fully before the next the outcome is great!
(Steph -- I can see your final outcome picture, It looks Beautiful !
)


The kitchen I just did Ralph Loren flat paint and did a mud stencil again and added the black sponge to the stencil.( Pictures in my little camera)

I just started to try different thing with paint in the last 5 years. I was a 'white' wall girl ( to scared to try to paint anything) but now I try anything ,I just think to myself 'Its only paint ,I can always change it if I don't like it'.


Antoinette

Before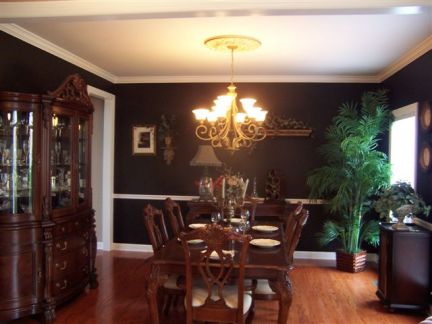 After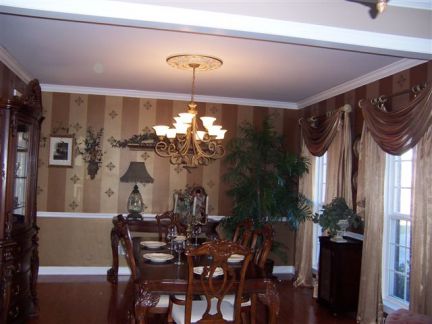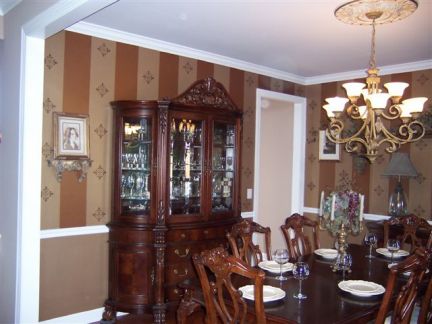 OMG what a wonderful job, Antoinette!
the blue is great! It really looks nice! Good job!

And Antionette, you can come paint my house any day you want! Amazing job!
Wow, Antoinette--that's amazing! So beautiful. I love the colors and believe me, I know how hard it is to get the stripes even and straight and everything!

And actually, the black walls weren't as bad as I thought they'd be...
wow...both of your rooms look awesome! Steph, I love the perrywinkle! and Antoinette, wow your stripes are fantastic!

Ive seen black done too and I have to say it can look really nice. It looks very traditional and goes fantastic with crisp white trim and any type of toile...
Thanks Guys !
... I had fun doing it !

Steph , Isn't it worth the work? I know you had to feel great when you were done and seen how beautiful it look !

I love that color you did too.

Next you got to try ' Venetian Plaster' .Talk about work , but it is so beautiful . I just did that in my master bath.

Oh , and I was surprised about the black also, It wasn't to bad . That is a great idea Darcy, white trim and a type of toile.
( I like that )

Antoinette
i need help!!! i am trying to finish my basement bedroom and bathroom. i want to use bronze shimmer behind the bed and some sort of pewter design (modern) on top of that finish . i hope to cover that wall with white semi-opague sheers to soften thee basement walls.. the reason to use the mettalic is to bounce all the light there is around the room. so what say you about other walls ? silver , pewter bronze and pale blue in some way, lateral stripes, a contemporary design on themedia wall any suggestions, where can i go to see something i might like.pleaseeeee!nannyg
I would have to go with the people saying to paint another layer. We did the granite stuff in our family room and had the same thing happen. We learned a very valuable lesson........Alway do a test run!!!!!! LOL
Stay away from the Metallic paints! They are awful. They show everything. What is worse, they are almost impossible to apply. My wife and I have always done our own painting. We are very good, very meticulous. This paint is terrible.... did I say that already? The instructions say to paint in four foot square sections to avoid lines... obviously, if you paint down, then the side is going to be left for a bit before you can get back up to it.... then lines show.... oh yea, and don't cut in first then paint field later... cut in will show like a race track around the room.

If you do hire a professional, make sure that they are responsible for purchasing the paint and that they understand no lines will be allowed... get a hard bid.... they will probably screw up.

Good luck but I'd sure stay away from it..... we used four coats and finally decided to sand the metallic coat off, re-prime and paint with something that will look good.
I've used the Ralph Lauren metallic paints several places in my home - a powder room, fireplace and my dining room and living room ceilings. It does take patience and special rollers but the results are stunning when done correctly.
Don't givee up. Follow the directions to a T and you'll be very happy with the results.
If you appreciate the effect of the metallic paint, you really need to try the Modern Masters brand of metallic paints. You can get them premixed in many shades, versus painting your base coat color, and then appliying the sheer metallic hues. Doing the later, combined with not purchasing the better rollers is what causes the roller/brush lines. I have done many of the walls in my home with a metallic paint due to the fact that I have a very small home, and the light reflecting properties of the metallic paint gives the rooms a larger appearance. I recently covered a merlot colored wall with an opaque Modern Masters Metallic paint, and it only took two coats, and no lines! Additionally, and this is what really amazed me, some of the walls in my older home are plaster, and some are sheetrock. All of them are far from perfect. After I applied metallic paint, the imperfections int he walls were less noticable than before with flat pain.
Darcy wrote:
Hire a proffesional painter!
...No really...is it a Ralph Lauren color...there paint is just horrible...never ever goes on smoothly.....


Glad I read this. I'm working on my bathroom and thought some of their paint colors were nice. Now I'll look elsewhere.
BANDAA wrote:
Thanks Guys !
... I had fun doing it !
Steph , Isn't it worth the work? I know you had to feel great when you were done and seen how beautiful it look !
I love that color you did too.
Next you got to try ' Venetian Plaster' .Talk about work , but it is so beautiful . I just did that in my master bath.
Oh , and I was surprised about the black also, It wasn't to bad . That is a great idea Darcy, white trim and a type of toile.
( I like that )

Antoinette




The venetian plaster is absolutely gorgeous. I just did that in my sister's kitchen which is all tuscan. What a HUGE transformation.....I agree with you 100% -
My entire entryway and all walls in my dinning room are painted in the matallic paint.(gold leaf)

The key is that you can NOT roll on the metallic. You should use a brush technique similar to color washing. Normally takes 3-4 coats with several hours dying time in between. (best to wait overnight between coats) People love my gold walls but the process is very time consuming and the metallic paint is expensive !
I have had a bit of experience painting with Ralph Lauren metallic paint. I loved the results, but you need patience and a special roller.

and there is a wonderful glossy glaze that you can use as a top coat that is so beautiful...MAKES IT GLOSSY AND FUN!

alee in Waco, TX
I did my son's room in the Georgia Bulldog theme. The base and trim was a confederate blue. One wall was solid red, around the rest of the room, approx 2 1/2 feet from the bottom was red also. A black and a white stripe went on three of the walls just above the red. I measured from the ceiling (to allow for a border later) put another white and a black stripe. The middle was going to be the for the matallic paint (silver)....I thought I was going to have a break-down....LOL. I tried to roll it, dab it, brush it lightly.......then I just went...aaaaaaaaaahhhhhhhhhh!!!!! and swirled it with my brush out of anger....THAT WAS THE TRICK! for me anyway with that room.

I have used it in other rooms; after the base color, I just ragged it and blended other matallic paints plus a high gloss color to get the right design that I wanted.

It takes alot of patience, I'm redoing my son's room, he just moved out and now my angel girl in moving in....She's in to the bright girly colors, so I am trying to improvise without having to redo the whole room.

By the way, I'm NO PAINTER....I've been fortunate that my husband lets me get creative. The worst paint to work with is oil base....that's a trick and a nother story in its self...Does look great. LOTS OF PATIENCE!!:)
We hired an excellent painter to paint one wall in Mettalic Silver. He did his best, using the recommended rollers but could not get rid of the roller marks. He tried using a regular roller but with no better result. After three coats he gave up. We now have a silver wall with roller stripes running up and down the wall. How can I salvage this? Would a top glaze work, perhaps ragged or sponged? Does anyone have any ideas?
Just painted the ceilings in three different rooms in our new home, all with Valspar Earth elements. Used the "Gold Leaf", "Rose of Copper" and "Silver Patina". Gorgeous colors, true to the paint chip.
Use two even coats of the base color, let dry completely.
Next, use the shaggy "Ralph Lauren" Regency roller (went to Home Depot for those), and paint on a thin coat of the metallic color. Let dry, then add another and another until you get the brilliance you like.
You can use a standard roller ONLY for the base coats. Do NOT use a standard roller for the metallic layers.
I LOVE the effect- good luck! Val
To Saylr:

You should be able to cover the previous roller marks if you cover with your base coat then start over with the metallic silver, but this time using the shaggy roller from Ralph Lauren.

The effect on my ceilings is very smooth, not textured, I am not sure if you wanted a textured effect..... good luck! Val
Well I read this post and really took out some great information from it. First the video does give you instructions on how to apply it, However it seems a bit vague!

Prepare, Prepare, Prepare... Start with a WHITE well primed wall. Fix all of the nicks and dimples! (We did about 3 coats of white latex Killz on the walls prior to painting... and allowed it to COMPLETELY dry -- A Few Days!) Painting is 98% preparation and cleanup, and about 2% painting.

CAREFULLY put tape around the wall you are working on. Remove all covers to the heater, plugs, switches and tape! Put tape on the floor AND a tarp! Make sure to clean the surface if sanding has been done in the room. Be a perfectionist!

Now this is NOT covering a wall with paint. Allot of "Painters" may fail at applying this paint, because it is unconventional. Professional Painters cover walls with paint. This is more like applying the paint to the walls!

The thing to remember is that this is regular paint with metallic peaces in it! The metal will sink and move!

Fist stir the can of paint (ALLOT)... I shake it before I use it, and make sure to turn it upside down. I have not gotten a consistent look out of the paint... It just kinda Swirls a bit less. Then I poor a large amount in the tray. The Ralph Lauren rollers suck up ALLOT of paint (this is normal), and will feel heavy! If you did not buy the rollers, then you probably have already failed!

First it says 20 inch square with the small corner roller. I believe That is an internal 20, so the square should be 24" on the outside (roughly) inches. Also, I always re-loaded the small roller on each square! This is to get new paint on the wall as you work down. Remember, as you work, the paint is shifting. The Metal is moving down and paint/color is moving up!

You should apply the "square" from the new roller with allot of paint, but lightly apply it so that the roller spins! If the roller does NOT spin, lighten up and go over it again.

Then use the HEAVY big roller and fill with the "V" shapes as seen in the video. I did NOT reload this roller (and did not push hard). Allot of paint goes down, especially on the top of the wall (this is good). (Dont push down, let it spin and leave the nice speckles on the wall). My Squares were jagged on the right side (the ends of the V's). I would reach over the left side of the square (applied with the 4" roller) with each V, and had a jagged right side to my squares (this will mix with the next row to help even the metals!)

As you work down the wall the big roller will loose more and more paint. At the bottom of the wall, you will still have paint on the roller. Now, what you want to do is to basically texture the paint with your down stroke! The top paint and all of your squares will be mixed. Take your roller, and GENTLY allow it to roll down the wall! This will mix the paint squares and allow things to flow.

After doing a row, reload the roller and do another row. Start at the top, and again work down. When you hit bottom, you will want to roll down over the previous row and then over. There seems to be ALLOT of paint on the walls, and you can get it done with a single coat! I had to do a second coat...

If you continue to pull paint up the tray, paint will move to the sides of the tray! This will lead to un-even paint spread on the roller! Also, wipe down the plastic at the ends of the rollers (once in awhile).

To move the paint out from the side, use the large roller, and put it vertically on the tray. Pull the paint on the sides to the center, then rotate the roller and do the other side. Push this paint back down into the pool, and continue. After you clean up the top of the tray, load the roller and goto work! This will prevent one cause of "Lines" to occur!

This is more of an ART then a science... I stink at painting walls, I have little patience for it. Yet I found this to be allot of fun! I have an artistic part in me, and the patience to play in the paint!

I hope this helps! I really wish the DVD was worth the money and provided some nice tricks of the trade. Its so generic and seems to leave out allot! You will have allot of paint on the Walls, so prepare for dry time before you tape off the adjacent walls!

Wish you the best! If you don't have time to have fun with this paint, then don't use it! This is NOT a paint you quickly apply and forget!

Also this adds a slight pattern and feeling to the paint. It is NOT a incredible reflective surface!
Hi there,

I know these posts are old, but perhaps someone could tell me.... I am going to apply a horizontal stripe to a wall with a sliver metallic glaze, and I was told I need to use a brush, but people are mentioning using a roller. Can anyone tell me what kind of roller I would use?

Thanks!
Hi guys! If you don't like Ralph Lauren Regent Metallic Paint
then you just don't know how to paint!
This is the best paint I ever seen!
PERIOD.
in our new flat I want to use turqoise on the wall and on the kitchen doors aswell as I will use silver on the kitchendoors cause I want to create a 50's kitchen diner. I think it will look fab with the silver! I also will paint all the wooden frames in silver, all the pictures will look much better!


Ellie's Mum wrote:
in our new flat I want to use turqoise on the wall and on the kitchen doors aswell as I will use silver on the kitchendoors cause I want to create a 50's kitchen diner. I think it will look fab with the silver! I also will paint all the wooden frames in silver, all the pictures will look much better!
I love silver trim! That's what I did in the bedroom and bathroom.

http://savepic.org/275749.jpg

http://savepic.org/266533.jpg

http://savepic.org/325924.jpg

Now I am working in the kitchen with bronze trim. Looks so beautiful!
I like that bronze color. I think doing a metallic paint on a textured surface would turn out easier than a smooth one, like my dining room was.
As a professional decorator I use metallic paints quite often. I find DIY'rs have issues with them. One of the things I find most helpful when using metallics is putting it on with a european roller from Duron. they have a feathered edge and help keep those lines down. When you paint go from top down, bottom up and overlay the edges, make sure the coverage in the middle is even as well. In this case you do not paint in a W pattern. Hope this helps.
I painted my bedroom with paint fromLowes. The first base coat went on fine, then I painted on the metallic coat, over and over and over again. Never did get rid of the roller marks. I put up a new light with crystal beads. That breaks up the light on the wall and you can't see the roller marks. I love the color and am now very happy with it.
Hi. I just painted my dining room with Lowes Valspar Crystallized Ginger. I painted the ceiling and the walls to the chair rail. Moldings were painted in Valspar Crisp Linen. It does require you follow application procedures to the tee and not paint in a fashion most may be accustomed to. Used two base coats and two metallics. This was the first time working with metallics. Cut in first! Use a good amount of paint on the brush within reason to cut in. Do one wall at a time. Time is your enemy here. This paint dries quick. After cutting, roll (using a metallic paints roller! THIS IS PARAMOUNT!!!!!!!!!) in 4 x 4 sections from the top down. Once a top section 4ft wide is done, move directly below it. Then, go from ceiling to chair rail (or floor if painting entire wall) in a very controlled yet light roller-to-wall application over the entire upper and lower sections u just did to join them as one. If you try and cut corners here.... lines. DO NOT put any pressure on the roller other than the amount needed to keep roller flat to the surface. You do have to concentrate a bit more, but believe in yourself and let the roller do the work. Keep a nice amount of paint on the roller. What happens is that we may tend to use the paint more sparingly because of the price. If price is of great concern for you, don't use metallics. I'm not well to do at all, but I knew I might have to purchase an extra gallon or two to get it done right. It wasn't easy, but with patience, no time line, and following the suggested application process, I'd have to say it was a success. No lines. Think I got lucky.
i have painted my living room and dining room with ralph lauren metallics. i love it. it did take two coats though. i have had alot of compliments.
Do NOT waste your money and hours of your time on Ralph Lauren metallic paint!!!!! I've done 4 coats..... in the v pattern ............then in one direction............... all with the special roller..........it doesn't matter how you do it leaves lines. I wish I could have all the hours I've spent back not to mention my $!
Once there are hard lines you're in trouble no matter how many times you go over it.

To avoid lines when rolling, after you load the roller and remove excess, tilt the roller and roll the open edge to remove a little more. When you paint with it, the edge will get a little less helping to create a feather edge. Always work quickly maintaining a wet edge (toward that open end of the roller, your feathered edge.

It takes practice/expertise, this isn't an application for beginners.
I used RL metallics when I painted my dining room, and I also did an accent wall in my living room. They both came out beautifully! Make sure you buy the appropriate rollers so your job comes out right. RL has a how-to video on line--follow it and you wont go wrong. Caveat--if you have a lot of blemishes in your wall, i.e., nail holes that you have filled in and sanded, it will more than likely show.
I am a rank beginner house painter but I got it in my head that I wanted a metallic gold wall in my house. So, even after reading all the horror stories on this site about Ralph Lauren's metallic paint, I went out and bought a gallon. And just to prove how much of a beginner I am, I didn't even know that you were supposed to calculate how much paint to buy by measuring how much wall you wanted to paint.

In addition to the paint, I also bought the special Ralph Lauren roller. The day before I planned to paint, a friend went to the paint store and bought me another special small roller and spoke to the guy at the store who told her that the paint was very hard to work with and that the best thing to do was just slop it on thick and clean up the "painting outside of the lines" later.

At this point, I had heard so many negative reviews about this paint, not the least of which was from the guy who painted four coats and then sanded it all off, that I was scared shitless. But then I thought to myself, "Ahh, it's only paint. You can always paint over it if you hate it."

So here's what happened. After prepping my walls by spackling and cleaning them with TSP, I poured paint into my bucket and fully loaded the roller. Starting at the top left hand side of the wall, I pulled the roller top to bottom, re-loaded, moved over one column, painted top to bottom, re-loaded, moved, top to bottom, etc. on down the wall until I got to the other side. I didn't try to touch anything up, nor did I cut in first, nor did I fret when there were drips at the top of the wall (due to always putting the fully loaded roller up there).

I waited about 3-4 hours for it all to dry, then used the small roller (2 or 3 inches wide) to do the same thing for the second coat, albeit with less paint. I pulled that roller more slowly and a few times pulled down the same column twice.

And...It looks amazing! Exactly like the paint swatch I got from the store and just like I wanted it to look, but didn't dare hope that it would.
I LOVE this paint. It gave me exactly what I wanted.
Great stuff, guest!

I'd love to see some pictures if you've got any!
I just tried to upload a photo but can't figure out how to do it from my iPad, which is what I use for my camera. Do you have a suggestion? It won't paste onto your page.
Unless you're a member here, you have to upload them to another site (like facebook or youtube or whatever) and link to them here... or you can email them to me at
ForumWebmaster *at* oes.org

Thanks!
Help just found myself at the same stage. how did you work it out pleeeese reply butterflyluck52@hotmail.com
I love the metallics too but found out as you did that its a picky process. For the best results either spray (really needs a good toch) or brush with a cross hatch so the texture will blend over the entire surface
Buy a fake or real sea sponge (you can find them in the Walmart beauty aisle for 2 bucks) and go over the streaks with a smudge effect. I apply my paint to the wall with the sponge, wait 30 seconds, and go back over it with my sponge. The smudge effect is gorgeous and of course the roller marks are gone! I have one side of a cathedral ceiling accent wall to do so I have to deal with height, so my work is cut out for me.
After reading all of the negative reviews I was reluctant to try the RL Metalics but couldn't resist as the swatches were so pretty. I gave it a try on my hall bathroom and LOVE the results. I followed the RL video to a tee and used VERY light pressure as I was making my "W"s. I also had a lot of paint on the roller considering the paint needs to float on the wall. After doing a two foot section from top to bottom I then reloaded my roller and did passes from top to bottom across the space thereby blending the sections and the "W"s. Again with VERY light pressure. I always kept a wet edge so I was never retracing an area that was not still wet. I waited two hours and then used the sponge roller with a loaded brush and went over everything lightly again. Only blotches will now be getting covered. It kept reminding me of sponge painting where you would lightly dab the paint. The person who said you don't apply the paint to the wall but apply the walls to the paint was so right! When the paint dried the room looked amazing. I can't believe I have such a gorgeous bathroom!
I used one gallon and on one accent wall. First I thought I would have a smooth shiny wall, but after five coats,I realized that wasn't going to happen. on the last coat, I just used the cross hatching technique by making x's all over the wall. It ended up coming out really cool and I love it!
RL Metallic paint takes a lot of work. Don't do it unless your walls are perfect with the texture and you have fixed any imperfections. It takes several coats to get it right. The results are worth it if you get it right. Key to getting it right is no imperfections that show up because of light reflections. May take you 6-6 coats of paint.
Didn't find exactly what you're looking for? Search again here:
Custom Search