Today it is 23 days until I'm sitting on an airplane to Denmark for picking up my puppy, her name is Miss Molly.


I have ordered the tickets, I have bought her a new bed, a new collar,new toys and I'm going to find some of Blitzens toys(maybe). So what am I going to fill my day's whit?????? The time is going in slow motion..
Wondering if I should clean the whole house just to keep busy. If you want to see a picture you can take a peek At; http://sound-solution.dk/index-a.html , I'm going to have bitch 2.


Respond to this topic here on forum.oes.org
awwww - so cute. I miss London as a puppy.
Aww!!!! How cute is she??? What a sweet expression!
I bet you can't wait to get her home. Such a cutie pie!
She is so cute .



Julianne
awww they are all sweet.. I bet you can't wait to bring them home.


Kim & MAIZIE
Adorable!

She reminds me of my girl Dancer at about that age

Her black ear is on the opposite side though...lol....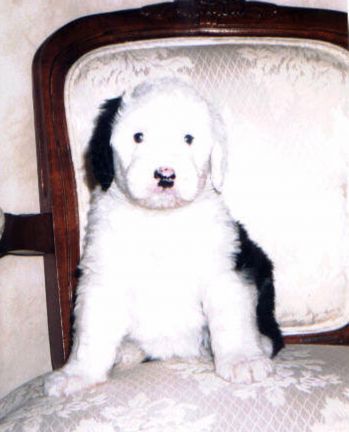 She's beautiful! I miss having a baby sheepie.
Whooow!!!
Harry is dribbling and can't wait so long to get a
new girl in the neigbourhoods!!!!!!!!!!!!
She is soooo adorable - she's a heart stealer!
Awwww I want another puppy, she is just adorable Ann, waiting is the worst part. Thanks for a sneak look at your new baby girl, she is really gorgeous. Can't wait for more pictures of the new baby when you get her home. Best wishes to you both
and lot's of stories on how she is settling in when she gets home. Miss Molly is such a cutie pie name for the new little princess.

Stacey dancer was such a cute baby too, thanks for sharing a picture of your sweet girl as a baby. Really lovely to see, how old was this munchin in this picture? Very pretty baby too
What a sweet face! No wonder you can't wait
Very Cute & Congrats!
I can't see the picture.
Beaureguard's Mom wrote:
:( I can't see the picture.

Try the link one more time, it should work.
Dancer and molly should have switched ears, and then they both would have the same colour on both ears.J

I had just the delivery guy delivering the puppy food now, so everything is in order until she comes home, it is just the waiting left, and that is the worst part……
fingers are tapping the counter top over here...waiting with you!!!
Am I right, do you only have 15 days left


Is everything on place to wellcome the puppy
It's 14 days left to day, and everything and everyone in this family is just waiting for the new little girl to arrive.
I have been buying toys for here almost every time I have been to the mall, this is just some of them, and I really hope that she will enjoy them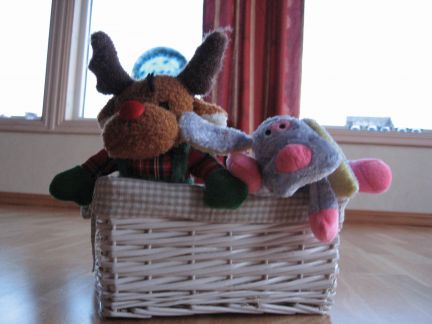 Awww how cute are they, I AM SURE your new lil girl will love them.
That is too cute. I'm sure the pup will love the toys!
Wow, she is a real beauty and showstopper! Is she your first? Great toys, I'm sure Miss Molly will love them. Can't wait for you to get her so we can hear cute stories and see cute pics.
She is my second OES, I just lost my girl before Christmas, and so Molly is truly a puppy that is longed for.
And it's only 6 days left today, before I'm holding here in my arms for the first time, I cant wait

Oh boy! Oh boy! Oh boy!!


Only six more days!!!
I believe we should be getting a puppy announcement from Ann E too!!

Are you back from Denmark yet??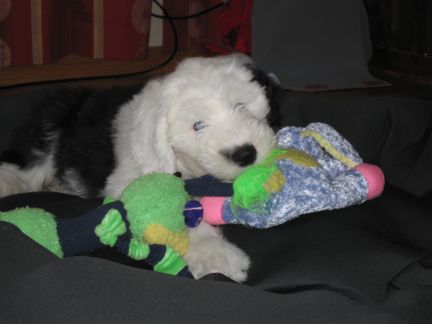 Molly has come home! We had the worst trip ever from Denmark; I'm going to tell you all abut it later.
But she is not afraid of anything or anybody, she is really trusting and playful, but she had a very stressful trip, so she is sleepy today (and so am I)
She's soooooooo pretty!!!
Welcome Molly!!




Sorry to hear you had a terrible trip!
Glad you're home safe & sound!
Ah! So cute! I hope you get lots of rest today...
She's so cute!!
Can't wait to hear more about her....
Get some rest first!!
She is too cute. Congratulations!
Welcome home, Molly!
Ahhhh! She is so cute.
Can't wait to hear more after you have rested.


WELCOME

HOME

MOLLY

!!
welcome home molly need more pictures when you are able to please
YAY Welcome home Molly, love the new picture, molly loves her toys


More pictures after you and molly have rested, then you can tell us all the adventures of getting her home
Congratulations on your new puppy Miss Molly!



Welcome home!!!!!!!!!!
Welcome home Miss Molly!!!!!

ps my favorite nickname for my girlfriends molly....molly bolly or molly moo....
Can't wait to see some more pictures of Miss Molly!!
Welcome Molly!
Didn't find exactly what you're looking for? Search again here:
Custom Search