We took my 3 kids and my sister's 3 kids to visit some puppies yesterday and I am hooked! They were so playful, yet gentle with all of the children (1-9yrs old) The mom was sweet and sat next to me giving me kisses while I played with 2 of her babies. OOOHHHH so SWEET! I may even consider an older dog as the mother was such a sweetie. Or maybe a mommy and puppy together!

Now I am sure that this is the breed for our family


Is it normal to visit a few breeders before deciding where to get your puppy? This woman seemed very knowledgable and said that her kennel was the top breeder of champions in the US. However- it was pretty dirty in the house-(I know, puppies are messy!) and I could here a lot of dogs barking behind a fence. How could someone substantiate a statement like that? Is there somewhere I could check? I tend to trust my instincts but I am not sure what is "normal" in this circumstance.

Also, what is a normal price to pay for a family pup with good hips and clear eyes? I know it may vary but I'm not sure how much I need to be saving
She was asking $1500.

Anyway, it was great to have the opportunity to see and play with those sweet puppies! I think we will try to get to WV to visit Capricorn Kennels as she was highly recommended by a few of you.

Thank you so much for your help! You all are so great to newbies


Lark
Respond to this topic here on forum.oes.org
1500 is the normal initial cost of an OES, and to check on the breeder you can ask her what the registered names of the parent's are and go to www.offa.org to look up their health clearances.
You can search the kennel name with Google and see what shows they've done.
larkle wrote:

She was asking $1500.

Lark



I haven't bought a dog in 7 years, I would hope that amount is for show quality, not pet. I would also suggest you ask about hypothyroidism and other medical issues in addition to hips and eyes. It sounds like you were able to see the dam, which is good. If possible (and it may not be) try to meet the sire. You could contact Tarja Peters at oescrazy2@yahoo.com, she is a wealth of information about breeders. Good luck
Thanks Willowsprite!
I was actually able to find a LOT of the breeders dogs listed there for the past 5 years. All with good or excellent hip ratings.

Bestdogs- I'm not sure if it was a show dog price or not. I am not planning to show, just adding a family member
My dog Barney was $1500 from a pet store (I didn't buy him!)

My parents' sheepdog, purchased 8 years ago, was $450, but she was discounted as she was the last in the litter and not show quality (her coat is not as thick as it should be and I think she has an over/under? bite.

There is such a huge array in costs, but I would think that $1000 and upwards is about right for a good dog.
One thing to remember: You played with very SMALL puppies. When we picked up our Nelson he was about 30 lbs.. Now he's 92 lbs. and a huge bundle of energy. We can't let our 13 year old OES Maggie out with him at the same time because he herds and plows into her. He's just "playing" but she is too small and frail to take the beating he gives her. I would be equally concerned abour your young children.

Also, my 200 lb. husband is going in for an MRI next week because Nelson ran into him during play and injured his shoulder. He was knocked down in the yard and actually saw stars when he hit him!

Nothing is cuter than a sheepdog puppy. I am not trying to discourage you from the breed but do keep in mind they DO get big and CAN play rough. Most OES are turned into rescue because of problems with small children. They don't mean any harm, they are just a big, high-energy breed.

Good luck with your decision.
Thanks Maggie! I understand and appreciate your concern.

The first item on our agenda is puppy school! I am a big believer in starting them early to make sure they know what is acceptable and not. Our shepherd was VERY active and boisterous and incredibly mouthy when we rescued her 14 yrs ago. Every time we reached to pet her, she would nip us. We were in way over our heads so we found the K9 trainer for the local police dept and had him give us ALL lessons! (We lived in a small town with no other resources)

Obedience classes turned her into an amazing pet who NEVER even made an attempt to bite someone. Her manners were impeccable, she learned that she could no longer behave in the ways she had been used to, but she was able to play and have fun in a safe way.(although she remained a thief until her last few months
) So we are not going into this blindly!
larkles wrote:

Is it normal to visit a few breeders before deciding where to get your puppy? Lark



I think you should do whatever makes you feel comfortable about where you are getting a dog from. And if that means visiting a few kennels, go for it.



larkles wrote:

This woman seemed very knowledgable and said that her kennel was the top breeder of champions in the US. However- it was pretty dirty in the house-(I know, puppies are messy!) and I could here a lot of dogs barking behind a fence. How could someone substantiate a statement like that? Is there somewhere I could check? I tend to trust my instincts but I am not sure what is "normal" in this circumstance. Lark



What do you mean by dirty? If you're looking for a white glove test, I doubt you'll find that at any OESCA breeder's house. I would treat it like you are visiting a farm house to some degree, with mudiness around. Bad signs would be if dogs are sitting in their own feces (even though they are not housebroken, there should be signs of frequent clean-ups), have clean water, food bowls, etc.

Regarding $1,500, that's a pretty standard going rate now. Our 2 dogs are from Capricorn, so if you have any questions about that kennel, please feel free to pm me.
Hi Larkles,

so glad to see you had a fun visit with the breeder. As for thier claim about breeding the top champions... this is actually VERY easy to check out... simply go to the Old English Sheepdog Club Of America's website. www.oesca.org They have a listing on their website of all the kennels who have placed ANY champions within the last 5 years, along with the kennels who have produced the most champions period. note that if your breeder does have their dogs offa'd, along with being on the OESCA rreferral list (that was previously mentioned) you should feel pretty confindent you've found a good one... but always go with what YOU feel comfortable with


good luck!

Karen
Here is the link Karen was referring to -

http://www.oldenglishsheepdogclubofamer ... eyears.htm

http://www.oldenglishsheepdogclubofamerica.org/
What luck! The kennel is the top listed for champions
I am not planning to show a puppy but it is good to know that the puppies we saw are considered a good representation of the breed.

Again- they were SO SWEET!

Thanks for all of your help everyone!
I have purchased 2 OES dogs from this breeder in WV. The oldest is now 3 and is the most amazing dog in the world. I can't go anywhere without people stopping me to ask about him. He is a gorgeous 85lbs. and is a gentle giant. (my 3 year old nephew uses him as a big pillow!) He rarely barks and is sooo calm! My other OES is a female pup. She has a much more independant spirit but loves to cuddle and play with all other dogs and people. In my humble opinion "show quality" aside these OES dogs are the cutest I've seen with the BEST TEMPERMENTS.
Wow, definitely old post week!!!

Otown, please join the forum & post some pics!! I don't get to see too many Capricorn dogs on here and we have 3 from Catherine. Also, Maxmm owns "Suzi" who just won the Best of Winners out of all of the Class dogs at this year's OES specialty in VA back in October.
My OES, Max, is from Capricorn too. I am very impressed with Catherine and her knowledge of these dogs. I originally saw all 20 of the puppies (two litters a day apart) when they were six weeks old. I have some pictures from that day that I will post.
MannyMax wrote:

My OES, Max, is from Capricorn too. I am very impressed with Catherine and her knowledge of these dogs. I originally saw all 20 of the puppies (two litters a day apart) when they were six weeks old. I have some pictures from that day that I will post.



Do you have one of Gillian's or Bacall's puppies? Gillian is my Frank's sister and I think your pup Max looks so much like Frank. If you click on the www link (not the camera) button on the bottom of my post you can see puppy pics of him. Then if you click the camera icon you can see some photos of him grown up.

Welcome to the forum too!
Thanks for the welcome. You're right, Max really does look like Frank! He is actually one of Bacall's puppies. Aren't Gillian and Bacall sisters? If so, that would make Frank Max's uncle.
MannyMax wrote:

Aren't Gillian and Bacall sisters? If so, that would make Frank Max's uncle.



No, Gillian & Bacall are not related, at least for 5 pedigree generations. Although Frank & Bacall look very alike. Bacall I think is about 8 months older than Frank and when we went to pick Frank up as a pup, Bacall & her brother Bogart (which now lives with one of Frank's brothers) were just sitting at the fence watching us with the puppies. They were so cute & sweet.

Don't know if you ever saw this "news" page but you can see a pic of Bacall's championship photo. Plus Frank's is there too. Plus you can click on & check out the pedigrees. You will need to scroll down past all of the Suzi stuff...
http://www.capricornkennel.com/oes_news.html
So if you have one of Bacall's pups then you and Moplover have half brothers! (They have the same dad.) You can see pics of him if you click on my camera icon.
He's the naked dog in the pictures with the brick patio. Suzi is also in the pics along with one of Gillian's pups.
Actually, here are a couple the easy way!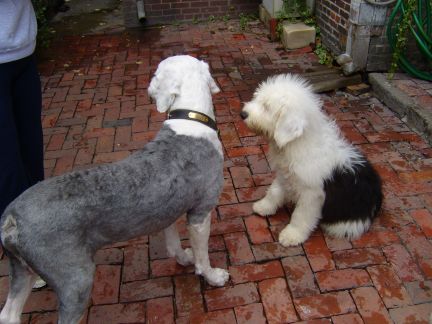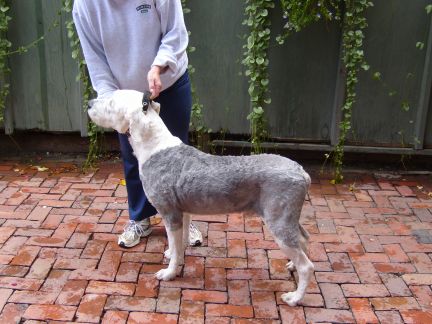 and one more for good measure!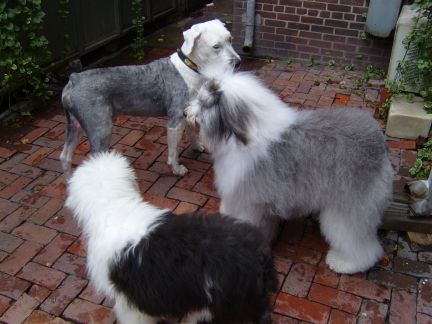 Didn't find exactly what you're looking for? Search again here:
Custom Search