What a blast.........for Yuki.
She came back drenched in sheep turds but we could tell it was worth every minute she spent in the bath today.

These pics aren't exciting but I said we'd share when she went.

the first time is just an observation as noted in a thread in the general board. They see if she has more of a prey instinct or herding. Suzanne (her trainer) was wonderful and said "for an oes" ...she did absolutely great. We just laughed ...knowing what she was talking about especially after watching the other dogs take their rounds with the sheep. The german shepherds there were awesome!

There you guys are!!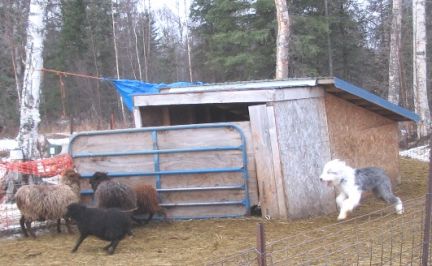 After a few minutes, she began to get the hang of it. "Ohhhhhh... round up the sheepies!!" ...man was she focused.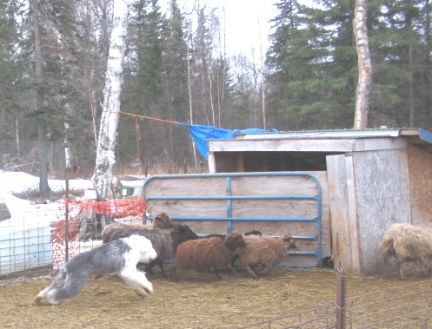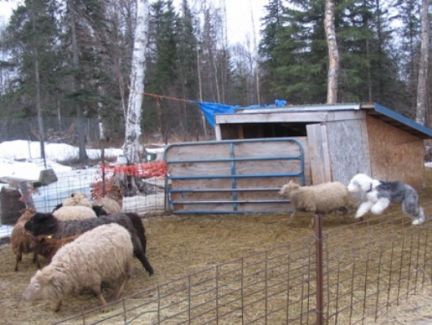 Her problem is/was she does not know how to round them up and then BACK UP and off the sheep to observe (and not constantly try to herd). It took another OES there 6 months to get good, so she is well ahead of that. She also nipped some of the sheep which is a little prey instinct, but we were told she was a puppy and she doesn't know any better ...and that Suzanne expected this.

My husband and Suzanne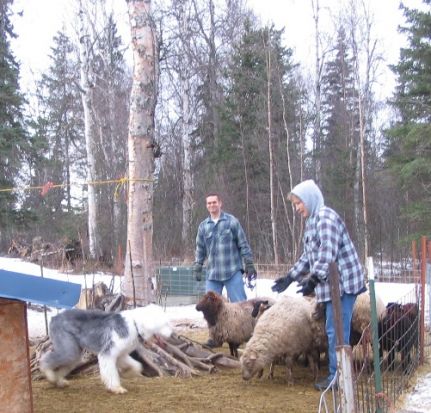 Her time was up but Yuki had a hard time listening ...and tried her HARRRRRDEST to stay longer. It was VERY hard to catch her when she knew we were leaving.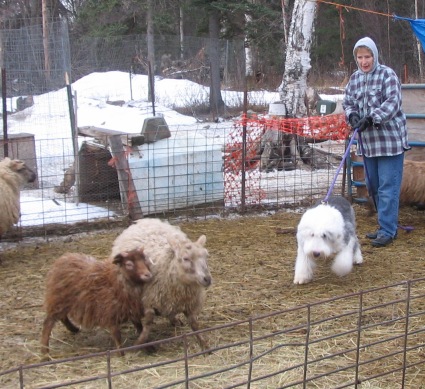 Respond to this topic here on forum.oes.org
What a blast! They have HITS (Herding Instinct Tests) a couple of hours away from me 2 or 3 times a year. I have never had time to go with my shelties, but I'm sure after showing him these pics that hubby will insist on Bosley having a whirl at it this year.
For those of you a bit east of me, there is a place somewhere north of Belleville/Kingston area. All the proceeds go towards fighting the BSL legistlation.
Those pictures are really GREAT!!!! Yuki looks to be a natural!!!!!!!! Are you going to be doing this regularly? What a riot. I just love the action shots!
OH MY GOSH
Those are amazing photos
I want sheep for stella to chase
Great pictures! Yuki had fun and didn't eat a sheepie! I called Steve up here to look at the pics. He wants to know if Yuki got kicked by any sheep.
Great pics Mrs J,
Looks like Yuki had a blast
That is very cool. Keep your fingers crossed that I might be creating some packaging for a guy who sells wool from some type of sheep and I am going to beg (or barter) him to let me bring the dogs over. What a blast!
I loved these photos. WHOOOOOOO Yuki!!

What fun you must have had!!!!

Marianne and the boys
Great action shots, YAY Yuki, keep those sheep moving.
Looks like so much fun! It is so great to see a sheepie doing her thing! There's a place in NJ that teaches herding dogs to herd and I'm planning to bring Maggie in the spring. Anything to tire her out . . .
Oh man! That is cool.
Great pictures!
Yuki looks so cute. She looks like she's having a blast herding the sheep.What a riot.
Wow! Great pics, and it does look like Yuki had so much fun!
Are you going to take her again?
If I didn't take her again, I'm sure Mr. J and Yuki would kick me to the curb.
That's all my husband has talked about since she went. ...and I'm sure if Yuki could talk... she's SO MELLOW in the house now. Anyway... we have to work harder on obedience so she can learn how to herd sheep faster.

VerveUp good luck!!! Yuki has her paws crossed for y'all


I believe Suzanne said some of the sheep were about to/are going to challenge Yuki ........... BUT Yuki had those particular sheep in check, so there was only one animal running the show. hehehe I was more worried about the sheep. At first... and only one time.. she tumbled over a little black sheep. I felt so bad for it. It tried running back to its shelter by fitting in a small hole not meant for a sheep.
What great pictures! Yuki is a lucky and talented sheepie!
Wow, that looks fun! Now you got me looking for places near us. I'll bet that was one serious bath afterward though!
Looks like she had a BLAST!!
How FUN!!
I'm going to have to look for places here to do that, too.
I'm so jealous! That looks like so much fun. She looks amazing. It is so great to see these dogs in action.
I've heard about that before and always wanted to take mine to do that. Your Yuki is really really cute. Really white and fluffy looking.
I wanna do that with Remy too...as it is she tries her hardest to herd the dogs at the off leash park...they don't like it at all.

I wonder if we can do that around here? Was it a special name given to the club? Or the sport itself? What about the sheep...does it change so the same sheep aren't stressed?
Joahaeyo great shots of Yuki. I was interested to read the instructor say that 'for an oes Yuki did well'. I have heard that some instructors are surprised that an oes can herd. But hey isn't that what they were bred for?
It's fun. How is he going now. Have you done more by now.

I took Brogan to a herding workshop to give him a try out. He did ok too. I also have had one lesson but the weather was too hot. After a short time I had, had it and I could see Brogan tiring too. I decided to wait until the weather cools down before trying again. Would love to read more from you.
Thanks Jess. Well since we last went, the weather hasn't permitted us to go again. I guess we have the opposite problem here. haha It's too dang cold for Yuksters. Mr. J was out the door, had the towels in the back of the car and everything last Saturday ...but then Suzanne (the trainer) said it was snowing very hard in Wasilla where this is located.

We will try again this weekend. Ughhh. You should see my face. Mr. J can't WAITTTTTTTTTT to go again. All I think about is how time consuming it is to bathe her afterwards and to smell sheep poop on the hour drive home.
Watson and I will be at a sheep herding instinct test tomorrow in Gig Harbour - wish us luck!
Take some pics and post them!!!!!
Ok... I don't mean to hijack the thread, but Watson's experiences were mixed today.

We had two runs. Firstly he was let loose to test his instinct, and he initially had a blast. Then the trainer stepped in, and he was a little wary and kept on running back to me, but always returned to chasing the sheep, and then chasing them back to me. Watching three 120-pound sheep barrel towards you with a 100 pound dog behind them really tests your nerve.

The second time though, he just wasn't interested.

We learned a few things - firstly, he does have some eye and some herding instinct, but as long as it's on his terms. Once a handler starts getting involved, he's not as interested.

Also, the handler thinks Watson believed we were trying to trick him on the second run. We've been trying to get him to not chase the cats, and punish him when he does, and now we're trying to get him to chase sheep and he may think he'll get punished when he goes for them. Plus, although the sheep were the same, the arena was different (round, not rectangular). The handlers offered to help us de-sensitize him to that also.

So, a mixed day... but Watson had a blast, and got to run off his energy (he's pretty much slept since he got home at 3pm, and it's now past midnight). Not bad for $20. I think we'll be definitely going again, probably after some obedience training in April (we need our basic manners worked on so he can go around other dogs without barking).

Unfortunatley I didn't get chance to take photos... our first run I was too busy trying not to get run down by sheep, and the second run he just didn't go after them. Maybe next time.
Glad to hear it was an overall great experience.

Yeah.. Yuki didn't know what to thnk of the sheep either the first uhhh... 5 minutes. haha ...but once Mr. J stepped in with Yuki, she enjoyed it.


The sheep were 120 lbs? Is that how much those suckers weigh? good grief.


We were told that once the dog (any breed) learns what they're supposed to do (ohh.. we herd them) then they ALL decide "their way is the only way" ...and the trainer has to break that and say, "No, you have to do it MY way." hahah Yuki hasn't reached that point yet. She's still trying to listen, but I know her.. and she will definitely do things her way.

Yuki has always herding our cat, but never in a way that was bad...so far. We will stop all the herding if things change though!!! The cat enjoys the game.

You need a second person there to take the pictures
I am dying to see
The sheep didn't look too big, but then again, when I first saw them, they were from a distance. Once I saw them running towards me, I changed my mind... they're *huge*. Watson was put on the bigger sheep with about 3-4 inches of wool, so when he gripped them he wouldn't hurt them.

Sheep herding is a team sport, the dogs definitely need to learn how to work with a handler. Watson is happy to play by himself, but once the handler stepped in, he was a little less interested.

The place we went to does have a handicam available to use as long as we provide our own mini-DVD's. Next time we go, I might just have a few of them in my pocket - it would be good to tape Watson's progression, some of the handlers there (with both champion herding dogs and show dogs) admitted it would be a good idea to tape herding trials to analyse later.

This is how eager Watson was to get home: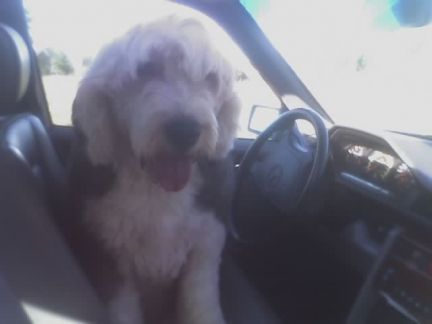 How funny!!! Your dog really does look happy.

Your dog wasn't covered in sheep turds? There's no way our dog could have sat inthe front afterwards.
Maybe it's because where we go, it's always snowing...so what's on the ground is usually wet.

That's so cool that they will videotape it like that!!!!
The place we went to was on top of a hill on part of the training site, so drainage was pretty good, and it's not rained here for a while so the ground was dry. Both Watson and I came out of the herding pens pretty clean.

I watched Yuki's video... those sheep are nothing like the size we faced. Watson was put on sheep much bigger than those, but he also looks much bigger than Yuki too (he weighed in at 102 pounds recently).
oh wow.. i'd really love to see your video then.

yuki is probably 65-67lbs.
Jill, here's a herding class for Clyde, it's in Ingham County, not far.

Jeanne Weaver, Williamston, MI Year round lessons, custom training, clinics. Beginners to advanced. All herding breeds are welcome. Facilities include a 60x60 pen, a small field and a very large field. weaver3@shiatel.tds.net - (517)468-2246
Awesome! I just sent her an e-mail and asked her some questions. It's barely an hour away from us.
now that is a happy dog!!!!! I would love to try that here!!
sandy, i like your picture in your avatar! your dogs look adorable.
Balou- on the left- is 11yrs old, and Finnigan on the right- is the rescue we just got- she is around a year- they are OES and springer... very odd mix, but they sure are cute and loving
-s
Didn't find exactly what you're looking for? Search again here:
Custom Search