When the OES my parents have (Merlin) was a puppy, one of his ears tended to stick up in the air while the other was normal. This stopped when he started getting grey hair (I call this phase "sheepie puberty"). I was wondering if any of your sheepies have had weird ear behavior as puppies?
Respond to this topic here on forum.oes.org
No weird ear behaviors here, just the fact that Barney has unusually short ears and an unusually long tongue...
Maybe if you pull on his ears his tongue will get shorter.
I think Sky's ears are too big, they never exactly stood up, but they tend to flip up onto her head and stay that way sometimes.
The cartlidge in her ears at the base seems stronger than Dancer's ears, which lay flat against her head.
Quote:

Maybe if you pull on his ears his tongue will get shorter.



Lol, Mandy--I'll have to try that tonight!
LOL Mandy!


I'm not sure what Murphy's ears looked like when he was a puppy, but his ears are both funny!
They don't lay flat against his head, they look like they are twisted...if that makes sense?
You can hardly tell now that he is growing his coat in...he doesn't seem to mind!
Just LOOK at Barney's tongue...it's bigger than my husband's head!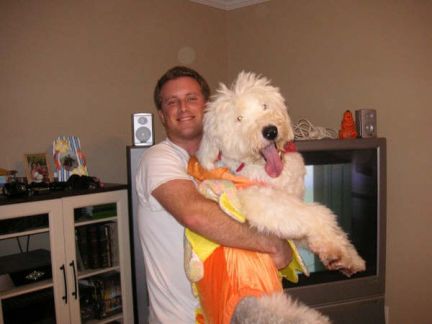 Better to lick you with my dear!!
no kidding! He uses it as a weapon...although I bet it'll be useful in getting all the good treats out of his kong, which, by the way, we introduced to him today. Big hit! Walking around all over the house with it, dropping it, picking it up...
When Barney was a pup often one of his ears would lay back on the top of his head. He has since outgrown this.
Didn't find exactly what you're looking for? Search again here:
Custom Search