After getting the pictures, I called the rescue today and took Daisy down to meet their dog. She was calling her mophead and when I said Mopsy she decided that was the name she would give her. Daisy LOVES all other dogs and I have never seen her have a negative reaction to one, but the first encounter, Daisy started snarling at Mopsy. After a few minutes this stopped and they had a great time playing together. At least as much as they could with Mopsy on a tie out and Daisy on leash (she wanted to run around and visit all the other dogs and the horses as well if let off leash).

I did get some pictures of Mopsy. She is a little smaller than Daisy and her fur is badly matted (they originally told me no matts) and she has a much thinner coat than Daisy. I'm not sure if this is because she is a cross with something else or if it is poor nutrition, possibly prior shave. (I'm not that familiar with OES, most of the info I have is from this great forum). Anyway, she is a very sweet dog and is about a yr old and it does appear she had a litter of pups a while ago. She was turned into the Animal Control (they do not try to find homes/ they euthanize). This rescue center takes a lot of their dogs and tries to find homes for them and right now have ~ 40 dogs all in covered outside kennels which appear to be fairly well kept.

I did try to walk both dogs together and it wasn't as bad as I thought it would be. I doubt Mopsy has had much experience on a leash. When I came back, I opened the car door to put Daisy in the car while I tied Mopsy up again and Mopsy climbed right in, looked around and got in the back seat as if to say "let's go home". (this is fortunate as Daisy is convinced she belongs in the front passenger seat).

I questioned if she wa cat friendly and we brought her cat over (the cat was very reluctant) and while we did not get them real close together Mopsy was interested but not trying to attack, just interested - until the cat started to run which is understandable.

Mopsy is scheduled to be spayed tomorrow and will be picked up on Fri. I discussed with the rescue that she desperately needs to be shaved and she said that if she gets the chance she would shave her (she used to do grooming out of her home). I said I would call on Sat morning to see how she is doing and whether or not she is coming to PetSmart on Sat (she will be there Sun) and if she has not had a chance to have her shaved I will try to get appt at Petsmart to get it done.

Although I have some reservations on whether I will be able to spoil 2 dogs like Daisy is spoiled, this is a very sweet dog and if the trainer does not want her, I am quite sure I will take her. Most of the reservations are because I do not have a fenced in area where I can let them out to play and have to tie Daisy if I don't go out with her.

Mopsy: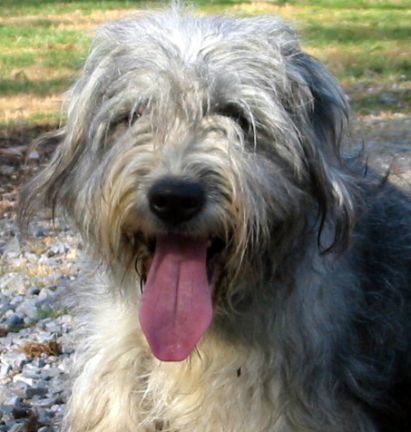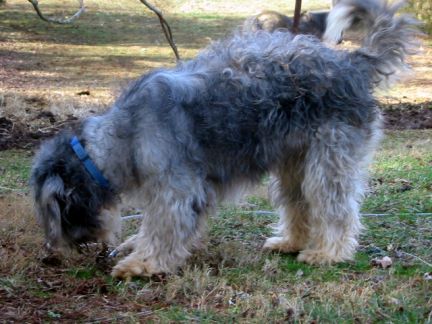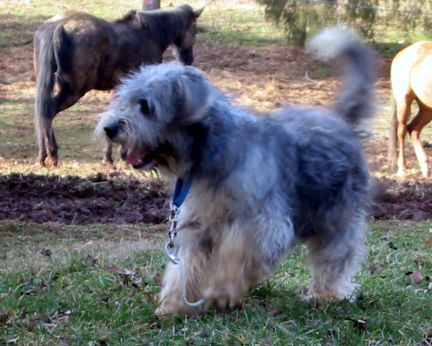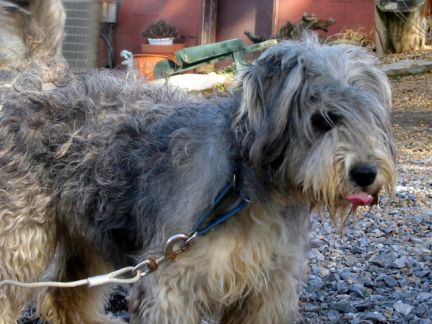 Respond to this topic here on forum.oes.org
She is too cute to resist!
You must take her. Look at how cute she is. She doesn't appear to full OES but that really doesn't matter!
Aw...so sweet! She jumped in the car to go home with you! So precious. I'm sure you'll keep us posted.
Where in TN do you live? Upper East? My family is from Greeneville--is that anywhere near you?
No, she's not full OES and (maybe even none at all, ) but like Harry, she's absolutely adorable and would be in my home if I was close by.

As for spoiling two dogs, it's more fun that way. Your heart expands to fully love each and every dog.
She really is cute and seems to be a good match for you & Daisy. Keep us posted.
What a cute face, you have to take her.
I live in Johnson City but Mopsy is in Greenville right now.

I agree about taking her but will have to put plans on hold for right now. Just got a call and have a job interview near Nashville next week and will be gone for a couple of days. While I will take Daisy with me I don't think trying to travel with a new dog that I don't even know if she is housebroken is a good idea. I will stay in touch with them and see about taking her after that if she hasn't already found a home.
Hi ,

Mopsy is a beautiful girl and I can see why you fell in love with her. I hope things will work out for you and her. Best Wishes!

Marianne and the boys
Didn't find exactly what you're looking for? Search again here:
Custom Search