Does anyone do agility currently with their sheepie? I have never seen a sheepie in agility before and was wondering how many people here actually participate in that. I had a border collie for a week or so before she had to go back to the breeder cause she had been abused by her previous family and was having difficulty adjusting and wanted to try agility with her but since she was severely dogaggressive that kind of seemed out of the question. Now that I'm getting another sheepie I was wondering if they are any good at it after they are trained obviously? I would love to do agility with Lily when she gets a bit older but wasn't sure that OES did agility. Thanks
Respond to this topic here on forum.oes.org
Ummm, yes.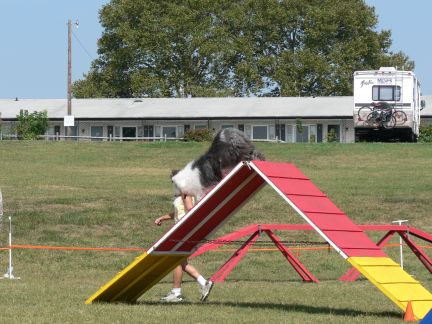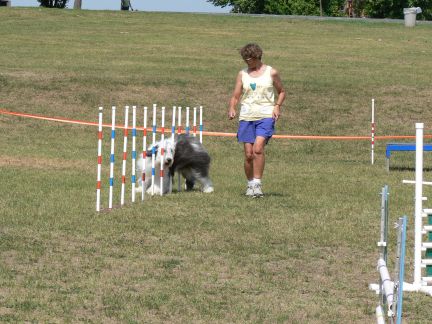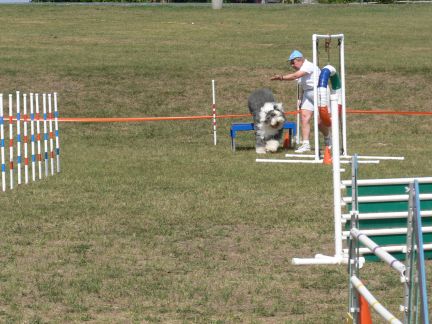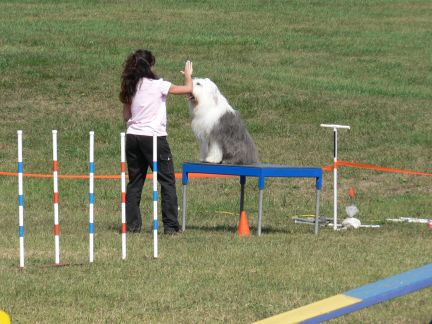 Theses pics are all from the agility trials at the OESCA National. Great dogs, all levels. Some of them bark the whole way through the course, very funny.
My youngest dog just started agility and is very gung ho about it. He can do all the obstacles without a problem and it keeps his attention and interest much better than obedience class. The instructor also said that I'm going to have to learn all the handle signal and do it soon because he is going to be fast with a captiol F and I'll never keep up with him.
My 2 and a half year old didn't even pass the test to get into the agility class because his attention span is so short that he kept wandering off. So it does depend on the dog and it's maturity level also.
There are a couple of other members here who do agility also. So it is a possibility. To counter all the good, there are some great agility horror stories printed in the OESCA's magazine. Lots of owners getting knocked down by their sheepdogs because they weren't fast enough to get out of the way!
Awesome pics! I simply cannot imagine my oes staying still on that table, for any length of time! LOL
Mandy, what kind of voodoo do you do to your dogs to get them to do any of those things? Clyde still can't even get in the car on his own-- how's that for agile?

No, wait. I know what you did. You Photoshopped Carl over the top of a Border Collie doing agility. Ah, yes, I feel better now.
The lady who was the examiner for my guys CGC test, invited us to watch her agility class in session before our tests. During the class she took Barney to a tunnel and told me to get at the other end and keep saying tunnel, tunnel... She pushed Barney into the tunnel and he ran half way through, turned back, then turned around and went through to my end. After a couple of times, he wanted to go through all the other tunnels.

I suspect it depends on the individual dog. Although I think I read that they shouldn't do the jumps until their hips are well developed.
It does depend on the dog and most places won't allow dogs into class until they are at least a year old. Even then they don't do jumps at the required heights and they don't completely close the weave poles until they are a bit older.
Also depends on your dog's personality. Carl would do anything as a puppy but now he's either disinterested or scared. On the other hand, you can't hold Toby back. He just wants to do all the obstacles and run like the wind.

Right Jill, that's my photoshop skill for you. Stupid Border Collies!!

The lady with the blue hat had 5 OES doing agilty and the lady in the yellow shirt actually does obedience, agility and tracking with her dogs. Two of her dogs received tracking titles this year.
Maxmm wrote:

Right Jill, that's my photoshop skill for you. Stupid Border Collies!!



Lol. Stupid Border Collies! We were watching the ESPN agility trials and I had to laugh. I pointed out to James that it would take Clyde as long to walk up to the first obstacle and smash through it (rather than jump) than it took the Border Collie to run the whole course!
OK so Cooper's got the sitting on the table thing right( well sleeping more like)

Id love to do Agility with one OES Maggie has retired from showing now so maybe I should try her
I have been thinking about doing agility with our dog in the future, too. I worry that while we're in FL it may be too warm most of the year to do any heavy training, but I think it would be awesome for a dog to have that 'alone-time' with a focused "job" and a goal to accomplish - all rolled up in a lot of FUN! On our vacation last week we met with a Golden Retriever agility champion and watched him go through some of his moves - it was really neat!!
Didn't find exactly what you're looking for? Search again here:
Custom Search