Howdy!

Does anyone have a cute OES picture for carving onto a pumpkin? Preferablly something easy? I REALLY want a sheepie pumpkin this year, but I haven't really seen anything slightly sheepie-ish. I'm not spectacular at carving tiny lines, they always end up caving in or being too small to see, so a pic with big pieces would be good...

Any other cute pumpkin patterns are good too- heck, lets all share, and then maybe we can post our pumpkin pics on halloween!!!

Karen
Ron wrote:
Yeah, there's a pic and a link below.
Respond to this topic here on forum.oes.org
Actually the little pic that Saul is using as an avatar right now would be easy to do on a pumpkin, very simple sketch...
This is by far the cutest pumpkin I've ever done.


My pumpkin (which is oldest son's nickname too)

http://i4.photobucket.com/albums/y143/g ... antern.jpg

http://i4.photobucket.com/albums/y143/g ... umpkin.jpg
Holy Gail...that pumpkin is amazing!

My pumpkins NEVER look like they are supposed to! I have such a Martha Stewart complex! I always buy EVERY magazine before holidays, get it in my head how everything is going to look...and it NEVER does! It's depressing!


I'll try and do a sheepie pumpkin...but it will probably look like a spider or something!
Gail, you are so talented. The pumpkin is adorable.

I like the idea of a sheepie pumpkin.
Will have to do a search for something.
that pumpkin is amazing. i don't even really understand how you did it. . .
LOL gail you are amazing...we dont even carve ours anymore....they last longer and i cant screw them up....I might be a designer, but my talents are limited to paper and fabric only....Martha Stewart ...Ha.....lol...
I took a baby pic of him and traced it onto the pumpkin...then carved away. That thing took FOREVER to do, lol I'd try one of Jasper if hubby was home, but I don't think I'll have the time to carve anything but eyes and a mouth this year.
Last year hubby did a freehand sheepie on our pumpkin...the kids LOVED it
Can't provide pics for you guys tho....pics got packed up already
You did an amazing job. I have no idea how to carve a pumpkin, so you can charge for lessons!
Gail- your pumpkin was gorgeous! Do you have any tips for turning pics into pumpkin patterns? I can never figure out what parts to make into holes! I can think of a lot of sheepie pics that might make cute pumpkins but I can't figure out how to make those pictures transfer into cutable designs!! (someone might see their avatar on my pumpkin this year- sorry, but I HAVE to steal from somewhere, having none of my own
)

Karen
I found white pumpkins at the health food store today!
How perfect is that for my spider...I mean Sheepdog pumpkin?
Karen-

If you have a stained glass store near you get a pattern book called Dog Show 2, there's a simple pattern of an OES in it. I have the book so if I can figure out how to copy it I'll send it to you. Maybe scan into a file?
I don't have a stained glass store by me, our craft store is pretty generic, and the stained glass section is teeny. I think that if you were to scan the pattern into the computer using a scanner, you should be able to save it as a picture file of some flavor. Let me know if you get it to work, and I'll give you my e-mail addy to send the file to.

And a white pumpkin- you're right- that IS perfect for an OES pumpkin. I gotta get one, I know my pumkin place has them!

Karen
I'll give it a try, you may need to make the pattern larger/smaller. A cross stitch pattern may work too.
I see we have quite a crafty community here!

We're always willing to help out, so we created a pattern you can use to carve your pumpkins... Under one condition!!!! You HAVE to send us a picture of your sheepdog pumpkin to show!

Go to our site's downloads section and you'll find the Got Treats? wallpaper/pattern in a large size, suitable for printing.

Happy carving!
Karen, I scanned the pattern, just let me know where to send it.
Thanks Saul
Thanks you guys!!! I'll be sure to take a pic of my pumpkin. I've already been told that we ARE going pumpkin shopping this weekend other wise "all the good ones will be gone"
So hopefully I'll be able to successfully transfer the pattern without carving out the wrong bits... Who else is gonna join me in the Sheepie pumpkin carving fun???

Karen
I just bought some carvable pumpkins from Joanne Fabrics, that way if they turn out well I can use them next year. Last year I made a ceramic pumpkin, I drilled small holes all over it and inserted a string of white Christmas lights in it. Looks cute in a small area like a bathroom.
I'm in!!!


Thanks Saul!!!! I'm just going to be embarassed when you post a pumpkin that looks like a spider!


This is going to be awesome!
Anybody doing any interesting Sheepie patterns this year?

How about this one?

Click the picture for full size; opens in a new window.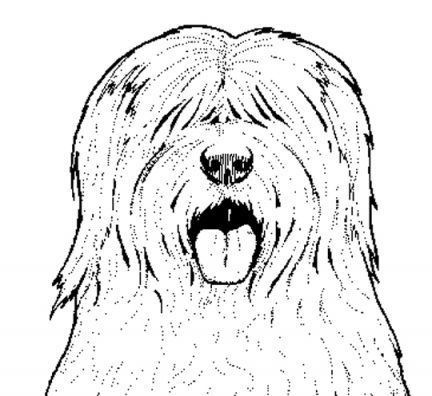 Didn't find exactly what you're looking for? Search again here:
Custom Search