Socks is 4 weeks old now, and starting to eat kitten food! I'm still so amazed he pulled through. The boys changed the name from Cookie to Socks, because she looks like she's wearing socks on all of her feet. It's weird, but Allie has started licking it and stuff lately too. She's gotten really affectionate with him - little too late but it's something.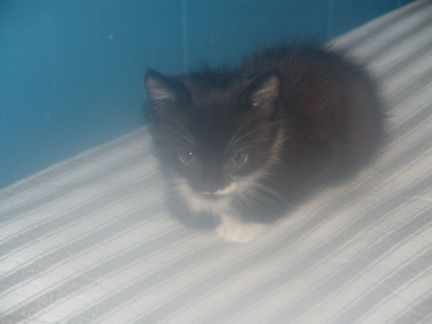 [/img]
Respond to this topic here on forum.oes.org
Aww Gail... Socks is adorable....and you did a wonderful job.
You should be proud. I am sure you are happy about not having to bottle feed the kitten anymore.
But let me tell you I bottle fed my cat Tiger, and we had a very special bond.
Elissa
What a beautiful kitty!! He's looks very sweet. I'm so happy that he is doing well. And I'm glad that his mother is starting to be maternal. Great update.
Precious
You've done a great job... what a cutie.... my boy Winston was bottle fed too, and he is now a 20 lb cat who seems to love me more than I thought an animal could.... lol... he's my baby. His b day was yesterday actually, 6 years old.
awwwwwwwwwwwwwwww so cute
Soo cute! What a sweetie! I love kittens...

Karen
cute, cute, cute...she looks snuggley!
Congratulations! She's adorable and looks like you've done an outstanding job with her.
Good job Mom!
I agree that is an adorable kitty, and Socks is a cute name too.
Didn't find exactly what you're looking for? Search again here:
Custom Search