Here are the BESTEST BESTEST oatmeal peanut butter cookies.

I tried 3 recipes in the past 6 months. This one I tweeked and added several ingred. to make it unique, and I promise it's delicious and hard to resist!

1C butter
1C brown sugar
3/4C sugar
1C crunch pb (yes, it makes a difference. ...crunchy danggit!)
2 eggs
1.5 C flour
2 tsp. baking soda
1/2 tsp salt
2C quick cooking oats
1 heeping tsp vanilla
1 1/2 - 2 C semi-sweet chocolate chips

Picture of Ingredients: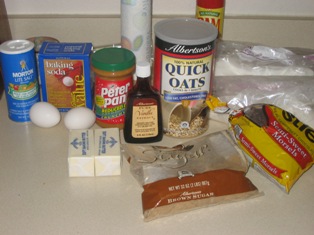 oven 350.

Large Bowl: put in shortening, butter, brn sugar, sugar, and your crunchy pb. Mix just until creamed. Drop in eggs, vanilla.

Separate bowl, put in flour baking soda, salt. Put into large bowl.

Then put in oats and chocolate chips.

I froze the mix for 10 min.

By the Tablespoon, put on pan. I used parchment paper.

Cookies on sheet: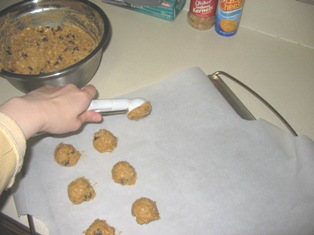 Bake first batch 12 min. Second and Third batch 11 min. Trust me!!!! take them out even if they don't look done though they should look golden brown by this time.

Heaven: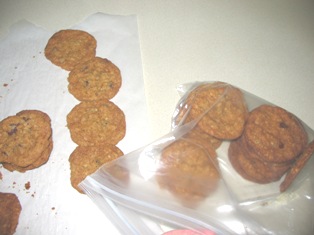 DO NOT take them off sheet to cool. They WILL break. Drag them off onto your counter if you put them on foil or let them cool there. They will cool crispy on the outside and tremendously chew on the outside!!! SO SO SO GOOD.


Also put the mix in the fridge while the cookies are in the oven.

they DO spread, so keep them a good distance apart!!!

More: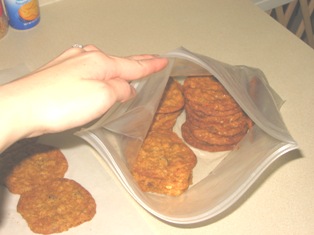 YUUUUUU-UM!! I'm baking another batch right now!