This week we're a two sheepie household! We're being visited by Winston, a 10 year old sheepie who owns our brother and sister-in-law.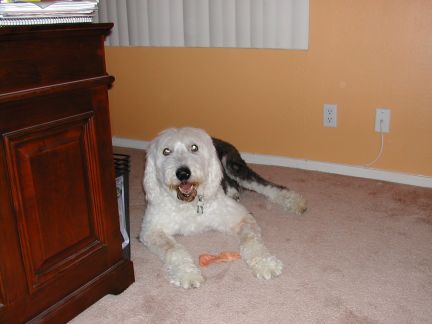 I was pretty worried about the whole experience because Bailey is a handful on his own, and I thought two would be non-stop action. Unfortunately Winston has senior sheepie hips now so he doesn't like to run around after the puppy. So, mostly they nap:
Winston: "Zzzzzzzzz"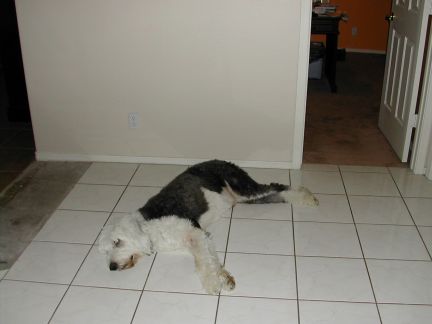 Bailey: "Zzzzzzzzz"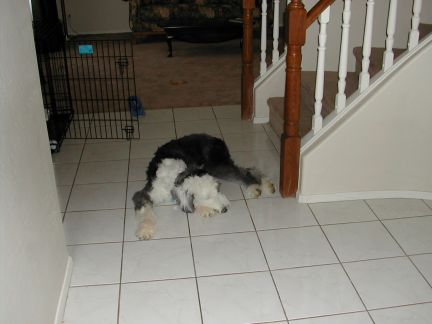 We do go outside sometimes. Bailey loves to play fetch with his tennis balls: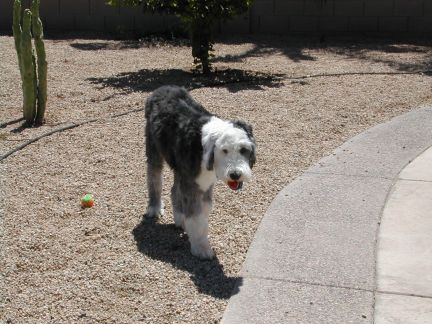 Winston prefers to stay in the shade: "You want me to go out in that sun? No way!"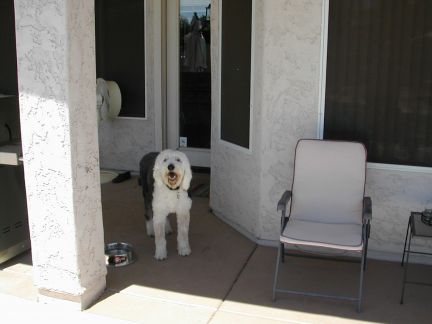 Hopefully I'll have something more exciting to share as the week goes on
Respond to this topic here on forum.oes.org
Even without antics, those pictures are wonderful. Winston looks exactly like Chumley. They are both gorgeous boys and look really happy.
Awww, great pics! Handsome boys
Nice house, too.
Awwww Sue, they look like they are getting along fine! Winston is a cutie, but Bailey is still my fav! They both sleep...hahaaha
Gotta love the sleeping pictures! Both are gorgeous boys!
Chris
How fun for Bailey to have a roommate for a while! Even without the "antics", the pics are great!
Sue,
Wow, That is so creepy. Winston has the exact markings that Pepsi does looking at that second shot. That little triangle has been the only part of Pepsi to turn a light gray color. Has been like that since I got him 8 mos ago..when he was still a pupper and black and white.
Just wait until you see Pepsi in person... For that matter we should get Winston there too and look at both of them.
Elissa
Didn't find exactly what you're looking for? Search again here:
Custom Search