What is Saffron?
I have been selling saffron for 20 years and in that time period have never ceased to be amazed by its uniqueness in the spice world. Saffron has an aroma and flavor which cannot be duplicated, and a chemical make-up which, when understood, helps the chef or home cook to know how to best release that flavor and aroma in cooking and baking. Saffron is sold in two forms, powder and threads, and each behave very differently in the kitchen.
In order to understand commercial saffron, it is important to understand the make-up of the saffron plant. More importantly, it is the easiest way for you, as a consumer, to be sure you are buying good saffron. Commercial saffron comes from the bright red stigmas of the saffron crocus (Crocus sativus) which flowers in the Fall in many different countries, including Greece, India, Iran and Spain. The Crocus sativus stigmas are the female part of the flower. In a good year, each saffron crocus plant might produce several flowers. Each flower contains three stigmas, which are the only part of the saffron crocus that when dried (cured) properly, become commercial saffron. Each red stigma is like a little capsule that encloses the complex chemicals that make up saffron's aroma, flavor, and yellow dye. In order to release these chemicals, you must steep the threads. Powdered saffron is more efficient because it does not need to be steeped (see more on this later in this text).
The male part of the saffron flower, the stamens, are half the size of the stigmas (See image below), they are deep yellow and have NO culinary value.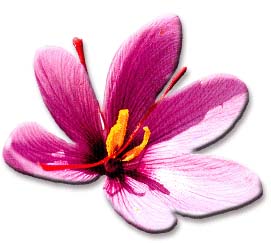 Unfortunately, they are sometimes added to the red stigmas to increase the weight of commercial saffron. I have also seen ground yellow stamens sold as powdered saffron. Legitimate powdered saffron is red-orange and is made by grinding saffron stigmas. Under no circumstances would pure powdered saffron be any shade of yellow.

Text source: http://saffron.com/what.html
Image source: http://greekproducts.com/greekproducts/saffron/

Here is a close-up picture of Saffron that was in my tin: