Last Friday, I received an order I placed a while ago. It is a Sheepie Nativity and it is absolutely adorable.
For being hand made, it was worth it. If you want to see what they look like, go to Etsy and type in FuzziesByMonica. The pictures don't do them justice because in person, they are more beautiful and the quality is second to none!
I was so excited when they arrived
Mary and Joseph, the Wise men, animals, shepherds and the baby in the manger. I appreciate 'hand made' quality items because my mom was an extremely creative crafter as well as a phenomenal seamstress. I only wish I were in a position to purchase a couple more sets to sent to a couple friends who are also owned by Sheepies.
I just wanted to put this out there. I'll be setting it up b/4 Thanksgiving. Wish I knew how to take pictures an post them. I don't own a computer or one of the iPhone ty phones.

Nancy
Respond to this topic here on forum.oes.org
I see your shop there but I don't see the nativity

https://www.etsy.com/shop/FuzzysByMonica
If you click on the picture that says Sheepie Nativity, then when the big Angel comes up, underneath that picture are all of the individual pictures of the Nativity. The pictures are really cute BUT they don't do the actual items justice. They are better in person.
Ever cute! Super pricey but unique and dang cute!
They are so clever!! xx


Here's a pic: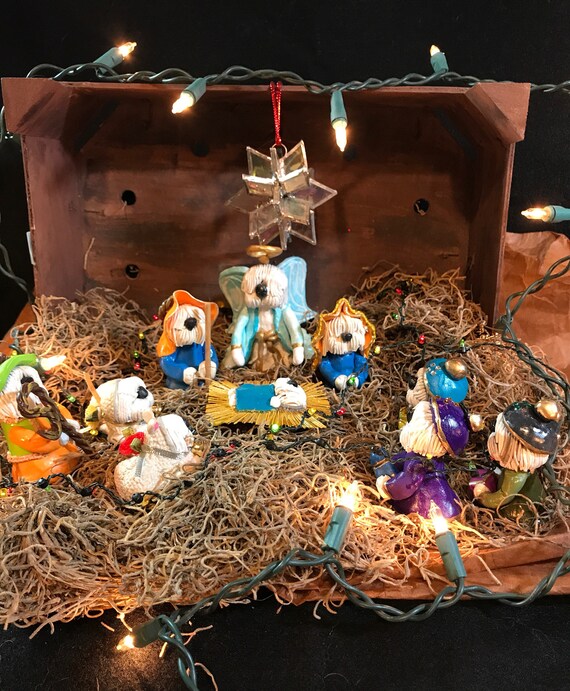 Another interesting fact:

The creator of this nativity scene is Monica.
She's a member here.
Her screen name is Hopadogmom (memberlist.php?mode=viewprofile&u=4432) .

https://www.etsy.com/people/monicamunoz567
How cute. Monica is very talented.
Monica is so talented and she is a wonderful person.
Very cute!
By the way, Monica has special price for Black Friday and I think it runs through this coming Friday.
Didn't find exactly what you're looking for? Search again here:
Custom Search