Charlie and I came to the end of our long journey together yesterday. He, was without question: the biggest snuggler, the best hunter (of rats and snakes usually, invariably leaving them on the back porch– but he never caught that squirrel who lives in the redwood tree), as well as the most devoted and probably the most demanding of asserting his rightful place in the family.

He spent most of his life keeping Toby in line after he joined us 11 years ago. Toby is nearly 12 himself now and I have to say we spent a restless night last night, missing Charlie's comforting presence. Both were young rescues like most of the sheepies I have had. They initially didn't get along very well until Toby finally acceded to Charlie's senior position in the four-legged portion of the family after which they became nearly inseparable. In the last few years after Charlie lost almost all of his hearing, Toby became his eyes and ears, alerting Charlie to the opportunity for a cookie and waking him up at meal time.

Here's to you, Charlie. #12 in a long line of sheepdogs going back to 1964 and without a doubt, the one with the biggest smile.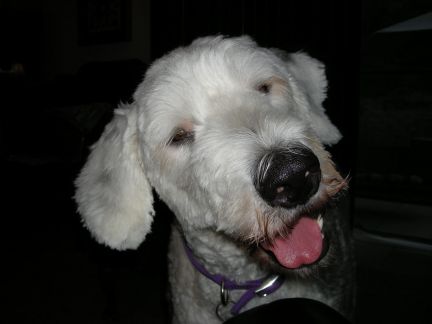 Respond to this topic here on forum.oes.org
So sorry to hear of Charlie's passing.
He was very special.

RIP Charlie.
Richard, I'm so sorry to read about Toby's and your loss of Charlie. What a great tribute you wrote for him, and you're right: That's a great smile. I'm glad you got time to spend with him as a sweet old man; it's really a special time.

Please hold Toby and give him an extra rub for me -preferably behind his right ear- and know that Joan and I would give you a hug if we were close enough.
So very sorry to hear of the passing of your Charlie- that is a wonderful smile. He will be charging around smiling at everyone, enjoying being full of energy again. Big hugs to you and Toby.


So sorry for the loss of your special boy.
I'm sorry for your loss. I enjoyed reading your Charlie stories.
I am so sorry to hear this. How are you and Toby and the family doing?
Adapting to Charlie's loss has been the hardest for me of all my dogs. I guess we kind of grew old together and kept each other company for such a long time. I still find myself glancing over at all of his favorite spots and it feels empty that he's not there. My wife says I sometimes call his name in my sleep.

Toby, on the other hand, has moved right into the coveted top dog spot after the first few days of looking around for his former companion. After that he decided to take over Charlie's place on the foot of the bed and has even begun snuggling up to me almost like Charlie used to. And he still insists on the same meal time and cookie schedule that Charlie taught him.

Toby will be 12 in May. He is in pretty good health for that age but I am beginning to notice he doesn't put much weight on one of his back legs when he stands. It makes you realize that their time with us is so short sometimes.
Awwwe


It's so hard. It took me twice as long to "get over" losing Mulligan as it did Jake. As you know, time helps.

I remember the days of seeing something on the floor or out of the corner of my eye and thinking it was them.
I think one of the hardest bits is coming in to an empty house. Then you step over them when have a bathroom visit in the night, not "loosing" a slipper every morning and by magic find it in their box. So hard to adapt, I had to start looking for another baby to love. xx


What a cute story, how lucky he was to have such a great family. So sorry for your loss.
I am so sorry for the loss of your handsome boy
Didn't find exactly what you're looking for? Search again here:
Custom Search