Leonard had his first trip the the groomer and his first trip to doggy day care today. Our local groomer and dog day care offers a drop off in the morning, spend the day at daycare free of charge with your grooming visit; which is perfect for those of us who work a fixed schedule. This is only available to the very stable dogs and puppies are carefully screened. Leonard approved daycare as soon as the met him. In fact I walked up to the door and rang the security buzzer only to hear squeals of, "Oh My Goodness it's a little SHEEPDOG!!!" He was his usual out going happy sheepie self and well... who could resist?

The staff were completely in love with him and I checked out the webcam to see him following them around all day (pretty much ignoring the other dogs if there was a human he could stalk). The groomer came out to personally tell me how fantastic he was when they were bathing him and how she would LOVE for him to come in again. He was a dream to groom (probably because he gets to much daily practice at home...). He was also invited to their special puppy agility and socialization class this weekend. They also asked if they could use some pictures of him for their Facebook page/website. Too cute! Not only that but I have NEVER seen him so white and well... clean. That never lasts so I made sure to take lots of pictures.

Beware! These are pretty cute pictures!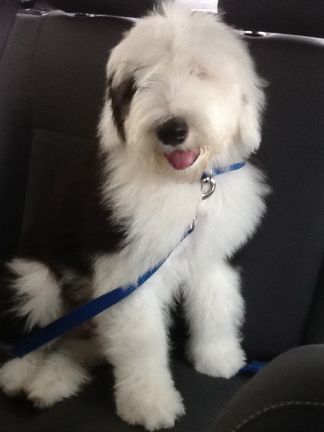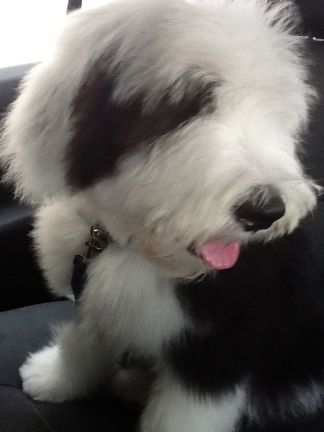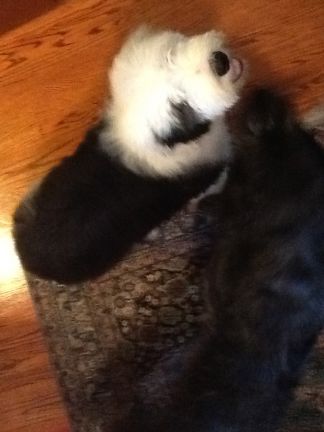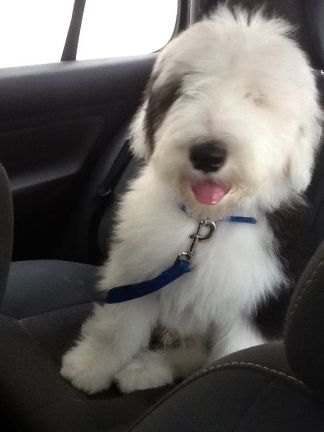 Respond to this topic here on forum.oes.org
TOO CUTE!!!!!!!!!!!
Just wondering how this got posted twice... Sorry, I don't know how to delete the other one, didn't mean to spam!!!
Oh my gosh, he's beautiful!

Karen
He is SOOOO cute. A kiss on that big black nose from me.
Adorable and I'm sure he had as much fun there as they had with him. Who could resist such a cutie!
He's so adorable!!


He's so adorable!

Cindy
He is pretty adorable. Have been blow drying him when he gets wet in the rain to keep the nice groomed look. He sure does his darnedest to mess it up! He came in from outside today completely covered in grass and leaves. Not to worry...he immediately shook the debris all over the kitchen floor. So hard to keep him fluffy and white!
Too cute!!n good boy Leonard!!
Here is one of the pictures the salon posted of Mr. Sheepie




Love it!!
So cute!!
Very cute!
Leonard is gorgeous, so beautiful. I can feel his soft fluff from here


And who better to be in the advertising campaign
Didn't find exactly what you're looking for? Search again here:
Custom Search