I am devasted. I met a shepherd puppy last week at a local shelter and agreed to take him into our rescue. We had him sent to their clinic to be neutered and get shots and we picked him up today. I didn't pick him up but I got a call right away about his condition. Here's what we know, any thoughts would be very much appreciated:

-He has kennel cough but they put him on antibiotics a few days ago
-Other than coughing he was healthy and happy when we saw him one week ago
-They told us today that he wasn't eating at the clinic (so mad they didn't call us)
-He looks awful, eye discharge, lost about 10 lbs
-He was trembling and twitching, every once in a while his teeth would chatter
-His jaw seems to be locked. The vet tried to open it but couldn't, but every once in a while he would open it and start panting
-He seems generally stressed and in pain

Right now they are treating with antibiotics and pain meds to see if he'll relax a bit. The vet seemed baffled but is going to run some tests. The thing that scares me is that there was a female Dogo Argentino at the shelter last week that had the same shaking/twitching thing that they euthanized (don't think they did a necropsy so I don't know what she has).

Does this sound like distemper? I will be so so devastated.
Respond to this topic here on forum.oes.org
This is him..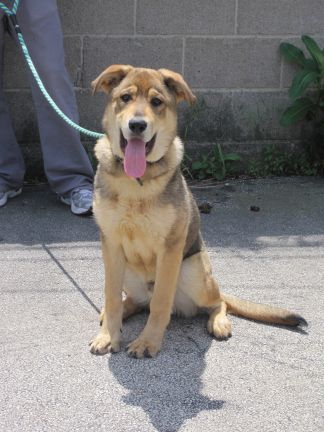 Has anyone thought about tetanus, aka Lockjaw? Tetanus is an infectious bacterium, clostridium tetani. Symptoms sound a lot like it could be tetanus. A thought, because I certainly am no expert!
Kathie
The vet did mention Tetanus as a possibility. I started freaking out about Distemper only because of the Dogo that had it at AWL, but we just spoke with the vet again and she said the twitching he has doesn't seem to be consistent with that diagnosis.

Right now she mentioned Masticatory Muscle Myositis. All I know about that is what I just googled. It apparently is treated with steroids and is not contagious (phew). The only concern is that because he has kennel cough and is not well in general, the treatment might be rough on him.

Anyone info about MMM would be much appreciated.
I cant help but I will cross my fingers and say a prayer that they can find out what it is quickly
...xxxx
I was thinking distemper but also a form of rabies called "dumb rabies." They don't go thru the crazed biting but rather paralsis of the jaw and throat, drooling (can't swallow),spasms. Of course they are just as contagious as the mad dog rabies.

There obviously isn't a cure for rabies and distemper has to be endured, there is no treatment. The dog lives or dies, not much a doc can do.

Erlichiosis , if I remember has an acute phase with paralysis.

How about a tooth ache? that has gone septic?

Tetnus of course a locked jaw, but also the eys are pulled back into his head and the third eyelid pushes over the eyeball. Ears and corners of the mouth are pulled back. Legs rigid......all rather like strychnine poisioning. Meds to relax the muscles helps with greating, antibiotics (since it is a bacteria), IV. They can survive this.

MMM, actually I know a sheepdog diagnosed with this and survived!! He got better and could eat again. The owner is certain going with a RAW diet saved him to live another 8 years! The muscles in the head and jaw just wasted away.....the owner kicks herself for not noticing earlier.
He had distemper and rabies shots three days ago. We thought possibly it could be a reaction to those, but the vet thinks it is not. I'm just so suspicious because of the Dogo with similar symptoms.

I'm hoping hoping it is the MMM, and that the steroids will help. I believe they started him on them today.
He's a beautiful boy, I sure hope they come up with an answer and he will be ok. How terrible for you.
He could be reacting to the tetanus portion of the vaccine.

We had a lamb several years ago who accidentally got vaccinated twice - same symptoms. There is no treatment, just had to baby him and wait for it to wear off. He lost a substantial amount of weight
, but thankfully the vaccine wore off in time so he could resume eating. It was really horrible, as we did it to the poor guy....but thankfully he did recover fully.

He is adorable, I hope he comes around soon!

Well, since MMM is an autoimmune disease and GSDs can be predisposed and he looks like he might have some GSD in him, that's a pretty good guess on the vet's part. It wouldn't be surprising if being ill and being neutered and receiving vaccinations, all basically at the same from the sound of it, on top of the stress of being at a shelter, triggered it, so that would support the theory as well.

Though steriods are an excellent way of basically testing the theory that what you're looking at is autoimmune I guess the question I'd have for the vet is in case it isn't MMM, but rather distemper or a TBD or something the dog needs an immune system (which the steriods will suppress) to fight off, what then?

Difficult situation, because if there's anything that can be done you don't want to wait on it, yet you don't want to do something that would make him worse. Then again if he's been on antibiotics and that isn't doing something, that probably tells you something and what have you really got to lose by trying the steroids?

Cute dog. I hope he makes it.
He should if it's MMM, though he may end up being on steroids for quite some time, and it can reoccur. But then at least you know what to look for.

Keep us posted please.

Kristine
I have nothing I can share on this but I
hope this beautiful boy will pull through.


I saw this guy on your blog and was immediately struck with those eyes. He's beautiful. I have no advice, but wanted to share my support. Hope he makes it
.
What a cutie! I hope they can figure out what's wrong and treat him successfully. Must be so sad to see him in that condition.
Thank you everyone.

He seems to be doing better this morning which means he is responding well to the steroids. There is apparently a blood test to see if it is MMM (the other option was doing a biopsy on part of his jaw).

Does anyone know if steroids would be a short term fix even if it wasn't MMM? We're trying to figure out if the test is necessary.
the MMM case I know of, steroids lasted several months and then weaned off.
SheepieBoss wrote:

the MMM case I know of, steroids lasted several months and then weaned off.



Uh-huh, something like 4-6 mos? But vet will know.

Very encouraging that he's responding.
There are worse things.

KB
Yes, they said he would have to be on them for some time. But that's ok with us so long as he will get better!
I have nothing practical to share, but just wanted to offer virtual hugs to you and to that gorgeous dog. Fingers and paws crossed here.
I'm still not convinced he didn't have a reaction to the vaccinations. it happens especially if he has had a lot of vaxs recently and his immune system was compromised.
His fecal came back and he has giardia and roundworms, so that explains a lot of the weight loss too.

Which vaccine would you think would give him those reactions?
Didn't find exactly what you're looking for? Search again here:
Custom Search