Shoulder xrays(we have no comparison to these. He had surgery in January of 2010 and December of 2010.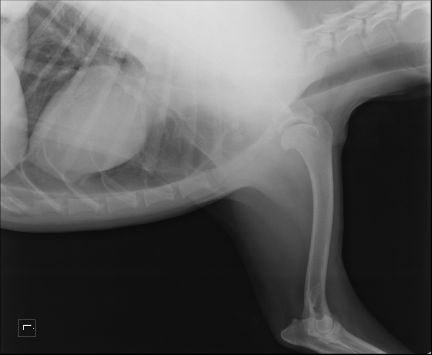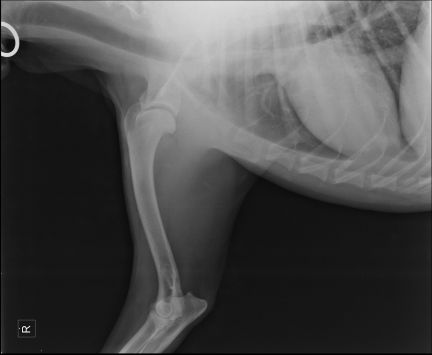 Frankies hip xrays from Dec 2010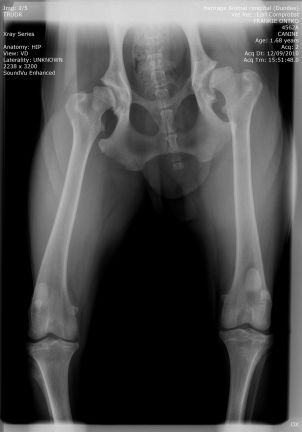 Frankies hip xrays from Today June 8th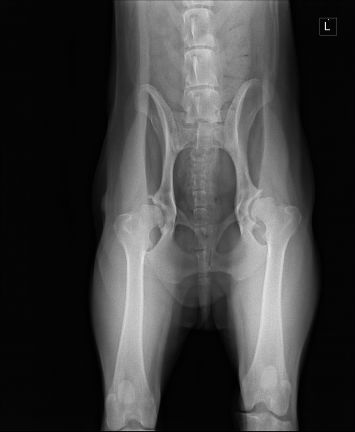 Frankies left hip was I believe they used the word luxated(?) It's not anymore it fits in the socket

Lisa Frankie and Mattie
Respond to this topic here on forum.oes.org
Hi, Lisa.

Did the same person take both sets of hip x-rays? Normallly I think most vets would have redone the first set; he's not aligned properly and that can make hips appear worse than they are.

Not knocking the results - you know from living with him how much he's improved in day to day living, and that's what matters. So happy for you guys and that's so promising for other dogs in his position. It's just hard for me to compare the two sets. The second set is nicely done. Was one set done by a regular vet and one by an ortho vet perhaps? Or maybe he was knocked out for the second set and not the first? It's hard to position young, squirmy dogs


Just curious.

You and Jaci can start your own x-ray archive at this rate


Kristine
Yes Kristine the xrays were taken by two different vets both digitally. The vet yesterday said that it didn't matter that he's not straight in his original set, that you can still see that his left hip is no longer luxated (again not sure if thats the correct word or not) and he is sitting alot tighter than he used to. Today I will let his original vet see them and see what he has to say.
I do know she was very very happy yesterday with the progress.
I understand what your saying though I would think the same thing.

Lisa Frankie and Mattie
Quote:
You and Jaci can start your own x-ray archive at this rate


Wondering if there's another x-ray or one taken at an earlier time where he's lined up better that will allow for an accurate comparison?

Panda wasn't lined up properly for her first x-ray either. They were likely wrestling around with her at 9 months old.
It's poor quality because it's actually a photograph of the x-ray that was taped to her crate when she flew in. I wanted a copy before turning it over to my vet so I put it on a showcase and took a picture.

http://oesusa.com/MadisonXray.jpg

Panda's second x-rays done later on were better... more straight/square. It did make it difficult though to compare the two to see how her condition was progressing.
http://oesusa.com/PandaXray2.jpg

Maybe too there's also something the treatment does that x-rays don't measure?
I'm thrilled Frankie's showing improvement!
I noticed the alignment problem as well, but I'm quite inexperienced compared to the likes of Kristine and Jaci, so I wanted to see what they thought about the x-rays before I commented
.

We have hemmed and hawed over having Oliver's hips x-rayed again. His last was taken at 8-months, when he was diagnosed with severe h/d in both hips. I've been wanting to see how his dysplasia has progressed, but my vet keeps poo-pooing the idea. His theory is that we shouldn't go looking for a problem; we know he has hip dysplasia, but Oliver is doing very well on our current regiment. He thinks we should let Oliver tell us when he is in pain, not an x-ray. If/when things change for Oliver, then we can look at it again....this is my long way of saying that yes I do see a change in the x-ray, even though the first is not aligned properly, but let Frankie tell you if he's feeling better. From your other posts about jumping in the car and range of motion, I think you already have your answer!

I'm very excited about Frankie's progress and look forward to hearing continued updates!
Good news! Hooray for Frankie!
I am so happy for you!
Didn't find exactly what you're looking for? Search again here:
Custom Search