Sunday is my 1st Wedding anniversary.
I can't believe it's been a year. I guess being pregnant for 9 months of it, buying a house etc... made it fly by..
Here is a wedding pic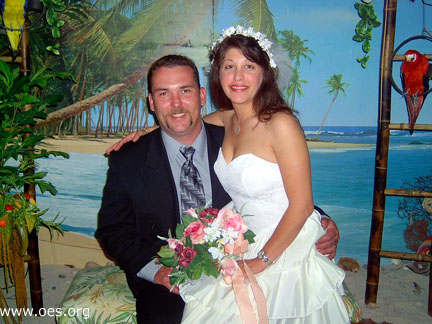 Ok...so here is my problem. I am completely broke and waiting for a check that probably won't come until next week. What should I do about an anniversary present?

Elissa
Respond to this topic here on forum.oes.org
Why don't you do up a gift certificate on your computer for a night out or a trip some place that your husband can redeem in the future. Make a nice diner and present him with that. If you have a new baby at home...arrange with a relative or close friend to babysit and a night away might be great for both of you.!
Thanks for the suggestions Della.

I know he wanted to go to Vegas and renew our Vows... I guess next year...
You could also pick out whatever you want to get him- print a picture of it off the internet, and put it in the card! That's what I did with Mike for Christmas, when he was overseas. I sent him a card with a picture of our bed (that was his (big) gift) so that he knew what he got. He just had to wait till he got home to get it! Congratulations by the way!!!

Karen
Favorite dinner, great music , flowers and candles. Dress up and make it an event. If you saved the top of your wedding cake serve it for dessert. a babysitter is a good idea also. You make a wonderful looking couple and congrats
Sounds to me like the baby was a great present. Best wishes on your anniversary. May you have many more.
2 words - Love Coupons!
My husband & I have never exchanged gifts for our anniversary in the 6 years we've been married except for one year (it's Jan. 5th so we're usually very broke from Christmas...especially now that my youngest son's birthday is December 20th), but we do do special things for each other. The only time we've given each other a gift was last year. It was our 5th anniversary, and we didn't have a honeymoon (my grandmother passed away the day after we were married & then he was deployed for 6 months the week after we married. Then, I've pretty much been pregnant since he got back
), so we went on a 7 day cruise sans kids for our anniversary/very late honeymoon.

I try to make him his favorite meal, have the house spotless, small things that I know he appreciates. He usually takes over kid duty for the night and gives me time to things I never get to do anymore because of lack of time (scrapbook, sew, etc...) He'll usually take the day off work, and we just spend it together as a family. We don't do anything special, but it is special at the same time. We pretty much do the same for birthdays, lol We're not a very romantic couple I guess, but it works for us.


I say you've given him the best present he could ever ask for - a beautiful daughter.

Happy anniversary and I hope you enjoy your day!
Great reply Gail. My BD is Dec 20 also. I'm still getting over the trauma of all my BD presents being wrapped in Christmas paper
The BEST presents are the ones that don't cost anything. Write a letter to your husband, tell him how much the last year has ment to you. Tell him WHY you love him. Remind him of silly little things that have ment alot. Make a special dinner at home, candle light etc. then let you imagination run wild


My ex would spend lots and lots of money on presents that didn't mean a thing. It's the love and special memories that count!!!!!
Wow!!! Thanks for all the great ideas.
Gail, We didn't have a honeymoon either. We had gotten engaged in Dec 2003 and I was hestitant to set a date... Been married before... also I didn't need the stress of planning a big wedding like Billy wanted.
On Easter of 2004 our Landlord stopped by the house to tell us we had 60 days to buy the house we were renting for $520,000 or get out. We did not have the money to buy it or to come up with enough for a down payment in 60 days. We searched and searched for a rental in the same area and the rents had gone up $200 a month...OUCH!! We found a smaller house for the same amount we had been paying but they refused to take our dogs. We would not give up our dogs for anything. So we started discussing buying a house and called our friend Louie, (he was Billy's friend for years, then I worked with him for 2 yrs) a mortgage broker to come over and see if it was possible to buy a house at that point. He told us the best way to get a mortgage would to be married. Then he asked us if we had set a date yet. So he said Why don't we go to Vegas tonight and do it. Billy and I looked at each other. I said lets do it. Then I wouldn't have to worry about planning a wedding it would be great. I called my Mom and Dad to see if they would watch my son.
Then off we went. We called some family and friends and even picked up my husband's brother Jimmy to come with us to be Billy's best man. Louie drove us...which was great because it is a 5 1/2 hr drive. We arrived at 3am after breaking down twice and decided to wait until the next morning. We had some friends in Laughlin, NV that were there for Bike Week..including my husband's Best Friend and they agreed to come for the ceremony. In the morning we went and got the license and rings. Louie walked me down the aisle and gave me away.
Our friend's Billy & Wayne attended the Ceremony. It was wonderful... But we had to rush home for the dogs and my son.
We came home and started looking for houses. We had an offer an one week after we got married... In early June we moved into our house which was 100 miles away from our old one... (Only place we could afford to buy) Right after moving in I found out I was pregnant. (which freaked me out because I was lifting very heavy stuff during the move because Billy hurt his back) We've been working on the house all year.
So that's pretty much the story of our last year...lol
Sorry for the book

The one thing Billy wanted that he never got...besides a honeymoon was a wedding cake. I think I will make him one....
I also agree... The baby is the best present ever. How do I top that next year
?

Elissa
Elissa what a great story! It's amazing how often the best things in life just happen without planning! I didn't want the big wedding either - both been married before and the first one was "mas grande" and super stressful. And out timing was dictated by my lease expiring. We told our friends and family we were eloping to the Caribbean and they were welcome to join - 20 of them did! I had no idea how it was going to work out but it turned out better than anything I could have planned.

I think Tasker's Mom and Jakeandbrandons Mom gave great advice. Our theory is we'd rather celebrate our marriage all year long instead of making a big deal once a year. We try to have Date Night every week but it usually works out to once a month (you know, work, his kids, other commitments
) So that's 12 mini celebrations (movies, sports events, dinners) instead of the pressure of one high profile (and expensive!) present. Make him a wedding cake and have a great evening!

Sue
We spent 2 anniversaries being pregnant...one after the other too. So having a new baby is kinda rough on romance. I couldn;t let anyone watch her, I was a little obsessive that way. But we managed to squeeze some romance in.

I enjoy pampering him, so I tend to make a bubble bath, and a massage part of the evening. We try and have some wine, or choc dipped strawberries too. I make a nice dinner in if we can't go out...when I have the money we might exchange gifts.

I e-mailed him every hour at work with love quotes I found, trying to express what he means to me.
These are all great stories... how sweet... I don't think I will tell mine, it's too long.... but the short version.... my husband and I have been friends since we were children, and remained friends throughout our lives, had relationships that didn't work out with other people, and finally got together as a couple 3 years ago. We got married July 26th, 2003. We had thought about trying to have a child together, which would involve me getting my tubes untied, but since we already have four between the two of us, 3 mine, 1 his, and they are all 14, 13, 12 and almost 10 years old, we haven't done that yet. We still might, but at this point I'm leaning toward no. We've been through so much already the last few years, I think I am ready to relax a bit, enjoy life, and not start in with the diapers and temper tantrums and midnight feedings and all that again. Besides, as my kids get closer to college and or university, I am really thinking 4 is enough...lol... it's the most expensive stage in their lives I think. One is a bit of a child prodigy, very involved with music, acting and academics on all levels, and is pretty much guaranteed full scholarships on everything. Another is a straight A student who should do well that way too, and my two youngest get fairly good grades, but I think one may go to a local college, become a teacher or a police officer, and the other I am going to encourage to get into a trade. At this point I can't even imagine having to worry about another...lol... though by the time another child was ready for all that, the other four would be done and hopefully well on their way.
Ok, I've gone way off topic, as to anniversaries,lol, we haven't done anything to celebrate them. Time has gone by so fast and we're so busy all the time, it just hasn't worked out for us to go anywhere, or do anything...lol... and no matter how much money we make, it all goes to the kids and dogs, so there is never enough....
We're lucky to even remember special dates like that... I almost need post it notes to keep track of our own kids birthdays, and 3 of them are within the first 2 weeks in March! LOL
Totally unromantic I know, but hey... I keep my eye on the prize, retirement, Hawaii. LOL We figure we'll work so hard to get to that point, and by the time we get there we'll be too old to remember why and will just sit in our rocking chairs on a big old victorian verandah trying to keep our dentures in. Good enough.
bestdogsx4 wrote:
Great reply Gail. My BD is Dec 20 also. I'm still getting over the trauma of all my BD presents being wrapped in Christmas paper


Oh, I bet. That's one of my pet peeves with the grandparents. If I see it in time, I'll rewrap it for him! LOL I know he's still little, but I'm trying to stop it before he does notice it. Just because his birthday is right before Christmas doesn't mean it should be any less special that my son's birthday in June!
Didn't find exactly what you're looking for? Search again here:
Custom Search