What a wonderful surprise for a foster Mom!
When Marty got home yesterday he gave me this
paper towel holder that was made for us by Sam's new
Mommy and Daddy Michele and Rick!
I was so excited....Finn thought it was a real pup!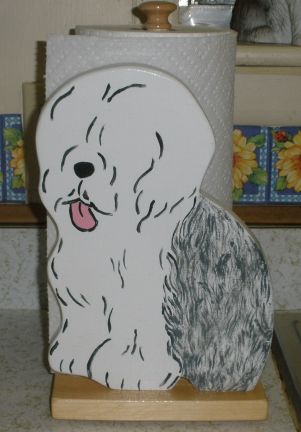 Respond to this topic here on forum.oes.org
how cool is that !!
suzptcruise wrote:

how cool is that !!



His new Mommy is a doll!
I have been trying to help her find a dog since her sweet boy passed last year!
I am sooooooo happy it has finally happened for them!!!
That is really neat and what a great reminder for you of your time with him.
Very cool!
Very cute
and very nice of them
Adorable. And practical!!
She does make them if anybody is interested!
Donner's Mom wrote:



I have no counter space for one

My paper towels live under the kitchen sink in the lower cabinet for just that reason.
Thats too cute!!
How very sweet and unique. I would certainly be interested to have one. ANy way to make it mountable? Also a scaled down model for toilet paper.
Nancy
Didn't find exactly what you're looking for? Search again here:
Custom Search