I took Tiggy herding today. We haven't been since last Nov.

Tiggy did NOT herd sheep she chased them.
The first time in with them I had a modicum of control, the second time Tiggy was completely wired she had enough brain still functioning to figure out that she would get in trouble if she nipped the sheep so she just raced round and round the outer margin of the round pen as fast as she could and then every now and then she would try to run in for a nip and a chase.


The instructor has us working on lead now until Tiggy stops being deaf and learns some self control.
Lord knows if that'll ever happen.

Tiggy is absolutely exhausted and she was only in the pen twice. I am absolutely exhausted too. Tiggy has already put herself to bed. And I won't be far behind tonight.
Respond to this topic here on forum.oes.org
I showed this post to David and I can still hear him giggling. She maybe just needed to get this out of her system after months of dreaming of sheep.
Tiggy believes if you're going to do something you do it as hard and fast as you can, to heck with the rules. You just don't understand ma.
To Tiggy -

Not listening is bad. I learned not to chase and I got to be off the long line. Then the rules changed, now I can't rush straight at the sheep. Apparently I am supposed to swing wide and learn "away" and "go bye".....nonsense in my book. However, it earned me nothing...back on the long line.


Your fellow sheepdog in the US, wanting off the long line -
Chewie


(evidence)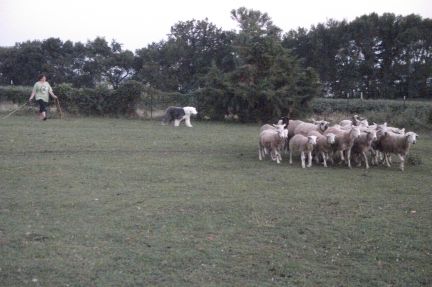 Mady wrote:

I showed this post to David and I can still hear him giggling. She maybe just needed to get this out of her system after months of dreaming of sheep.



I am with David!


Sorry, Mim
I was hoping she'd get it out of her system running around the pen but it didn't work it just wound her up and made her completely mental, no getting it out of her system.

And it also made me very, very dizzy.
Chewie,
I'm dreaming of a long line! I'm in the pen on a short leash and every time I rush ahead I have to stop and sit. Where is the fun in that?? There's scaredy sheep that need chasin'.
Let me know how your sheep chasing.....I mean herding goes.
Tiggy the Aussie sheepie witch.
Tiggy you make me giggle!!
Just received in the mail a letter from one sheepie girl


Dearest Momma I am forwarding this letter & my defence to my Auntie Lisa in protest at my Herding "ENTHUSIAMN!!!!!

SOME uprights are just no fun, we wont point the finger at "Anyone in Particular"!!!! But what is a girl to do when her upright is re-coperating after surgery and HAS not taken me, the princess, for ages to "Frolick with those wooly fluffy thingys.?


Ok so I admit to both my cousins I was wired for excitement, blame Momma!!!! Syd you should of seen those wooly thingys in the pen. I had way toooooooo much energy to burn and momma was way to critcal of controlling me
Geez I have been such a good girl recently at "Agility" now "SHE" expects me to be meek and obedient at herding those wooly thingys.

I was just full of myself, so happy to be back and just a tad over enthusiastic, what's a girl gonna do after a few months with no sheep in her life to round up
, run free and just be plain Ferral?????? You bettcha cous cous syd


Love to you Syd from Ferral on occasions when Momma is out of action your bestest buddie, Msssssss Tigster the on occassions when needed the "Ferral Sheepie Princess"!!!!!!!!!!!!!!!!!!!!!!!!!!
Didn't find exactly what you're looking for? Search again here:
Custom Search