Dahlia is 12 weeks now and we are going to our 1st Puppy Kindergarten class tonight! She already goes to the same school for Puppy Playgroup every Monday night for socialization---but, now we are starting a class. I wasn't going to do Kindergarten since I had a sheepie before, but, I decided it wouldn't hurt to have a refresher class. Plus, this was the 1st time that my husband and I have had a puppy together. I am actually a little nervous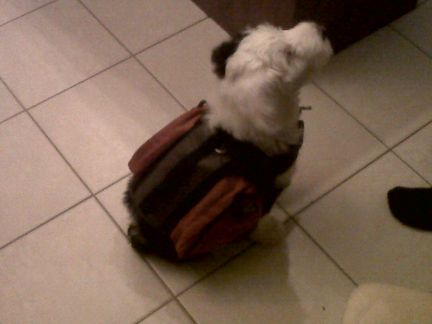 This is Dahlia with her hiking back-pack on! She loves wearing it and already knows when we get it out that she is going in the car for a trip to the hiking trails!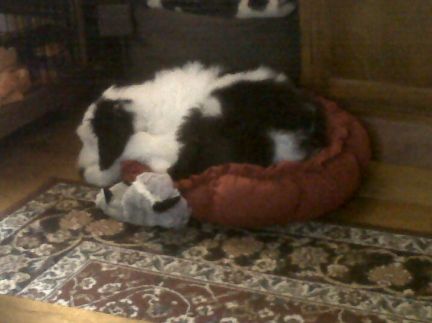 Trying to squeeze in her Cousin Colby (Havanese) bed
Respond to this topic here on forum.oes.org
What a cutie and in her cute little hiking vest. what a sweetie.
She looks completely adorable in her hiking pack. I would just scoop her up and put her in my pack!
That is awesome
Love the backpack.

Your little girl growing up and ready for kindergarten right before our very eyes.
Very cute in her backpack!! Enjoy kindergarten!
Can't wait to hear how it goes with Dahlia. Charm and I are going to our first puppy class tomorrow. I'm nervous too
.
Ooooh puppy class. I loved when Howie & I went. The first few minutes of our classes the instructor let all the puppies run and play together. It was so fun to see all the little butterballs chasing and bumping into each other.

Have fun, fill your pockets with lots of kibble.

peg and howie
We are going to our 2nd kindergarten class tonight and our 5th playgroup! It is great. We are learning great techniques. I wasn't going to do it since I had a sheepie before, but, this school is a great reminder and also teaches things a little differently. The 1st lesson was their name recognition and come. They said that the 1st thing you teach is the thing they remember the best. Well, come is so important in case she ever runs away, that made perfect sense to me.

They are also teaching us about "station" time. This is where you set her up at a mat or a station in your house and she has to stay there and not bother you. You have to ignore her. It actually is really great and gives us a chance to eat dinner without being pestered etc.
Didn't find exactly what you're looking for? Search again here:
Custom Search