I have massive ice dams and it is now leaking into my house.

So far I have water damage in my living room, foyer, 1 bathroom, garage and loft (bonus room over garage).

I cannot hire anyone to shovel my roof, they are so busy they won't even return calls. Snow and freezing temps are expected to continue for weeks. I called my insurance agent and they tell me the insurance companies won't be sending adjusters for weeks until "the event" is over. The event is so large that the insurance companies themselves won't be even contacting me for at least 3-5 business days. But I should try whatever I can to minimize the damage.

Maybe some ice dam companies from Minnesota should come to Massachusetts or New England for a few weeks if they aren't busy enough out there.

I just put in a completely new roof and reworked my venting 2 years ago.

I am so disheartened. I don't know what to do. This is killing me psychologically.

I'm going to go pout/sulk/fret/dwell now.
Respond to this topic here on forum.oes.org
Dang, that does bite!


I know our adjusters have been working overtime here, and the summer storms/hail made roofers go into overdrive here. I know some people who never could get a crew before winter set in....


My son had ice dam damage last winter - leaking, plaster came down in a ceiling. It does make a mess.
Yikes, that sucks!


Dumb question, maybe...but as your roof is new, is there any kind of warranty or guarantee from the builders in effect?

We are actually still in the process of getting our roof replaced...The guy who doing the job had a family emergency, and had to stop partway through so he could go out of state . Half of it is just rain shield right now
....good thing its a VERY steep roof
I am so sorry you are all going through this awful rotten stinky weather. I feel really guilty its windy here and I was fed up cos my feet are cold.........sorry..............
Ron, I'm so sorry you have to deal with this. I thought we had it bad with a leaking sky-light...I don't envy you!
ron, is the house one story or two?
anyway, the question because i don't want anyone getting hurt, but the roof melt wires even in one location to break the ice dam will let it flow. so you don't have to put it up evenly like you were installing it permanently.let me know if you have any questions.
Ron, we had a similair problem and caused a roof leak into the hosue as well. Do you ahve gutters? We found if we kept the gutter clear and the end of the gutters where the water should drain clear, we didn't ahve the problem. We clear as much as possible out of the gutters by hand and then pour boiling water through. We dig out the bottom of the gutter drain so the water can drain through and daily we hit the gutter so the remaining ice can seep through. Hope I make sense. If the gutters are not clear, the water will back up and seep under the roof and cause leaks...

Good Luck. Winter sucks.
Ron, I have no advise, just wanted to say I'm sorry you are going through this.
oh I'm so sorry to hear this! Big hugs to you and Joan!
Something is wrong, allowing warm air up and melting and refreezing. I'm sorry you are going thru this.......not nice. Well, you wanted to reinsulate, replaster and repaint anyway, right?

Today comparing notes with friends over our cold blast, many frozen and busted pipes, flooded homes, collapsed ceilings, flooded garages (garage doors frozen to the ground) (indoor ice rinks), etc. Big run on drywall when weather warms.

I think we've escaped unscathed, just humbled.

Hope your problems are corrected soon.
I feel for you Ron.
The apt above my son's girlfriend's place had a broken pipe late Thursday afternoon. Fortunately she was at home and called the office. After 15 minutes, she walked over to the office. They said the guys were already working on another plumbing, so Heather again told them the water was pouring into the kitchen.
She put every towel, sheet and blanket on the kitchen floor, trying to keep the water from seeping into other rooms. When the guy finally showed up, his eyes bugged out of his head when he saw the water coming down the inside of the window over the sink. He got the water stopped. It also flooded the apt next door.
They stayed with us - and will be again. When they went over to the apt today, there were signs of another leak in the apt, a half*** celing repair where it had fallen down and a new outside fountain formed from a broken pipe. Heather wil have to contact the owner in CA as the office here is not willing to move her into another apt - repairs are going to take weeks if they are done right. The office wouldn't even give her the cocntact info - I love google. Wait until they see the video!
Oh, think of the moldy insulation and drywall!! Hope that rental contract is up soon. Bet she doesn't have renter's insurance.

Water damage is becoming nearly impossible to insure for because of the later mold issues. Companies are just dropping flood/water damage insurance. Rejoice when you have it.

Friend owns apartments and offices, another manages a big medical complex......you know how they are spending their week and weekend.
I've torn down some sheetrock and installed jury-rigged funnels to try to catch and capture the main leak. There is ice on the cold side of the wall. My theory is that the heat leak is warming the roof, and water rolled down and formed a traditional ice dam when it hit the cold roof. Then the ice dam grew until it produced the traditional ice dam seepage with water backing up and finding it's way past the roofing. When the then hit the cold side of the wall, it froze. THAT insulation was doing it's job just fine.

The problems seem to be in valleys, the roof edges don't seem to be a problem (yet).

I had the venting system "improved" 2 years ago, but I think the problem is that there is 2 feet of snow on the entire roof, which completely covers the ridge vents, preventing any breathing. I'm thinking that after this event, the building code might be upgraded to requiring some sort of cupola device to provide venting more that an inch over the top of the ridgeline.

So anyway, Joan, Mulligan and I have retreated into a single room and turned the temp down in the rest of the house to try to limit melting. It's currently 55 degrees in the house with the heat set at 45 for the last 36 hours (well insulated house
). Sleeping was miserable for me (I don't do so well with sleeping arrangement changes anyway and on the floor was just miserable. I'm a whiny zombie today. I mean, even more than usual!

I've got a shoveling and hot water and steam company coming.... Thursday. That's in 5 days. God help us!
I'd be huddled up in an electric blanket full time, Ron! I can do a change in sleeping location, but not cold.
I wonder if the spray insulation on the underside of the roof would be worth it? Even growing up a little further north, ice dams wer never an issue for us.

My kids all have renter's insurance that includes water damage, but Heather doesn't. With the exception of a couple of boxes in the storage room that absorbed water from last weekend's leak from the upstairs washer (we think a drain issue), the only loss is food in the kitchen. Unfortunately, a visiting aunt made a trip to Sams and loaded her up - that's all gone.
She had water late yesterday, so she back there doing clean up.
ron,
sounds like your roofers put iceguard starter on your edges, but your valleys??
do you know what material is on your valleys??
My sincere sympathy for what you are going through, Ron! Issues with a roof are really awful to deal with!

I remember when I was a child in Quebec, my mother always called in a crew of roofers several times in the winter to clear the ice and snow off the roof of our house. This was their occupation during wintertime.
They cleared the roof with shovels and mallets. I can still "hear" the noise in my memory!
I've been in a 10 x 12 closet/room for 3 days now. I am grateful to walk the dog. I am happy to need to go to the bathroom, even if it is 50 degrees in there. Maybe lower.

Mulligan has been moping -- Joan is out of town on business. More room for me in the closet.

Thank God for reruns on TV...
Oh my...that just sounds miserable! Big
to you guys.
THIS IS HAPPENING TO US RIGHT NOW!!!!

The worst thing is that we live in an association and no one is taking responsibility for it! It's absolutely ridiculous that we can't get some reparation for this issue while the INSIDE of the house is getting RUINED!
Day 4 of my captivity.

The dog is gnawing on his bone. I am gnawing on my iPhone. All of my minutes have been used yet I keep calling people. I am nearing the end of my contact list. Ex-girlfriends and random colleagues from 20 years ago are starting to be appealing.

I begin an hallucination. Phone rings. Wife claims ice dam company wants to come right now. I babble on. Dog is barking. Wait-- I'm not dreaming. Someone is at the door! I must don my parka before entering the hallway. Will finish this entry later.
I work for a roofing and remodeling company. This winter is really nasty for ice dams, worse than last winter. If your roof did not leak during rain, it's ice dams. The most important thing is to get that snow and ice off. We install the ice and water shield up 6' from the eaves and 3' on each side of the valleys all the way up, per code. Sometimes the homeowners want it up higher. The whole roof cannot be covered with the ice & water shield because the roof has to breathe. Wide channels can be cut in within aprx. 2" of the roof to let the water drain out. Another method is steaming which takes the ice down to the shingles. It is a pretty expensive method and takes time. No matter who or which method is used, make sure they are a reputable company, licensed and bonded. Remember, the water has to go somewhere. In the Spring, you might want to consider putting up the heat tapes. It isn't 100% but it can help. Most insurance companies will only cover the damage inside only. Some may cover the removal but you will have to check with them. DO NOT use ice melt on the roof because it can damage the shingles. You can look up ice dams and see pictures of how they start as well as insulation with a R-factor and ventilation.The only way to avoid them all together is move to Arizona or Hawaii but with the weather pattern changes, who knows. Good Luck to us all!!!
Nancy
Oh yeah, I forgot to mention, Ice Dams are an 'Act of God' not a warranty issue. Our contracts specifically state that. We have a great Labor Warranty but we cannot control the weather.
Nancy
Are you covered if you are an Atheist?


It amazes me the Grumbling we get here (uk) when we have a week or so of snow.

If these are common, are there no methods employed that have to adhere to building regulations? I would have thought if snow is common - and then the risk of this issue on a regular basis then, the buildings and any building work would need to comply?


Lets hope the weather warms up for you Ron and you can get this all sorted.
In Minnesota, we do have building codes we have to follow. We also have city inspections for the ice & water shield AND a final city inspection. If something doesn't pass, we are required by law to do the necessary correction, which we do because it could jeopardize our license. We have been in business for 28 years so we must be doing something right.
'Act of God', as insurance companies refer to it or whatever you want to call it, it isn't a warranty issue. Freezing rain, sleet, ice storms and lot's of snow, is something those of us who live in this climate understand. This winter is particularly bad. This is not our typical winter even in the Midwest. Building codes are different in other parts of the country.
Our new roof (in process
) is going to be metal, for this reason, as well as to reduce fire danger. My studio has a metal roof, and never has any problems with ice dams, because the snow sheds way to quickly for them to form.

Of course, then there's the problem of snow and ice shedding TOO much, and being hazardous for anyone walking under it!
So...code requires that there be "cleats" to keep the snow up there above walkways.

Its always something!
I had forgotten that the roof of our old house was made of tin, like all the houses on our street.It was easy to knock the snow and ice off. The roofers put up 2X4's against the house to warn passers by that they were on the roof. I remember that everyone just walked in the street to avoid being hit by falling snow or ice.
There wasn't much traffic and items like bread and milk were delivered by horse drawn sleigh. The sidewalks were cleared by horse drawn scrapers. This was definitely another world.
So what is a ice dam? I've never heard of that before.
crustybirds wrote:

So what is a ice dam? I've never heard of that before.



Basically you have a warm spot on your roof (from a vent, thin insulation, sun hits there hotter that other areas, whatever) that semi melts the snow...which re-freezes and forms ice, which then prevents more melting snow from draining off of the roof...so it winds up going through and causing leaks. This tends to happen mostly in the spring here...when we have repeated freeze/thaw cycles.

How are things going at this point, Ron? Have you and Mully been released from captivity yet????
OK, I've calmed down enough to update everyone.


Click through each pic for the full-size images if you'd like to.

The way the house looked from the street. This is many days (a couple of weeks, maybe) since the last storm. Lots of snow and ice dams forming. The snow is too deep for me to get into the back yard to see what's going on behind the house.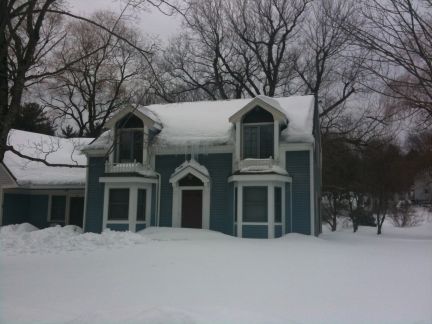 Damage being done to my skylights...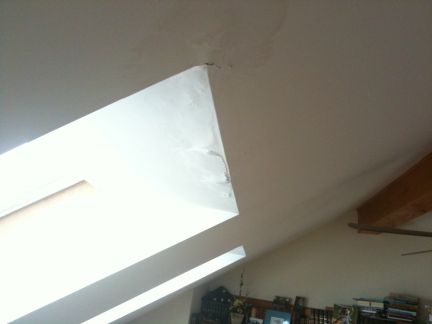 Mulligan and I camped out while Joan is away on business
Mully is moping...
(Jill: Note vertical blinds...
)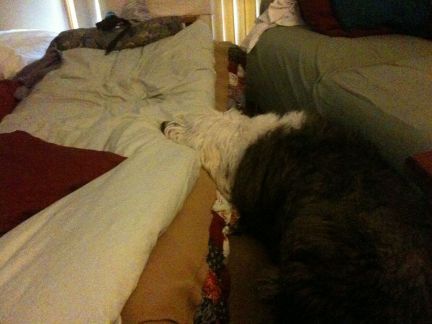 My heroes arrive! They are clearing the snow only where it must be cleared to prevent damage. In this case, the entire section of roof needs to be cleared because of the large skylights (the one next to the one in the previous picture is seen still partially buried.) can you see it dead center?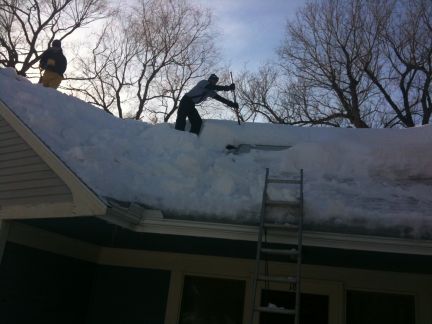 Cutting away the most serious ice dam using hot water and low pressure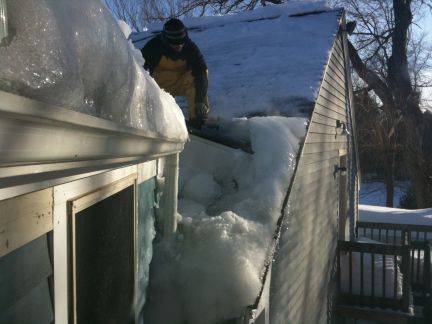 Just about all done... Snow is cleared around the dormers where we had some trouble, channels cut into the dams to allow water to get by. Note the 6 foot+ high mounds near my entryway on the left!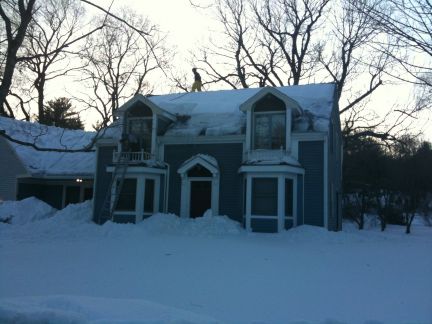 I was hoping this was a good news update!!
Thanks, Ron. What a pretty house! Your 6 ft. snow banks remind me of Quebec! Also the men on the roof. (Les hommes sur le toit!) So glad things are better! :
Didn't find exactly what you're looking for? Search again here:
Custom Search