has anyone got bouncy old english sheepdogs and a leather sofa. i want to change my fabric sofa for leather (easier to clean) but wonder how much damage they will do jumping on it. thanks sue
Respond to this topic here on forum.oes.org
It depends on the type of leather. As far as holes, we've never had any; however, we went out of our way to talk to everyone at the stores to find out more about the types, quality, and of course took in their suggestions. We then proceeded to try scratching each and every sofa we sat on. Ours has held up very well. 0 scratches from the dog or anything else.
we got leather sofa and love seat set, specifically because we had the two OES. Mrs J is right; you can't buy just any leather. Talk to the sales people, and they'll explain that there are all different levels for leather; the least of which being leather that is ground into a paste and applied as a thin layer to a piece of fabric, and the top of the line (if I am remembering this correctly) being whole hides. You need the better leathers if you want them to stand up. And a decent leather furniture sales person will try and show you how hard it is to mark or scratch their sofas!

Ours have some minor scratches now, but my girls REALLY wrestle on the sofas (our leather pieces are "place" for the girls, so they're really up and down on them a lot). We also chose a dark worn leather, knowing that in time there'd be scratches on it. But we've not yet had any holes, and we've had the 2 pieces for a couple of years now.
Same here!!! leather sofas ...BECAUSE of the sheepie...I was constantly vacuuming the hair on the material sofa.

We bought a really soft leather couch and love seat about 6 years ago. Heart and Pearl are always on it and I have never had a hole, scratch or anything from THEM..


..now my grandkids???? Different story... My 4 year old granddaughter, Gia, decide to draw a picture with an ink pen on one of the couches a couple of years ago....I was able to scrub it out, and then I had to treat the leather..but..it WAS a cute picture!!!!
Yes leather because of the sheepies--they are allowed on the sofa, love seat, and chair--the advice from others is good advice. Buy a good grade of leather and you will not have holes. We have a few scratches but nothing major.
We have leather too because of the dogs. You cannot get dalmatian hair out of a fabric sofa no matter what you do.


The sofas we bought are proper leather, medium quality, dark brown as that doesn't show the dirt.
The leather is worn but that's more from us sitting on them as they're over 10 years old now. One gets sun on it in the morning and that's really damaged the leather. Most of the scratches are from the cat falling off the back. Siamese don't have good balance.


The worst damage was done when Rastus got a fungal infection in between his pads and chewed his feet on the sofa. The leather got all wet and soft and then when he scratched it tore.

But as I said they're over 10 years old and I have been really slack and haven't used leather condition for the past 6 years at least. We are going to replace ours soon and we'll definitely be getting leather again.
After years of having sheepies and material sofas a few years back we finally brought leather. I got sick of trying to keep the material ones hair free and dirt free with dogs that insist on lounging around on sofas.

Best thing we ever did
You have to have a good thick leather so the dog nails dont puncture the leather. We got a thick Italian grade leather and I do put throws on it as cant keep the fur balls off it.


Rather then using a vacuum to get rid of sheepie hair on the sofas and also occassionally a spot fabric stain remover, way easy now, I have a leather cleaner and conditioner all in one, so every so often I just wipe it over and can occassionally also just wash the throw rugs too. I wish we got leather years ago now


I love the leather and sheepies on it now as no major oooh dirty paw marks on it or hairy sofas.


Syd tested for Durability, it passed paws down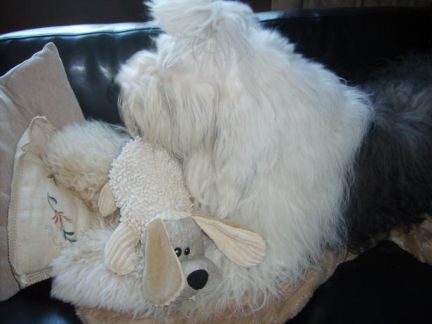 Didn't find exactly what you're looking for? Search again here:
Custom Search