Okay, so Mika and I just went out for a full-on snow romp, chasing sticks, chasing each other... and having a grand old time, her decked in her Muttluks and me in my snow pants.

When we got in, I dried her off as usual, only to notice her gnawing at what I can only describe as eeeevil snow burrs covering her entire tummy from chest to butt! It took me an hour to massage them out... she getting wetter as they got meltier... and by the end she was half asleep on her grooming table.

What is with the fursicles????


Will this happen every time we go out to play? Am I doing something wrong? Is there some secret snow burr removal technique that I need to know? She still has a puppy coat so does it--gasp!--get worse?

HELP!

p.s. Mika is napping and doesn't seem in the least concerned.
Respond to this topic here on forum.oes.org
Welcome to the world of sheepdogs in the snow. Yes, the fursicles will become a part of your daily winter life. You were smart to have her wear Muttluks, as that will keep her from getting those nasty iceballs between the pads of her feet and her toes....very ouchy. The best way I have discovered to get rid of the snowballs is to put Oscar in the tub, and rinse them out with lukewarm to warm water. Otherwise, you've got a snowball of a dog walking around your house, and melting a trail all the way. After the rinse, I then towel dry him, and if it's particularly cold out, I will use the dog dryer on him to finish the job.

Snowy winter days sometimes make me wish I had a Labrador Retriever instead.....


Laurie and Oscar
I too am wondering how to manage this. I come home at lunch and take Mady out. I don't have time to also throw her in the tub to get the snowballs out. Should I start to wean her off of the lunch time walks? I hate to do that, as it gets me out of my cubicle at work, but I don't want to hurt her by making her into a doggy popsicle either. How big a deal are these snowburrs/icicles/snowballs? THIS is why we should move to Australia!
They are probably not a big deal, unless they are huge and close to the skin. I have to be careful with Oscar's skin, so I err on the side of caution with anything I do for him.

Laurie and Oscar
I find the % moisture in the snow determines if there will be a problem. If your snow is usually higher moisture, you may need to invest in boots and more dog clothes or plan on rinsing them off in the tub and at least towel drying and hopefully blow drying.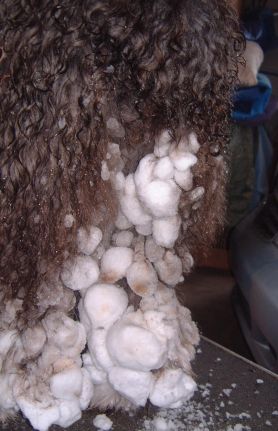 Yep - the moisture content and air temp play a huge part in the snow balls. Also the length/amount of hair your dog has as well.

We have long winters, lots of snow (usually very dry snow, as we tend to be very cold with low humidity). While that means very little making of snowmen as it's too powdery
, it also means the snow doesn't attach itself to Chewie
.
I usually try and brush/flick off what I can, then let him dry out.
We dog sled and spent hours and hours out in it, and rarely need to do anything special.


Here are Chewie and Gabby finishing up a run out on the lake, coming back up into the yard -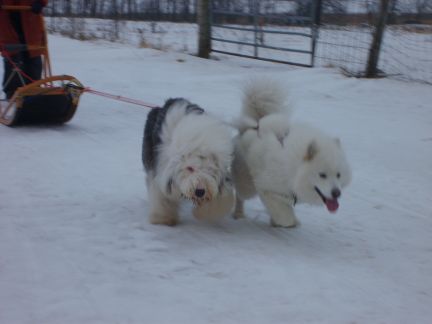 Didn't find exactly what you're looking for? Search again here:
Custom Search