I'm fairly shy, but after weeks of reading and learning so much about sheepies, I just had to delurk to thank this wonderful community, not just for the helpful info but also the lovely stories and pictures of your gorgeous pups. I don't have an OES yet, but have always loved the breed and hope to get one next year after moving to a house (after a lifetime in apts.) Oops, I should introduce myself. My friends call me Moppy or Mops b/c I've a huge mop of curls that have a mind of their own. We live with a couple of Persian cats and usually 1-2 foster cats. I've never had a dog of my own, though I've dogsat many times. Though I've been involved with cat rescue for many years, people say I'm a "dog person" because my cats are harness trained and know some basic commands. (I tell them it'll make the kitties easier to adopt, but in truth, I just love grooming and interacting with them as long as they'll tolerate--I'm so ready for a great big dog to love on!) We're still in the research and saving up phase, but we're hoping to adopt a sheepie or sheepie mix who's ok with cats through a rescue group (NEOESR).... Phew, I didn't mean to go on so long. I'm just thrilled that such a community exists. Thanks again! Mops
Respond to this topic here on forum.oes.org
Welcome! Our wonderful sheepdog pup is our first dog. We instantly, massively, obsessively became crazy dog people over night...
My life includes sheepdogs now, and that's that!
Hope your living arrangement change soon so you can enjoy the love of fuzzy face to go with your lovely curls. (I'm jealous of people with lots of hair or hair that curls, no matter how curly. I have thin, fine, straight)

Thanks for jumping in. It's a nice group of people. Our dogs taught us well.
Welcome from Australia.
Glad you decided to introduce yourself.
Welcome from Florida!
A big welcome from Missouri !
Welcome from Wisconsin. I too am rather shy and once in a while I get brave and stick my 2 cents in but spend a lot of time reading and learning.

We have our third and I'm afraid last sheepdog. Not because I wouldn't want more but we are getting old so I feel very fortunate to have this one. They are very good at worming their way into your hearts and once you've had one you are hooked for life.

I hope things work out well for you and you are able to experience for yourself the joys of having one in your life-soon.
Hi Mops and welcome from West Virginia! It's nice to have another applicant for membership in the society of crazy dog people!! What alot of fun we have!! We have our first sheepie, Chloe, who is wonderful. Good luck in your search.
welcome and so smart of you to do your homework ..it will be worth the wait
Hello from Illinois/Iowa!
Welcome aboard from Minnesota!

I love how you train, and groom your cats - you are well prepared for getting an OES


They love their people, and grooming is a fun and neccessary part of having one. I like doing hair (just ask my grown daughters - they grew up always having their hair "done" and now complain it's all my fault they can't just let it hang...
) and I really like brushing, trimming and all that fun stuff!

Not to mention training - it's a passion for me
Welcome from St. Louis.

My first sheepdog as an adult was Mopsy. My nephew couldn't say her name right so we adopted it as one of her many nicknames: Moppy!

You will make a wonderful sheepdog mom when the time is right.

I too have hair similar to the dog's at times although their hair usually looks better than mine as you can see from the picture of me with our Mopsy taken back in 2005: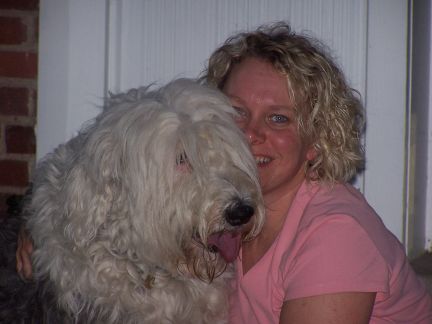 Welcome from Iceland!


If you want a dog that's good to cats, it the OES!
I have 2 budges and my dog doesn't mind them at all

And she has a cat friend that the neighbor owns....and they just cuddle

And I think many owners on the forum have a sheepie and a cat
Welcome from Tennessee!
Hi Mops! Welcome to the forum from Daphne, Lilly and me! I have 4 rescue kitties along w/two sheepie girls. The relationship between the dogs and the kitties is quite comical at times. My puppy Lilly is very much afraid of my smallest kitty. Maddy will at times not even let her enter a room or get near me. I will have to capture it on video sometime. I also have the big curly/wavy hair so I look related to my girls.
I am sure that you will find a perfect rescue OES soon.
Didn't find exactly what you're looking for? Search again here:
Custom Search