We're so excited to have our little puppy! Pictures are posted in the pictures section.
Respond to this topic here on forum.oes.org
ahhhhhhhhhhhhhhhhhhhhhhhhhhhhhhh love the puppy breath!
She is a pretty girl! Love her name!
OH my! So adorable! I hope we meet you this year!
CONGRATS!!!! Palin is adorable!!
Beautiful puppy!
Congratulations to you
Great name!!!!And she's adorable!!! Oh you will have fun
Get ready to child proof your house and did I say be active!!!!Puppies ae so much fun! Congratulations on your new love!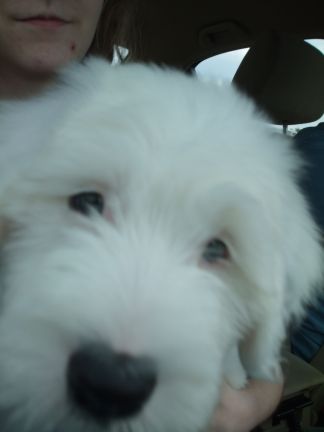 aawww, well Hello Ms. Palin! Aren't you divine!!
I am jealous. I am in the process of searching for a male puppy and am having little luck. I am in North Carolina and am a little leary of the local kennels as they are not offering any certification. As the past owner of a totally blind OES I would like to avoid the issue if possible. Although It did not stop my little boy from living and loving well for 13 years I am a little concerned. If anyone knows anyone in the southeast that is reputable and has pups please let me know. Thanks sski
She's beautiful. Good luck.
Didn't find exactly what you're looking for? Search again here:
Custom Search