Some of you who have been around for awhile may remember my threads about the neighbor dog, Kaylee, who is the love of Charlie's life, my older male OES, and who breaks into our yard to be with Charlie and my other male sheepdog, Toby. Is been going on for almost three years regularly. Here is the story, kind of a long one in installments if you are interested in the love life of sheepdogs:

viewtopic.php?f=2&t=17303
and here
viewtopic.php?f=15&t=27864

We haven't seen much of Kaylee lately. The fences between the lots have been fixed so she can't get in my yard. But She continues to break out of her own and roams the streets looking for Charlie or at least some kind of companionship. I caught her once sitting at my front door and the dogs had a happy reunion. But she went home as always. We haven't sen her in about 3 weeks.

Today I had a call from her owner. It seems she broke out again and was picked up by animal control about 15 miles form our neighborhood. She had tags and when they called her owner she said for the shelter to "... just keep her, maybe you can find someone to adopt her". The county shelter did so and found a family who took her home. Unfortunately, she was frantic to leave her new home and they ended up returning her to the shelter. Now she is chewing at the chain link enclosure and apparently in distress. So I got a call this afternoon from her telling me the whole sad story. It ended with, "... well, we're not going to go take her back so it looks like she is going to be destroyed if you don't want her."

So I'm waiting for my wife to get home to see if we are agreed. Kaylee has always been well behaved at our home except for a tendency to get on the furniture and she has never shown any tendency to break out of our yard, probably because all she ever wanted was the companionship of our sheepdogs and people around. We are almost always at home.

I never wanted a third dog— they're a handful at our ages so I had better see what my wife Roseanna says about this. But I suspect that both she and Charlie would be devastated if they found out Kaylee was put down.

I never had any dogs but OES, but sometimes you just have to take what comes I guess.

Here they all are, from early in their relationship.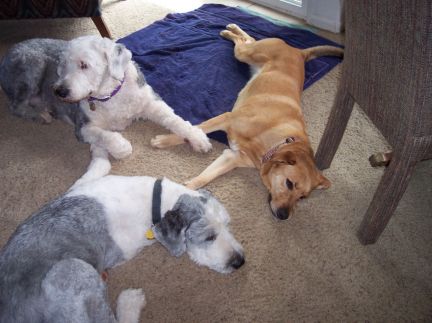 UPDATE: As I am writing this I had a call from the shelter who had been given my number by the previous owner. They told me Kaylee is so much distress she is has injured her mouth and feet and is self-destructive so she has been scheduled to be euthanized by the end of the day. So I made an executive decision to take her. Good Grief.
Respond to this topic here on forum.oes.org
Poor Kaylee


I would have done exactly the same thing!
Hope Kaylee is alright and the rest of the family as well.
Thank you for rescuing sweet Kaylee! You are doing something amazingly good for her and for Charlie. That poor tormented doggie. I really hope it works out. My very best wishes to your whole family.
Kaylee is a lucky girl. Bless you for taking her in.

Don't even get me started on her previous owners....


Laurie

Please let us know what the boys think when
Kaylee gets home!!
Thanks for saving Kaylee
Goodness me. What lousy owners she had. Hopefully they don't get another dog since they were okay with having Kaylee put down. I do hope that she works out okay for you full time now.
Bless you.
Sometimes what is meant to be it meant to be. I wonder if Kaylee knew in her heart that she was meant to be with you and your family, and has spent all these years wondering why she was on the wrong side of the fence? Good luck to you and to your new, larger doggie family! I hope it's a happy, story book ending for everyone involved!
Kaylee is home with us for good. Her tail is bandaged and her mouth has a minor injury but she is happy. She hasn't been eating well at the pound and was famished so I put the males, who had already eaten, out and she gulped down a bowl of their food before joining them for some roughhousing. The boys are otherwise, overjoyed to have their female back. Charlie tied to hump her and was told "Not now!" in no uncertain terms. He is now laying at my feet wondering why females are so difficult. I guess he will have to learn.

The shelter was good enough to waive all of the normal adoption fees under the circumstances. She was an hour from the end of the day when she would have been euthanized.
Well, I certainly have happy tears. So glad Kaylee is home

Now your going to have to change your signature
cynmcreid wrote:
Now your going to have to change your signature


Done.
Thank you for taking her in. I think it won't be long until you will decide you should have done this a long time ago.
Yeah! Bless you!
Darn... you made me cry, then made me laugh...


"...Charlie tied to hump her and was told "Not now!" in no uncertain terms..."



Not always an easy decision to make about bringing in a new dog but it sounds
like she was destined to be a with you.
Thank you for saving her.
I cried.
You guys are my heros today!


Congratulations on your new family member!
Kaylee needed a calm pack and a strong leader. She will be fine with you. Yes, a brown dog would be difficult, but you'll manage. Plus the tail is kinda fun when it wags with such enthusiasm.

I too would have done exactly the same........and have. Little Lady, Chad are two that come to mind. Jack was also in his last day when I drove 250 miles to get him. It's just what folks like us do.


I'm so glad she finally made it to her rightful family. She's been trying so hard for so long! Bless you all.
how nice of the people at the pound to waive those fees! Sounds like they knew Kaylee needed a break too, and that she was due for some loving. I'm so glad that you guys did what you did, and that you are willing to try and make it work out. You're whole family, tails and no tails, are in my prayers tonight; may whatever higher power you believe in Bless You for what you have done!
Oh wow!!
I read all the posts of you guys and Kaylee and wondered about her previous owners and why she felt such a strong need to be with you.
It feels so right that she is with you permanently now, thank you for taking her in when she needed you so badly, you are amazing.
Your post has brightened my day
ravenmoonart wrote:
You guys are my heros today!
Congratulations on your new family member!
Thank you Richard.
Oh this was

such

a joy to read!! Thank you so very much for taking Kaylee home. I'm sure she is over the moon now that she lives where she always wanted to
I'm kind of curious though.. was your wife okay with your executive decision?
Bless you...sometimes are friends find us and the love is all worth all the worry! So happy she now has a family that will love her!
Dudster wrote:

I'm kind of curious though.. was your wife okay with your executive decision?


The truth is neither of us neither of us wanted another dog. But she said there was nothing else I could have done. We both know Kaylee so well and she is actually such a sweet dog. The only real problem my wife has is that, like all Labs, she sheds a lot. People don't believe that sheepdogs with all that hair don't actually leave it all over like most breeds.

All three dogs slept peacefully last night, Charlie on the foot of the bed in the senior dog position and Kaylee and Toby on the floor by the bed. She slows no signs of stress today. The squirrels in the back yard who have plagued me for a couple of years awoke to three of their arch-enemies standing guard under their tree this morning. Maybe they will pack up and leave the neighborhood now. That would be a good thing since I lost most of my fruit crop last year. The bad thing is that when I was filling their food bowls this morning my leg kept getting thumped by this club of a tail with a bandage on the end. Sheepdog people are not used to a morning lashing like that.
rfloch wrote:

The only real problem my wife has is that, like all Labs, she sheds a lot. People don't believe that sheepdogs with all that hair don't actually leave it all over like most breeds.



I'm with your wife on that..we have a lab mix and he sheds just by blinking.. unlike Murphy who never sheds.

You will grow accustomed to the tail.. they do come in handy... keeping flies away, dusting tables.. etc.
I always thought Kaylee was meant to live with you. You seemed like her rightful owners. Thank you for making her officially part of your family.
rfloch wrote:


I never had any dogs but OES, but sometimes you just have to take what comes I guess.





aw love this! congrats
I was feeling so down this am I read your post (bawling my eyes out) and it made my day!! I have a hugh love for labs and you are a HERO!!! You and your wife have the biggest hearts in the world!!!! Get a furminator that helps with the labby shedding You did the right thing!!!
What a terrific story
! You made my day! Please post pictures and more stories soon. Congrats on the homecoming on Kaylee.
got me crying for joy
What a fantastic story. I am in tears.

All the best to you and to Kaylee!

You are true heroes, and not just in Kaylee's eyes.


You are wonderful. You've made a big difference in Kaylee's life and just hearing of your kindness has made my day.
I think I failed to mention that while all of this has been going on I have been in the middle of tearing off the siding on the south side of the 2-story house and putting up new siding, trim and painting. A big, horrible job that I would never be doing if business was better.

The three dogs come out to watch for a few minutes and quickly decide I must be nuts and go back in the house for a snooze. At least they are out of the way.

I finally wound it up for the day and sat down with a glass of ice water. Of course they all started bumping me and moaning for a piece of ice which I fished out of my glass. Then they realized I had more so another round of three ice cubed gets handed out. The ice is disappearing fast in my glass with three of them. After crunching the last ice cube Toby got under the footwell of the desk and is crowding out my legs as usual. Kaylee thought that looked interesting and just tried to get in with him. Then Charlie, not to be left, out joined in, jamming his big head under my legs and receiving a growl from the two were there first. Toby is not too happy about being crowded into the back corner at the moment and I have to reach way out to the keyboard because of all the dogs underneath.

Can't type anymore... what a zoo.
OH The Joys of a Full house.
At least you can never complain of boredom....
Quote:
Can't type anymore... what a zoo.




Quote:

The only real problem my wife has is that, like all Labs, she sheds a lot.


The wide Oster Shedding Tool is my favorite grooming tool for my Border Collie-mix and Schipperke-mix. Both dogs shed a lot at different times of the year... this tool removes dead hair and undercoat. It has rounded and hooked teeth but it doesn't cut. http://untilyoufindme.com/OsterSheddingTool.jpg I also use a pin brush and slicker but that rake does most of the work. It might make a nice gift!
http://www.entirelypets.com/osterwide18teeth.html
When you look in the mirror, recognize the face of someone who makes the world a better place
You make the world a better place! How wonderful of you!
What a wonderful story and what a wonderful couple you are!


You will never regret your executive decision; I predict lots of happy times ahead.
You did a good thing. Every time you posted about her I kind of hoped that you'd keep her.

I hope your crappy neighbors don't get another dog.
ButtersStotch wrote:
I hope your crappy neighbors don't get another dog.

Ditto, because it does happen. This was the write up for a Rottie-mix at AC about 1 1/2 hours from me...



Quote:

Description: "ZEUS" OWNER SAID HE WAS GETTING OLD, AND HE DIDN'T SEEM TO BE HAPPY WITH THE ENERGETIC CHILDREN PLAYING AROUND HIM. WHEN THEY CAME INTO OUR SHELTER TO LET US KNOW HE HAD TO BE SURRENDERED, THEY STARTED "SHOPPING" FOR THEIR NEXT VICTIM, WHICH WE WILL BE DECLINING! LOOK HOW SAD AND CONFUSED HE IS!! THIS IS THE 7TH DOG WE HAVE HAD SURRENDERED FROM THIS FAMILY!! SHAME SHAME! HE DESERVES BETTER!
I hope so too.

The other night when I brought her home the neighbor called. My wife picked up the phone.

"Kaylee's gone. Animal control put her to sleep. I thought you'd want to know."

"No she's not. She right here." my wife replied.

"Oh.... that's good."

End of conversation. I don't know if she was trying to blame the shelter, or us when she thought we hadn't done anything after she called the first time.

The next day she brought over a bag of dog stuff and a half empty bag of food—the cheap stuff, mostly corn meal. My wife made me throw it out.

Yesterday the sheepdogs got clipped down and Kaylee got a ton of hair brushed out that has been getting all over. Then they all got baths. I don't know the last time she had a bath was but she was pretty stinky. Other than the little rat-tail where they shaved the end of her tail due to the injury, they all look pretty presentable now. She's been wagging it so hard she hit it on the wall and it started bleeding again. Then she ran around the house and flicked drops of blood all over the walls and all over Toby who follows her around like a lost puppy who just found his mother. Had to bandage it up again and wipe down Toby who had barely dried off from his bath.

Sometimes Toby takes the puppy thing a little too far...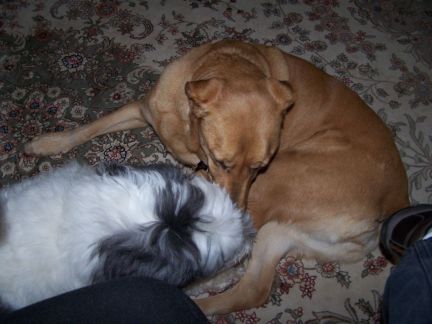 "Come on, I'm not too old."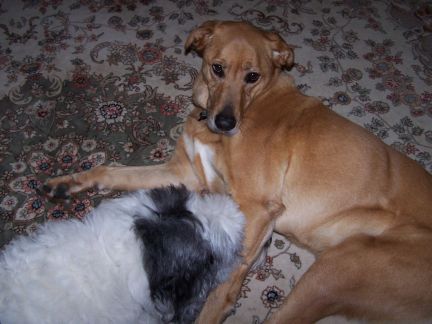 "Is it here?"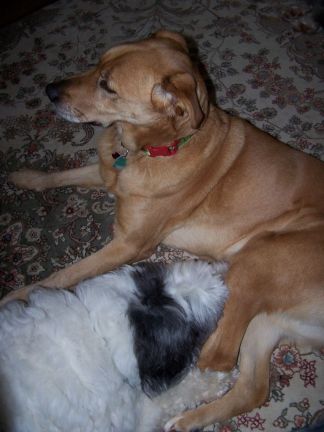 "How about down here?"
The look of long suffering patience on Kaylee's face in the second photo is priceless.
my heart feels so happy to see these photos and read your posts. I know you never planned this, but I'm glad for it anyway. Here's hoping it is all rainbows and wonderful-ness!!!
When I read your first posts about how Kaylee kept coming to you, my thought was maybe she knew where she belonged.

Glad she's FINALLY home
Simon's Mom wrote:
Glad she's FINALLY home

Me too.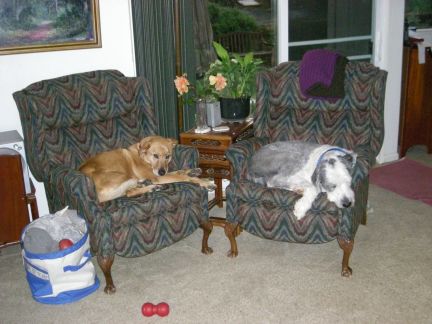 Awwwwwwwww...........


She looks right at home in that chair. This story warms my heart.

Laurie and Oscar
LOVE the chair pictures. She is so comfortable at home!
Love that pic!
Awwwweeee...what a love!
Kaylee is so lucky you were looking out for her AND
She will give that back ten times over!!!
Everyone needs a little lab in their liife.
Bless you, bless you
, what angelsxx

Debsx
Can life get any better for a needy, down on her luck dog. This is a true rescue story and because of your kindness towards this displaced dog it has a very very happy ending. We
our rescues!
A few last photos of the three rescued amigos.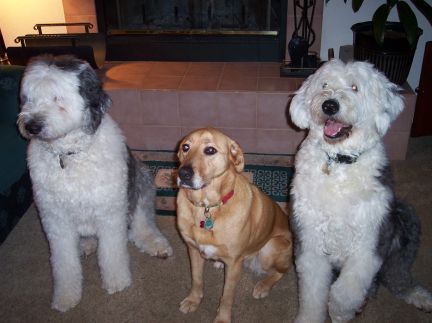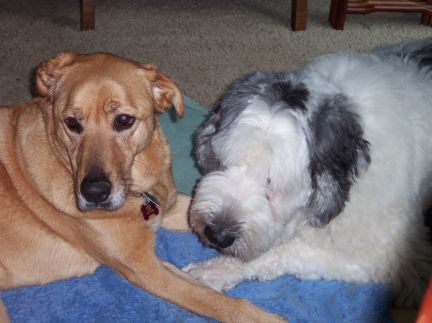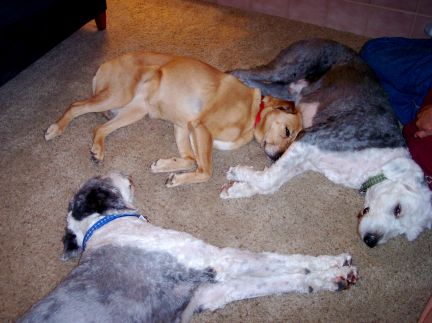 You can actually SEE the bond between them. That's priceless. I'm so glad you have your pack all together.
This story makes my heart beat a little faster

Bless you!
That is one happy pooch trio
Pats to all 3 loves
A special smooch for Kaylee>>Girl you ARE finally HOME
Diane...sniff
Wow... looking at those pictures, I'd never have been able to tell that she hasn't always lived with you. It looks like everyone is very content and happy.
You can really see a close "kinship" between Kaylee and your snowtop Sheepie...can see it in their eyes. What great pics of all your "rescues." All three are adorable.
Keep the pics coming, I'm eating them up! Just love this story. They all look so happy!
The white headed sheepie is Charlie. He's six, a year younger than Kaylee. They formed a bond instantly when she first broke into our yard 3 or 4 years ago before we got Toby, the dark headed sheepie. That bond has remained strong all along even when they didn't see each other for weeks or months at a time.

Charlie is a puppy mill dog that was owned by a man in San Francisco who lived in a small apartment. He died of AIDS at home and a neighbor heard Charlie whining and barking so that is how they found him. He made his way to NorCAl OES Rescue and that is where we got him almost 5 years ago.

Toby came from the same county animal shelter as Kaylee. We adopted him a couple of years ago when he was surrendered by his owners at a year old. He is now three and is one of those sheepdogs that can make you laugh one minute and yell at him the next. He has great confirmation and poise and could have been a pretty good show dog, I think. He and Charlie have a real male-male relationship with some tension and competition but they are generally inseparable. They don't play like some males I have had but they love to hunt and patrol the yard and take walks together, bumping shoulder to shoulder like sled dogs. They've had a few fights, but not lately although sometimes they posture and circle each other, grumbling. The last actual fight happened some time ago when Kaylee was over and she quickly jumped between them and broke it up. She is the glue that holds this pack together. Charlie is the alpha male, but Kaylee doesn't put up with either of them misbehaving and they let her do anything.
This has been such a great, uplifting post! But the topic should be changed, because Kaylee is no longer in trouble!!
Be sure to get a nice grey and white coat for Kaylee come winter so she'll blend in with the rest of the kids. She's so small.....of course there was room for her.

She will give you much joy. Rescues seem to know they have received a second chance and do their dardest to show their gratitude.
I still say this is the best story ever. Soo sweet. Love the pics. She just "knew" where she was supposed to be all along! Keep the pics coming!
What a great story! All furkids look very happy together. Sometimes things just happen the way they're supposed to and not always according to our plan!
Didn't find exactly what you're looking for? Search again here:
Custom Search