We're again planning to participate in the Indianapolis Mutt Strutt, a walk around the 2-1/2 mile Indianapolis Motor Speedway. The proceeds benefit the Indianapolis Humane Society.


Last year there was a definite lack of Old English Sheepdogs.
We got there early and were out on the track before it got really crowded. Of course, Nelson and Wild Angel got tons of attention. Nelson and I made it around the track (barely!) but Wild Angel conked out going into the third turn and was given a free ride back to the pits.


For anyone interested, here's more info: http://indymuttstrut.org/
It's only a 2 hr. drive from Cincinnati or Louisville, 3 hrs. from Chicago and 4 hrs. from St. Louis.


Aunt Yvonne with Nelson & Wild Angel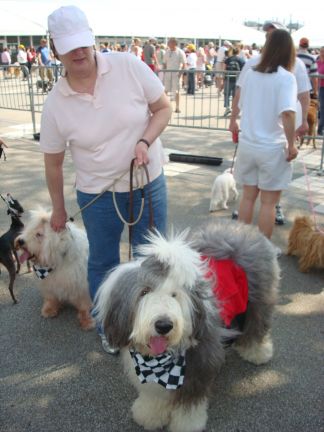 Gentlemen, Start Your Engines on the famous Indy "Yard of Bricks"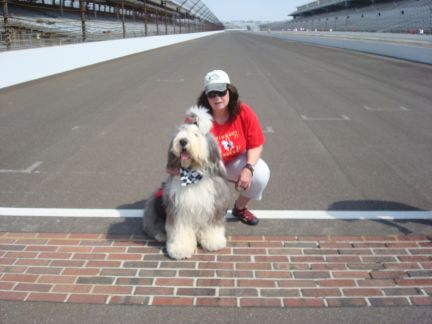 Nelson shows that there's more than one way to LAP the competition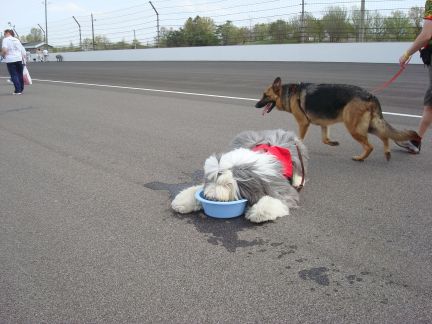 Wild Angel says "Enough is Enough! Carry ME!"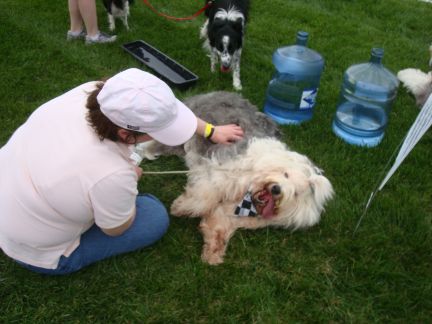 Respond to this topic here on forum.oes.org
Oh, those pics are so great. I'm with Wild Angel. lol
Wonder how far it is from Maryland


That is mom's weekend at the fraternity and I will be spending it with my 3rd favorite child. So the favorite child won't get to go to the Indianapolis Mutt Strut this year.
Infield is grass? That's where you'd find us, under an umbrella sipping margaritas. Our turbochargers are rusted. Have a great time!
4dognight wrote:



That's 10-1/2 hrs. for you, Cindy
We've got our calendar marked and are planning on coming. Can you only do 1/2 of the track? I don't know if my knee will hold up all the way.
Phoebe and Winston are ready to get out after being cooped up with all the snow.
From Nancy/Dogggirl
The track is open from 11:00 a.m until 2:15 p.m. and people start walking whenever they get there. Nobody is required to walk a specific distance and you can stop and rest or turn around and give up whenever you want.

We had a great time last year despite it being a little warmer than we expected which made the pavement hot. It's just a fun experience, all the history associated with the Speedway and the only time during the year that dogs are allowed on the track.
Didn't find exactly what you're looking for? Search again here:
Custom Search