I don't remember seeing this mentioned before, but has anyone noticed long hairs growing from the tail??? After I finished drying Bella I noticed long hairs coming from the tip of her tail.
In all they were about the size of a pencil. I just trimmed them with sissors. I thought it was odd that it was just a clump of hairs and not all the hair on her tail/bob.

Her coat is growing back after her last shave and in now about 2" long. I was going to try to keep her in a puppy cut myself. Do you have to trim the tail hair or just keep doing the spots that seem to grow.

Also the hair on her ear seem to be growing a lot slower than the rest of her. Is that typical???
Respond to this topic here on forum.oes.org
The same thing happens w/Daphne's little nub. I don't see much difference w/her ears. I groom her most of the time myself but about every 4 months, I take her to a groomer where they pluck her ears and do a general shape up. I have kept her in full coat so far.
FWIW my Zeke always has extra long growth on his
nub. He has really excessive scar tissue at the end of
his nub too, so I don't know but that may be related. I
swear I trim his nub hair every other week but for some
reason there is always about a 2 inch hank of hair that
grows extremely fast. He has other areas that grow faster
but they are larger areas. Mostly from his eyes down to his
chin and his bib, and his feet grow fur pretty fast. I usually
don't bother with anything but the nub unless I am prettying
him up.

Shellie
We have NEVER seen or had an OES with long tail hair.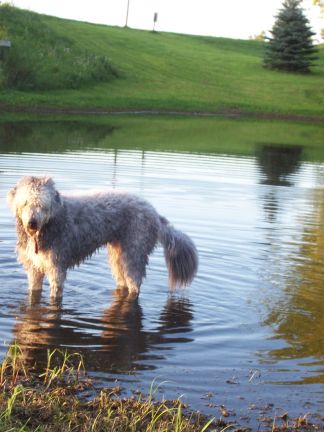 They have longer Feathering on the tail underneath. I have to trim that occassionally. It grows faster then the rest of the hair on the tail even the white tip at the end has to be trimmed or it hits the ground in length and acts like a leaf and twig collector when out in the garden.
Didn't find exactly what you're looking for? Search again here:
Custom Search