Kaylee has been over quite a bit lately. Last night the sheepdog boys heard her in the back yard at 1:00 AM and woke everyone up with glee like two little kids who caught Santa Claus stuck in the chimney on Christmas Eve. Then I let her in and it was play time for an hour before they all settled down and I could go back to sleep.

I didn't need that at 1:00 AM, exactly. But Kaylee's owners are leaving her outside at night again and she comes over looking for warmth and companionship. Nothing better than a pair of sheepdogs in their winter coats for warmth and companionship, I guess. The three of them let me sleep until 7:00 AM and then we got up and had bowls of kibble and warmed beef stew while I made coffee. The boys jealously guard food from each other, but for some reason its OK when Kaylee sticks her nose in their bowls while they are still eating. Even Charlie, the world champion chow-hound. Must be some form of sheepdog chivalry going on there.

Christmas is a good time to be a dog at our house—even if you live up the street.
Respond to this topic here on forum.oes.org
How sweet of you. It's pretty neat how your dogs keep up their attached connection with the neighbors dog.
I'm glad you are letting the girl come visit! Sounds like the boys are enjoying it too..........sorry about the sleep loss for you though.
Sounds like "Merry" time!
I feel sorry Kaylee. Poor thing justs wants some companionship. Sorry that you had to lose some sleep over it.
I too feel sorry for Kailee. Thanks to you for caring!
After two years of the Kaylee saga, I''m resigned to the fact that things are not improving and are not going to improve. She's been breaking into the yard on a nightly basis for weeks now.
The problem is not with the dogs—its the owner.

Two days ago she came over at 9:00 PM and stayed until they picked her up at 4:00 PM the next day. "Were just going to have to get rid of her..." was the only comment as Kaylee was led home. An empty but revealing threat.

Yesterday Kaylee showed up at 12:00 midnight. It's a problem when she comes that late because the three dogs want to play for an hour before they calm down and I'm pretty tired that late at might. But by 1:00 AM they had all calmed down. The next morning I heard the following testy comment when they came for her: "You know, she wouldn't come over if your dogs didn't bark and call her." It's our fault, apparently— pissed my wife off to hear that. (My dogs were inside all night and never made a sound until Kaylee was at the back door.)

Last night was the worst. She came over at 8:00 PM while the neighbors were out. They came home at 10:00 PM and for once checked on her, finding her missing from the back yard. They knocked on the door without calling and took her back with little said. Then at 12:00 midnight, she was back in our yard. it's now 8:00 AM and she's still here after spending the night on a chair in our bedroom and joining our sheepies for breakfast.

I think most of the problem is that Kaylee is just cold and lonely. The night time visits are annoying but Kaylee's got a lot of gray on her muzzle and is getting up in years now. I can't help but feel sorry for her and let her have a little comfort by having a warm place to sleep and being able to snuggle with our two sheepdogs once in awhile.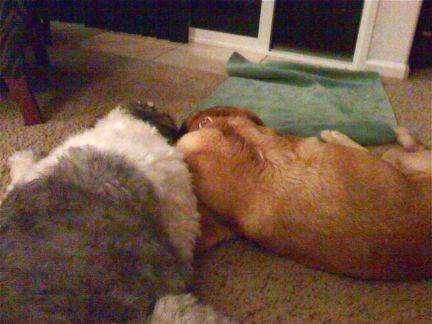 Why do people have dogs if they don't really care for them? I guess she's not the only neglected dog... It just seems sadder around Christmas to think of all the lonely unwanted animals out there.

We tried taking her on a full time basis last year but the boys get competitive for her attention sometimes and it was just too much for my wife and I to have three large dogs all of the time. Plus, her owner said she was their son's dog and "...we don't want to give her away permanently." So the Kaylee saga goes on...
What a sad tale.. and how nice and kind you are to take her in and give her both food for her body and food for her soul.

I cannot understand people like that! Instead of being grateful and appreciative, they are defensive and blaming you.

Thank you for caring about this sweet puppy. Hopefull it all works out for Kaylee.
Didn't find exactly what you're looking for? Search again here:
Custom Search