My 14 year old is in surgery. Last night when I came home- He wouldn't move- so I took him to emergency and they found a tumor on his spleen and it was bleeding.
The outcome does not seem good- most probably Cancer, but I couldn't put him down with out a fight.
The doctor says the tumor looks small and all of his other organs look good, so he is in surgery to remove his spleen.
If Cancer, this could buy him 3-6 months and if not Cancer, then he could go back to normal.
Of course I just watched Marley and Me for the first time the night before this happened.
I have to be strong and know that he lived a fantastic 14 years and was truly loved as deep as it can go, but I just can't let go yet.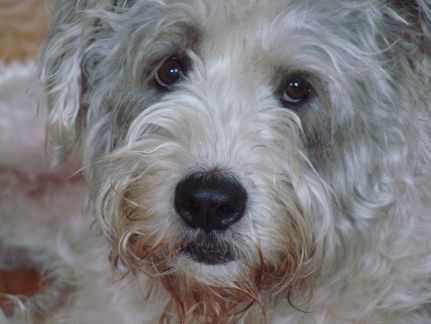 Respond to this topic here on forum.oes.org
Mark, my prayers to you, Zak and the vet doing his surgery.


to you as well.

Please let us know later how he's doing.
I will be hoping for the best outcome for your beautiful boy.
praying for the best outcome for your boy...xxx
Mark thinking of you and Zak, sending heaps of postivie vibes for your man.

I know of a dog last year who had his spleen removed a lot younger then your baby but did well and is still going strong.

Hoping if a malignant one, just confined to that area and heaps of life in the old boy still.

Bless your sweetie, praying he comes through all the surgery fine to be able to be with you longer.
Prayers and best wishes to Zak and to his family.
My Max had his spleen removed at 13, he had a wonderful month after that it took years off his life.

I would do it again even with the same outcome, its a relatively easy operation from which they recover quickly.
Drawing upon some Christmas Magic for a positive outcome for Zak. All fingers and paws crossed here.

Hugs to you as well, Mark. It's so hard to see our older dogs go through rough times. Please keep us posted.
Thinking of Zak and praying for a positive outcome.

Oh, hang in there Max and Mark!
We will be thinking of you!
Prayers for you both.
prayers for you and Max!!! Please keep us posted...
I hope it turns out well.
I'm so sorry for Zak's medical issues. I hope everything goes better than expected!
I hope Zak recovers quick and you enjoy all the time he has left. Praying for his recovery.
All paws crossed for Zak!
Paws crossed here too! Hang in there Zak!
Only the best of outcomes wished for Zac.

to you both
Our Paws are crossed.
We went through this a year ago with our 14 yr old golden retriever, Daisey. Surgery was not an option for her. She would not have survived it. It about killed us.
The loss did bring Lily and Lola into our lives. I can't regret that.
Positives thoughts & prayers coming your way for you & Max. Keep us posted. It is never easy dealing with things like this. You feel so helpless. Just be there for him.
Paws are crossed. 14 years is a great life...something to rejoice in. Be thankful for each day of the 14 years you have shared. Here's hoping for many more!
Thank you so much for all the well wishes- Zak made it through surgery and now is in the ICU at a really great specialty Center. I pray for his recovery. You have no idea how much all your posts help- so great to know you understand what we're going through.
Mark
Special thoughts and prayers for you both--and keeping good thoughts that Max continues to improve!
Prayers and positive thoughts for the best possible outcome for Zak.
So glad to hear he made it through the surgery.
Glad to hear Zak made it through surgery, all our prayers are with him for a wonderful recovery.
Glad to hear he made it through surgery, that alone shows he's a strong boy!


Hope this allows him to have lots more time with you.
Thinking of you and Zak and sending both of you positive thoughts.
It is great you are so tuned in to Zak. Sounds like he has a great mom. Bella and I will be thinking of you and Zak today.
Positive thoughts and prayers coming your way!
Just saw yr post Mark. Thinking of you Zak and Stella sending you

Paws are crossed for a speedie recovery Zak!!!
I am sending Christmas Magic to you and zak.
Sending positive thoughts for your boy Mark, hoping the outcome will be a great one for him.
Thinking of you guys...
I hope today is a good healing day. Go Zak!!!!!
Hang in there Mark
Paws are crossed for a speedie recovery !


Not going well this morning- He is still non responsive and critical.
He has had 2 blood transfusions and there's no real change.
They are afraid he has brain damage due to his heart stopping during surgery.
I will know more in a couple hours. If he doesn't show improvement soon, i will have to let him go, but we are treating him aggressively and hoping for a miracle.
Stella is doing Ok, but she has been by his side everyday of her life and she keeps looking for him and is not eating much.
Stella will be ok. They get by after a while of looking for their buddy. She has you. All our prayers are going for Zak, but if you have to let him go, he had a great long life. We are hoping he recovers and are thinking about you all the time. Nigel and Bella send sheepie hugs for little Zak.
Oh, that's not good news.

I hope he makes it, but if not you can know you did everthing possible to give him a fighting chance.


Mark...thinking and praying for of both of you this morning....

Christmas is the season for miracles.. ................
sheepieshake wrote:
Mark...thinking and praying for of both of you this morning....
Christmas is the season for miracles.. ................


me too!

I'm soo sorry
any word on Zak this morning????
crossing my fingers and hoping he and you are doing well.
THinking of you Mark and hoping for a Christmas miracle.
Just saw this post and wanted you to know we are sending special sheepie hugs and licks for Zak to make a full recovery.
hoping you and Zak are doing well today. I will be thinking of you both.
Oh mark!!!!!!!!!!!!!!!!!!

i am just catching up....i am SO sorry...zak will be in my prayers....stay strong..

love,
me
thinking of you, hoping for a miracle but if there is no miracle you have done all you possibly can...hugs to you all....xxx
I am so sorry = I just saw this post. All prayers with you and Zak and the whole family. Hoping for some good news.
Add my best thoughts and prayers for Zak and his whole family....
How is Zak doing???
Fingers and paws crossed that Zak is okay. Sending gentle hugs to Zak and great big hugs to you and Stella!
hugs for you all...xx will light a candle for you.....
More prayers coming your way for all of you. Hoping for a miracle. Just be there for him.
Uggghhh I was hoping for good news. Still hoping.


Still hoping your baby can pull through OK. Know we are thinking of you both and hoping Zak will be home for christmas.

Just to let you know you are in my prayers.
Went to visit him and he is still non responsive 24 hours after surgery.
He won't move at all or even open his eyes, but every time I leaned down to kiss him or rub his face he cried until I stopped. The first sounds he made, so I feel like he knew I was there.
I couldn't pull the plug- it's only 24 hours after surgery- and the doctor ( who is a specialist in this kind of situation) said it wouldn't be selfish to wait until morning to give him more time to come around- so we agreed that if there was no positive changes by morning we would let him go.
I am numb- this really helps writing about it- i appreciate it.
M
Oh Mark. It just breaks my heart to think of it. I will continue to pray he pulls through.
I wish I could hug you Mark.
Sending positive thoughts and prayers to you and Zak!
Lots of prayers for Zac and you.

When Ben had his spleen out in August, we had similar ups and downs before they decided he had lymphoma. Emotionally it was exhausting and my heart goes out to you.
I know other here have had similar situations.

You are providing the best care possible for him. And you are giving him every chance for a quality life. You are doing your best.

Positive thoughts for a better report in the morning.
Still hoping for a miracle for you and Zak. Special thoughts.
hoping with all my heart that you are ok xxxxxxx
Oh Mark im so sorry!
I know how much you love yr dogs, and you have done yr best for Zak and he knows that! Just want you know I am thinking of you both. I have tears in my eyes as i am typing this!
Send you loads of
Be Strong!!! I know it hard! but we are here for you and Stella x
fingers crossed for positive news!!!!!
I hope it is just morphine making him cry. . . Sweetest boy. I am hoping for the best.
Oh I am so sorry to read this news. Hopefully things changed overnight. HUgs to you and Zak
Sending prayers to you and Zak for a miracle.
sending big hugs to you mark hope today is better
any news on Zak????? I have been thinking about him and hoping he is doing well
Me!!! too..... I will be going to bed soon! Time Different!!! I hope Zak is ok
((((((((((((Hugs)))))))))))))) I will check in tomorrow!! fingers and paws crossed. x
Thank you all for all your loving support. Zak passed this morning- i can't believe it.
So sorry Mark!!! He had a nice long life and I am sure it was a happy one with you.
Oh no! Oh, Mark, I'm SO very sorry for your loss.
14 is a grand age, and you did all you could for him in his final days. My heart goes out to you.
I'm so sad for you
.
Even at 14, when you know they had a good life and a long life, it still really hurts.
So sorry to hear that you have lost Zak.
I'm sorry for your loss. No matter how long they are with us we always want more time.
Mark so sorry to hear Zak did not make it, you fought hard for him and there is nothing that can be said to take away the sadness at the moment, just know we are thinking of you at this very sad time. .

Sending hugs for you and stella, Zak special blessings, he will always be there watching over you and stella as a guardian angel. 14 good years he had of love and devotion from you and he gave that back to you for all those years too. Sleep peacefully Zak, an angel in heaven.
Mark, I'm so sorry about Zak. No matter how long we have them, their passing leaves pawprints on our hearts. I hope you stop hurting soon.
Mark...I'm so sorry to hear of Zak's passing.

I am so very sorry for your loss of Zak. I know how you feel I lost two to the same thing. My thoughts are with you. No matter how long we have them we always wish for more time.
Oh, I am so sorry
. I wish I had some words to comfort you but having been in the same position recently I know there aren't any. Sometimes there are just no miracles left
I am so sorry to hear the news
Fourteen is a nice long age and it sounds like you gave him a wonderful life. God bless you and may you be at peace knowing you gave your baby everything you could to make his life wonderful and to insure his passing be as comfortable as possible. We send our prayers out to you.
Diane and Bowie and bella
I am so sorry for your loss. Please give an extra rub to Stella for me, and let her give you and extra nuzzle for me too.
I'm so sorry for this loss. I know your heart has a large hole now and no words can fill it. This overwhelming sadness will slowly disappear, but right now all you want to do is cry. You were a terrific dad to Zak.


to you and Stella
I am so very sorry


So very sorry for your loss.
I am so sorry..

so sorry for your loss. No doubt you both had an amazing 14 years together!
Mark...I am so sorry...there are no words...except to say....we are all here for you.
Sorry to hear about your loss, Hamish, Misty & Zorro send sheepie
to you all.
I'm very sorry for your loss!
I am so sorry. Heartfelt goodbye to your sweet boy and comfort for you and Stella. The pain of loss is always with us but those vibrant happy memories of a wonderful long life together will eventually be what you think of when you are missing him. My heart goes out to you.
I'm so sorry that Zak has gone to the Bridge. A friend couldn't have been loved more or cared for better than he was with you.

Zak will be the angel at the top of your Christmas tree. We're thinking of you and Stella during this very difficult time.
I'M VERY SORRY FOR YOUR LOSS.

LISA AND FRANKIE
I am so sorry you have lost Zac. You did all you could for him and much more than lots of folks would. Hugs to you and your family.
Play safe over the Bridge Zac with all our angel sheepies.
I am so heartbroken for your loss
Please know that love is eternal. Zak will always be with you. He knows you fought for him until the end. Hugs and prayers to you at this very sad time.
I am so sorry to hear of the passing of your beautiful sheepie boy, Zak. He will be greatly missed. Hugs to you as you go though this time of loss.
Mark, just reading this thread now. So sorry for your loss of sweet Zak.
I'm so sorry.
Sending hopes and prayers for Zak
I got Mark's Christmas card today in the mail and started to cry thinking that Zak is no longer with us. But then I thought of all mark's psts about how he did everything he could for Zak and how Zak lived a wonderful 14 years. Mark if you are reading, we are thinking of you asnd your family and sending our thoughts and prayers out to you at this difficult time. God Bless.
oh I am so sorry for your loss!
I am so sorry for your loss.
I'm very sorry to hear about Zak.
Thanks again so much- I am doing my best to keep things normal for Stella, but they were inseparable and she is very confused. She crates herself and is barely eating- so i have been hand feeding her and giving her space, but still trying to play and be happy- even though I'm anything but happy.
I always dreaded this time, since zak was clearly aging and I knew it was inevitable, but he was so energetic and happy all the time- i honestly thought I had another couple years. It came on so quickly- I whirlwind shocker.
Being that he and I were so close, when stella came in to the family she never had a chance to grow up- she is 3 and very sheltered.
This time is going to be good for her to take her place as top dog, before I think about adding another to the family.
I do worry though that she will be too lonely- and now I don't even want to leave her alone in the house. When I go out she is all I think about- all alone.
UGH it will get better. It's only been a day and everything i see and hear and smell is my little guy. Thanks for giving me a place to express my sadness.
I know this is one spot where everyone truly understands.
Mark
Mark...

I had the same thing happen when my Millied crossed the bridge. Pearl felt as if Millie was her mom..she would make sure Pearl acted politely and, if she didn't. Millie would get on her.

...so when Millie wasn't here anymore, Pearl went into a depression...she would barely eat and just walked around the house looking for her friend.

But, I can tell you that Pearl became "Millie" when we did add to our family..now SHE is the one who makes sure the other two behave. She had to grow up and take Millie's place..

my thoughts are with you...I know how hard it is to lose your best friend!!!
It will get better. Stella is only a baby still she is going to miss Zac like crazy. Just hugs and trying to act confident around her will help. As you say it is so early days, I am crying for you as I know what pain you must be suffering. Hugs to you all xxxx
got sheep wrote:
Mark, my prayers to you, Zak and the vet doing his surgery.
to you as well.

Please let us know later how he's doing.


same from me and the kids!!!
Now is also the time for all the really great treats if you had any sharing problem. I always sneak Nigel a special treat when Bella is at the Vets or Groomers, as she is so bossy I have to crate him for his safety if I give them anything worth fighting over.

She will be ok Mark, and you will always miss him, but the pain will get lesser as time goes. He will always be in your heart.
Shedding tear for your loss.
I'm so sorry Zak didn't make it


He had a long wonderful life with you, but it's so hard to say goodbye even then.
I am so sorry for your loss. When we lost Daisey, I didn't stop crying for days. I still miss her. I hope your heart heals soon. You are in our prayers...
An update and a huge thank you:
Zak's biopsy came back and it was a very aggressive cancer that took him.
I am comforted in the fact that I did everything I could to save my boy- even though now I know that his outcome wouldn't have been good even if he had recovered from the surgery. I am glad that with all he went through he wasn't in horrible pain for long- he had the very best medical care and everything was done to keep him comfortable.
I received touching handwritten letters from both vets who cared for him telling me how sorry they were that they couldn't do more and how attached they grew to him. His ashes arrived 2 days ago and it's good to know he is back home again. That may sound strange, but I find it comforting.
Stella is doing better- she still doesn't eat much without help, but I have the feeling she likes the attention of being hand fed. We have grown so close out of this pain- we share a huge loss that will never go away completely.
As you may have read we are adding a puppy to the family next week.
There has been so much crying and sadness that we need some joy- and this being a slow time with my work, I figured I should do it while I have the time. I am really looking forward to this- I am thrilled.
I just wanted to thank you all for helping me with dealing with my Zak's death. Your comments and support was everything to me. I couldn't have done it without you.
Mark
We just want to add our heart felt condolences to you and your family on your loss. We all know that even though they are just dogs" they are so much more than that to us. I know that your upcoming "new" arrival will help to ease the loss and wish you the best with your new pup.

Bailee and his Mom & Dad.
Didn't find exactly what you're looking for? Search again here:
Custom Search