MERRY CHRISTMAS TO YOU ALL!!!!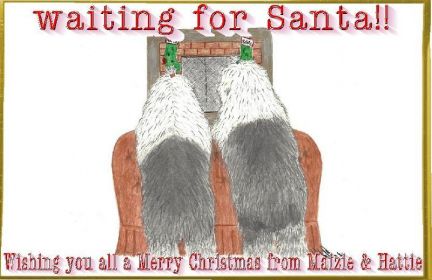 From Me and the Girls xx



Thank you wendy for drawing my girls for me! x
Respond to this topic here on forum.oes.org
Merry Christmas back to you Kim, Maizie and Hattie.
I love that picture of the girls!!!
lovely picture, have a Happy Christmasx
Thank you and Merry Christmas to you too!

Love your gray and white.....haystacks.
Happy Christmas

to Kim, Maizie and Hattie from me and Bob the Wonder Pony!
Happy Christmas Kim, Steve, Maizie and Hattie. I hope all your Christmas Dreams come true.

(love the pic)
Merry Christmas and Best Wishes for a Great New Year!!!!!!!!!!
Merry Christmas to you all too! Love the picture!
Merry Christmas and Happy New Year to two beautiful sheepies (and Kim and Steve too!).
Merry Christmas to you, too!!
Very cute.


Merry christmas, Kim, girls and family from us all in upside down land.
merry christmas kimmy!!

one day we will skype!!

xo, me
Happy xmas to you all!!!
Happy Christmas to you Kim and to your two lovely girls.

The picture is adorable. I have always loved the photo that was drawn from of them waiting for their daddy to come home.

I hope you have a wonderful Christmas. Harry sends hugs.
Merry Christmas!!!!
Didn't find exactly what you're looking for? Search again here:
Custom Search