Today is our 25th wedding anniversary.


I know it is a small milestone but it was a big deal to us.


We went to Ireland & England a year ago but wanted to mark the occasion. We planned a weekend in St. Louis. We spent Saturday all around dog friendly areas with Harry. Saturday night we spent in a very romantic Bed & Breakfast. We had a great time all weekend.


We don't have a lot of pictures together as I am usually the family photographer but Val took this one of us last weekend.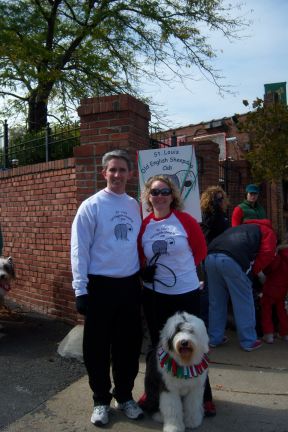 Respond to this topic here on forum.oes.org
HAPPY SILVER ANNIVERSARY!!!!!!!!!!!!!!!!!!!!
You are very lucky to have a great guy like Tim!!!!!
SheepieMommy wrote:
:hearts:
Today is our 25th wedding anniversary.
Oh, wow. He's put up with you this long! What a guy!!!
[ kidding!
]



Happy Anniversary! Sounds like a lovely celebration.



Kristine
You guys don't seem old enough to be married for 25 years. I think you're making it up.
CONGRATS!!!!!!! I think it's one of the few things we should celebrate!
wow 25 yrs what a great looking couple
Congrats Judi and Tim!!!!
Congratulations!! As one who just celebrated a much longer anniversary, I understand how proud you are! Sounds like a delightful weekend. All I get is jewelry.
Congrats!!!!
What do you mean it's "a small milestone"????? You have to achieve the small ones to get to the big ones! And in this day & age, it ain't easy!



CONGRATULATIONS
25 years? WOW!!! Congratulations!!!
Well, it's kind of late - but
Happy 25th wedding anniversary


You guys did a much nicer job of celebrating the 25th than us. Todd was sick the evening of ours, so I went to our TDI club's monthly meeting. Wow...
Congratulations! The 25th is a BIG DEAL!! Sounds like you had a nice celebration! Cheers to 25+++ more!
CONGRATULATIONS!!!
25 years is NOT a small milestone, its huge.
Thanks everyone for the well wishes.

I am very lucky that Tim is so good to me. He definitely is the better half.
Congratulations and best wishes for another 25 years of happiness. Sounds like you had a wonderful celebration.
Congratulations, Judi & Tim!! That really is a big deal!!
Congratulations!
Judi, did you get married when you were 12? You sure don't look old enough to be married 25 years
. Congratulations!
Didn't find exactly what you're looking for? Search again here:
Custom Search