This is my husband's favorite, as far as Asian dishes. Tastes just like the Chinese restaurant we love. He is a light eater and always goes overboard when I do this one. I prefer my orange and schezuan chicken over sweet and sour, but this is still really good.

The chicken coating is the bestest (comes on so thick and crispy every time) and so the chicken alone is sooooo good and moist inside that the kids gobble them up plain w/ketchup.




MAKE the chicken ahead to save time!!

...although the whole thing is very quick to me. Essentially you just mix two sauces and cook the chicken!

My pictures are getting worse not to mention I only had YELLOW color dye. I told my husband it was that or blue chicken to eat.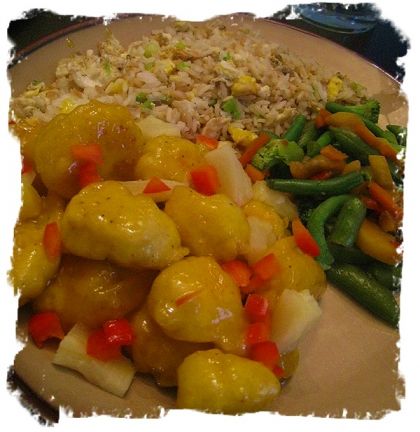 This can easily be doubled and have no problems and you'll need to if you add any more chicken due to the sauce.


* 8 oz can pineapple tidbits (save the juice)
* 1 green or red bell pepper, chopped up
* 1/4C cornstarch
* 1 3/4C water
* 3/4C sugar
* 1/2C distilled white vinegar
* 2 drops orange food color
* 4 chicken breasts, cut into 1" cubes
* 2 1/4C flour (with 1/2t salt and 1.5t baking powder mixed in - a must)
* 1T oil
* heaping T cornstarch
* 1/2t salt
* 1/4t pepper
* 1 egg
* 1C water
* oil for frying



Have your rice already prepared. I prefer steamed, but my husband loves fried rice, so I make the quick version for him and the next day just add cheese to the top and the kids eat it up (popular asian dish for kids anyway).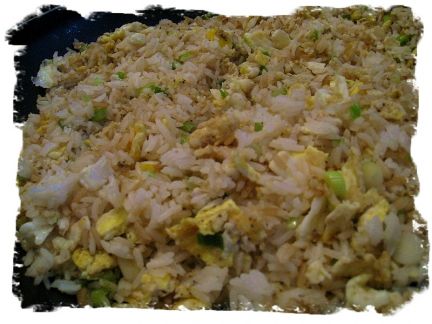 For Chicken:

Combine flour (adding the 1/2t salt and 1.5t baking powder), T of oil, 1T cornstarch, salt, pepper, and egg. Slowly add in your 1C of water until you thoroughly mixed the batter, but should be ridiculously thick like pancake mix. Dump your cubed chicken in.

Preheat your wok or whatever you use to fry with your oil to 360. Fry chicken about 10-12 min (flipping once). I just take my fingers into the batter bowl and dump the chicken pieces in one at a time. Please do this in small batches, so all the chicken doesn't stick. Drain on paper towels, continue until finished.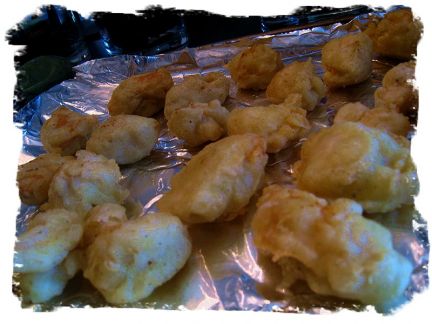 NOTES: Set chicken aside. If you are using this later in the day, all you have to do is put in oven at 350 for 15 min, and it'll be JUST as crispy later!!!


SAUCE:

In saucepan, mix your 1.5C water, sugar, vinegar, JUST the pineapple juice, & food coloring. Heat to boiling. Then turn oven off. In separate little bowl, combine 1/4C cornstarch with 1/4C water until it dissolves, then stir it in the sauce until it thickens which will happen pretty fast. I keep the sauce on very lowest setting until ready to eat.


WHEN READY TO EAT. Lay chicken that has been dipped in sauce, then sprinkle chopped green/red peppers, followed by pineapple tidbits.

NOTES: ONLY use the chicken you will eat b/c this is a great leftover, but you can't dip all the chicken in the sauce or it'll be mushy the next day.