Just wanted to wish everyone a lovely Valentine's day! I hope you and your valentine(s) have a good one! Anyone want to share their valentine plans (the g-rated ones anyways?).

I've been ill this weekend with a mystery fever- so hubby and I are staying in. He's bring home yummy Deli from Byerlys (A midwest more expesive grocery store), hopefully some chocolate raspberry tarts, and we're going to watch romantic comedies!

Karen
Respond to this topic here on forum.oes.org
Happy Valentines Yall!!

Awww Karen, that sounds like a nice and comfy night in.

I have no idea what my plans are. He won't tell me ANY of the details. Just to be ready at 6. hehehe...I'm so excited! Now I just make it through classes this afternoon...
Would these romantic comedies include a Meg Ryan flick? I love her!!!

Sorry you're feeling ill but kudos to your hubby for taking care of you!!!
Karen,

I hope you start feeling better. It sounds like a nice evening with your hubby though. I think our plans start when Ashlan and Joey get home from school, we have their gifts to give them and cards. We have a little valentine cake for after dinner and we got them a new movie, so we will all sit down with some popcorn and a movie after dinner.
The kids go to bed everynight at 8pm, so then I am not sure what is planned....LOL


Happy Valentines to all!!!!
Stormi and co.
Happy Valentines to you Karen and everyone else
Mike has good taste Byerly's is yummy.

I hope you start feeling better ASAP!!!!

Thanks all! Everyone's valentine's days sound fun! As for you Jo- oh yes! I love Meg Ryan! I was thinking probably "You've got Mail" with Meg and Tom Hanks and then "Moonstruck" with Cher!

Karen
Happy Valentine's day! No big plans for us - hard to get out with two toddlers.


My husband did surprise me this morning though. He made breakfast and he gave me a necklace with a sapphire heart and two smaller diamond hearts. He told me the sapphire heart represented his love for me and the smaller hearts represented our two sons' love for me. Ahh...he made me cry but in a good way. He can be a sweetheart when he wants to be!
Aweeeeeeeeeeeeeeeeeeeeeeeeeeeeeeeeeeeee.........

how sweet and thoughtful.

I got up this morning to go shopping for groceries and my CAR WAS GONE!!

Oh my gosh, what a scary feeling to walk out to the driveway and not see it.

My dad took it in to get some new things added as a present. He thought I'd still be asleep.

Wheww... What a scare!
What sweet stories!
I love the movie Moonstruck, not so much the You've Got Mail type of movies.
My hubby and I have no plans, he is working and won't be home until at least 10 pm. I think he forgot, which is good, because I'm not much of a holiday person. I don't make a big deal of any holiday, or birthdays. I barely remember my own. A friend of mine told me today that I should be teaching my boys to celebrate the romantic mushy stuff for their future wives sakes. LOL I hadn't thought of it that way.
My plans for tonight include doing laundry, brushing my dogs, and reading People Of The Owl before bed.
This is what I got for Valentine's from the mother-in-law (mostly as a thank you for watching her dog)!!!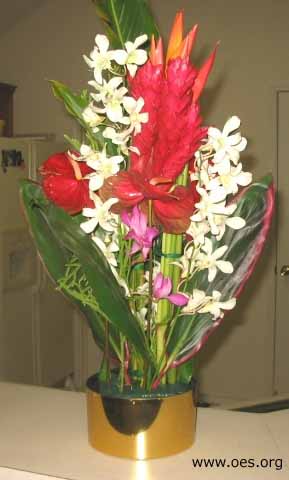 They're all the way from Hawaii.

I never took floral design in college, so excuse the jungle of a maze I made trying to put it together.
YAY!!! UPS sure is working late! I just got another package and all this time I figured he was too busy to think about me for Valentine's!!! Well I know everyone's husband/SO got them something ....probably prettier... but I really wasn't expecting something from my soldier.


Yuki had to get a smell-zie!!!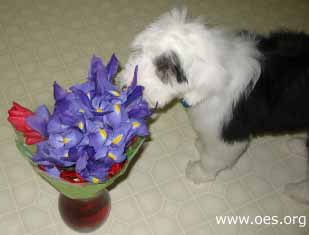 Well I got chocolate, flowers, a funny card and a romantic dinner (Saturday night.) So no complaints here.

Unfortunately Henry is sick as a dog
(pun intended). My poor little Boo has terrible diarrhea and noxious gas since yesterday afternoon. Since he is eating and drinking we haven't been to the vet yet but will go tomorrow if this doesn't clear up by the morning.
You could try immodium? It works very fast on dogs. I hope everything is ok.
Beautiful flowers, Joahaeyo!!!

We had a very nice valentine's day. Danita gave me a Family portrait!!!

Hope Henry's feeling better.
How pretty Jo! It's so nice of him to think of you, and manage to send something when he's all the way out there! I got spoiled last night- A dozen roses (from the man who's only gotten me 3 bouquets of flowers the entire time we've been together) a box of chocolates, AND a beautiful leather bound copy of Homer's "Illiad and Odyssey" with gold leaf pages! Sigh.... I love my husband, he's such a good boy!

PS I really hope Henry's feeling better soon!

Karen
Iriskmj, that is so sweet. So all of our houses smell lovely this morning. Mine mostly smells like orange clean since I've been polishing/washing the floors all morning. ha!

I forgot to tell you that I've never seen Moonstruck! I know what it is, but just have never had a chance to catch it on TBS or something.



Henry's Mom, hope your baby is feeling better this morning!!!! Update us please?
Didn't find exactly what you're looking for? Search again here:
Custom Search