C'mon, Loried, tell everyone about Jazz's big day in Marietta, OH on Saturday.
Respond to this topic here on forum.oes.org
Lol. I knew the answer before I even clicked! I'm glad I already got the insider tip since we know there won't be pictures, LOL. C'mon, Lorie!
... so I gave Rick my camera so he could photograph Lorie & Jazz: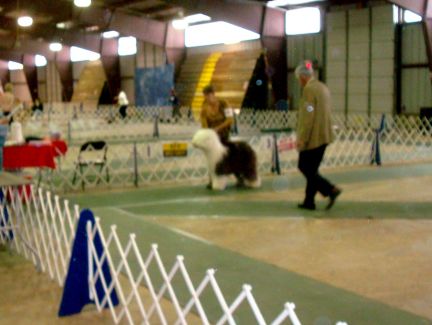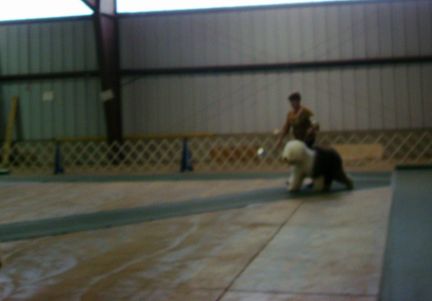 ...and even a pic of me (in red jacket) and Marilyn (ChSheepdogs)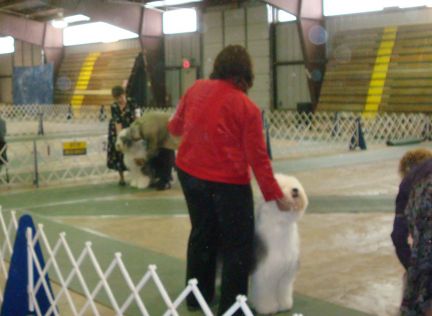 Where is loried???
Going Best of Breed is definitely worth bragging about! If I'm not mistaken, it was also a three-point major!!!
As you all KNOW Rick & I are always cameraless
Thanks to Nita we were able to get some pics
Jazzy did win a 3 pt. major on Sat. I was very proud of him and Rick too. I was very exciting, this is the start of Ricks 3rd year showing and he had never won a major with Elliott, Elliott was his practice dog not really show quality so he was so excited. I don't know if you guys who were there seen him come out of the ring but he had tears rolling down his cheeks, he was on cloud nine the rest of the weekend. It was fun going to shows we have never been to and meeting new people. We always love meeting new sheepies too
I did not do anything on Sun. with Jazz, but I did feel a little more comfortable in the ring, it was my 2nd. time showing him at a real show, the judges intimidate me
I hope that passes, It really was a great day and a good weekend.
LORI!!!!!!

That's fantastic!!

CONGRATULATIONS!!





Kristine
Oh we are doing a Happy Dance for you!!!!! Way to GO !!!

Jazz looks lovely and taking right after his Dad.
Bravo!! That is so fantastic!! WTG Rick & Jazz!!
Congratulations, Rick, Lorie and Jazz!!!
Woohoo! Congrats to all of you! I was so happy when Nita told me!
That is great news!!!!
Thanks for the camera, Nita - or we would be left high and dry....again!
If you guys come to Monroe next month, I'll make my sister take pictures-- that way we'll both be covered!
Mad Dog wrote:
LORI!!!!!!
That's fantastic!!
CONGRATULATIONS!!
Kristine



Exactly!
Congratulations!!!! More pictures would be nice
Congrats!!!


bestdogs.... hmmmm.... what's that about more pictures???
YAY PICCYS
YAY NITA for taking a camera


Congrats Lori, Rick and Jazz he is lovely WOO HOO and this time we got piccys thanks to Nitas camera.


Jazz is looking great and you two make a good duo in the ring, relax, enjoy your baby and look forward to hearing how he progresses.


Well done to you both !!
Didn't find exactly what you're looking for? Search again here:
Custom Search