HEllo:
I just joined last night. But I must admit I have been reading your site for about a year. We have a 1 1/2 year old sheepie. His name is Kirby. It is wonderful. We got him as a travel companion for me and especially my husband. He loves to travel, and hike with us. We take him everywhere. Since one of our cars is just a Toyota Camry, he fills out the entire back seat.

I just wanted to say hi. I am kind of new to this chatting thing. But I have really appreciated all the knowledge and stories regarding this breed. As I get better at this, I will send some of our picture with Kirby and our travels.
Thanks for sharing your experience with us new comers ti sheepies.
Lu Ann
Respond to this topic here on forum.oes.org
Welcome Lu Ann and Kirby!! If that is Kirby in your avatar--he is adorable!
Yes,
That was Kirby in Bryce Canyon Utah Christmas Day.
Thank you.
Lu Ann
Welcome from NY!!!

I have always wanted to visist SOuth Dakota - good to knwo there are sheepdogs
welcome from Sydney, Australia.....Kirby is gorgeous! can't wait to see more pics.
Hi and welcome from neighboring Minnesota

Where in SD are you?
Welcome to our little corner of the web!

I'm looking forward to reading your stories about Kirby and his hiking adventures!
Welcome, from Melbourne, Aus.
I know what you mean about filling up the whole back of the car. I sat in the back with Tiggy for a 1 1/2 trip to my parents in law for Christmas. It was cosy.
Hi from Adelaide, good to hear from you.
Welcome from sunny Florida!
Another welcome from NY!!!!
He is a cutie.
looking forward to pics and stories.
Welcome Greg, LuAnn and Kirby.....Brenda&Chloe from WV!
Welcome from Minnesota! Kirby is a cutie!
Welcome from PA! Kirby is adorable!!
Welcome
What a cute face he has!
Thank you everyone for making us feel so welcome.
WE posted a picture of Kirby hiking in the Badlands of South Dakota. Sometimes we has to wear hiking boots due to the cacti and sharp burrs on the ground.

To all from Minnesota, we living on the South Dakota/Minnesota border. Flandreau, SD. (between Sioux Falls, and Brookings) originally we are from Faribault MN>

Thanks again for making us feel welcome.

We will post more hiking pictures.
Lu Ann
Faribault - not far
......I am between Janesville and Mankato.

Have you ever tried backpacking with Kirby? It's lots of fun.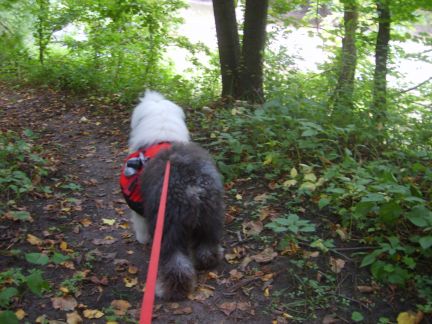 Hello and welcome.
Didn't find exactly what you're looking for? Search again here:
Custom Search