This is cross posted from another list...maybe someone is looking for a new furbaby.



Quote:

This group has rescued several OES and are in north, central Missouri. The have 2 young (6 mo.) females WITH tails but the adults are docked and in need of homes. If anyone knows of good homes please refer them to this site. They were on Petfinder but just got them in and are starting to vet, shave, etc.

Please scroll to the bottom.

Sally





http://adoptablepets.homestead.com/waiting6.html
Respond to this topic here on forum.oes.org
Those are some of the most heartbreaking pictures I've seen - it almost looks like they are hanging onto one another in fear. Thank god they were rescued to take them out of the cold and to free them of those mats. I hope they all find good homes with loving families.
I am right near here and teriffied to go up there or I will bring them home and I can't have more dogs right now. I am at my limit. I can help anyone interested though Just give me a yell if you need help getting or with transportation.
Please check under the rescuing a sheepdog threads. These people need help getting these dogs into an OES rescue.
what is the deal with these dogs. Do we know anything about the rescue that has them? Are they willing to release the sheepies to OES Rescue, and does OES rescue have the ability to even take them? Are there enough foster families to take so many dogs???

does anyone have any more info on this case? SO SAD?!?!?!?!?!
I am guessing and wondering if they are from the same line as Abbey. There was a "breeder" selling OES at auction, that's how I got Abbey. Now only 45 minutes from my house more are rescued? I contacted them and told them I would foster a female and work with her if they could not get her into a rescue right away. Sounds like there are some interested people. My concern is this group has no 501C status and hope they have the resources. Up here we have such limited resources to care for anything.
WoW! I didn't realize it's been sooo long since I've posted.
Anyway ... Thanks to the folks who alerted me to the threads regarding the MO 6-Pack. Please feel free to "pass it on".


Just a quick note to let everyone know that this group of dogs will be going to rescue with Midwest OES Rescue of MO/KS. (Carol Lake - Placement Director)

Through team work of OES rescues, I have been working with "A Pet Rescue" (the group that has these dogs) regarding this pack. Thus far they have been a very nice rescue group to work with. We've also been working on getting foster homes as well as working to find sponsors for the dogs.
Thus far we have 4 of the 6 dogs sponsored!!


Carol is taking over the reins from here in regard to working with "A Pet Rescue" who has the 6-Pack, transport, etc. Carol does *great* work in MO/KS!

So please know that although the dogs are still listed on PetFinder, they are safe where they are for now and WILL be transferred to OES Rescue within the next week or so.


We are looking for folks who can help by fostering or transporting in the MO/KS area. Can you help?! --- Please contact Carol directly at: carol.lake649@gmail.com


Anyone wishing to learn more about sponsoring one of the MO 6-Pack Sheepdogs, please contact me at: nancyhakala@aol.com

We'd love for you to work as part of our team too!

Thanks, all!
Nancy
UPDATE!!!

To refresh everyone's memory, the Old English Sheepdogs we are taking in from a Missouri puppymill via

A Pet Rescue

are pictured here: http://adoptablepets.homestead.com/waiting6.html Scroll down to the bottom of the page. Thanks to

A Pet Rescue

for taking charge and helping to get them into OES rescue.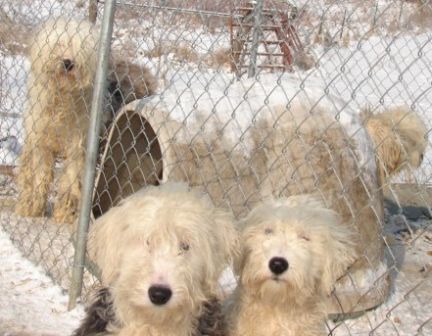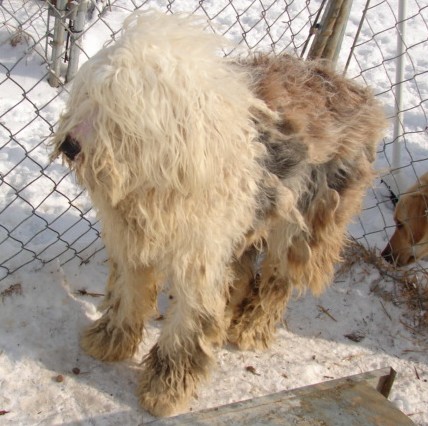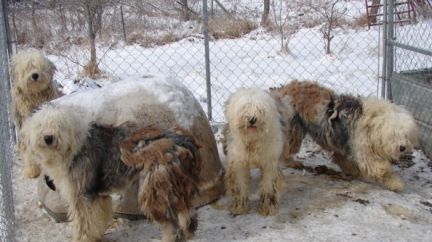 Six of these Old English Sheepdogs will be going in for spaying and neutering this week. The vet bill for altering and heartworm testing alone will be in excess of $1,150. The dogs will still need to be groomed and we don't know what other medical issues they may have.

If anyone would like to make a donation of any size, you may do so via PayPal at www.midwestoesrescue.org or send directly to the Rescue.

Starting this weekend (March 14th) the dogs will be needing transportation from Missouri to Minnesota and Indiana to foster or forever homes. If anyone else can foster or assist with a leg of the transport, please contact us immediately:

Carol (MO) carol.lake649@gmail.com,
Nita (IN) indyoes@mac.com
Nancy (MN) nancyhakala@aol.com

We thank you in advance for your generosity,

Nita
Midwest OES Rescue
Nita;

is there a difference between the .org site and the .com site? The paypal addresses on each are very different, which has me concerned.

~allison
The .org address goes directly to the Missouri site and .com goes to the Minnesota rescue site. We've recently "merged" into one so it really doesn't matter.

Since the dogs are in Missouri, please use http://www.midwestoesrescue.org/


Thanks so much for the kindness you've shown these dogs
Maggie McGee IV wrote:
Since the dogs are in Missouri, please use
http://www.midwestoesrescue.org/
I already donated to the other one. The email address attached to the .org looked strange, while the one at the other was something like "Sheepierescue@aol.com" so I went with that one. Can they forward the funds to where they need to be?
Thanks so much, Allison!


Nancy in MN has your donation and everything goes into one bank account. It's just fine where you sent it.

Many thanks,


Midwest OES Rescue
I wonder if my Duncan was one of these?

He was a stud at a puppy mill in Missouri and went into the OES rescue up there. At the time, someone named him "Fred." The mats were scissored off of him. Then, he was adopted but returned. They had named him Duncan.

Somehow Texas OES Rescue got involved, and Duncan was transported to Texas. Once he got to Texas, Steve, his foster father, took Duncan to the groomer and shaved him down. He was also taken to the vet, given a clean bill of health and was neutered. The vet visit was done on March 18th. Steve also taught him his name and generally loved on him until my husband and I were able to adopt him on April 10th.

Could Duncan be one of these dogs?
Shea130 wrote:

... Could Duncan be one of these dogs?



I've PM'd you with info to find out if Duncan was one of the "Missouri 9".

Unfortunately, Rescues see dogs all the time that look like the ones in the photos above. Usually there are one or two at a time rather than six or nine but they are heartbreaking just the same. Puppymillers aren't the only ones that keep their dogs in deplorable conditions. There have been several dogs rescued whose photos appeared here on the forum that were in this condition, some even worse.
When such dogs come into rescue six or nine at a time, it's a real kick in the gut financially and we're always short of qualified volunteers or adoptive homes. What about the ones we don't know about???
Who will help them?


Regardless of where Duncan has come from, he's left that life behind and will live a happy life with you. Thanks to you and everyone who has helped in various ways, through fostering, adopting, grooming, donations and moral support. You are making a difference.

Nita
Midwest OES Rescue - Indiana

Im a disabled woman that was promised an oes puppy. She was going to donate one i could get certified to assist me. Life changes and she needed the money so she sold the litter and now has relocated to Florida. So I'm now looking again
Didn't find exactly what you're looking for? Search again here:
Custom Search