WANTED - a new home where the food is decent.

My family dont feed me enough and the tucker is boring

I have resorted to finding sustenance where and when I can.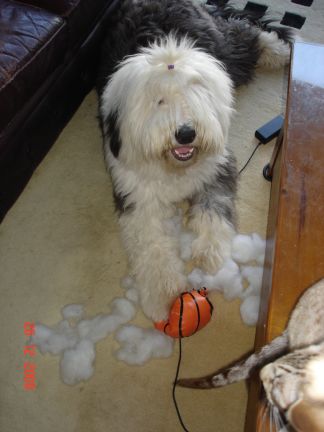 Well I was hungry, my new ball didnt taste too good though.
Note the siamese cat running away, he came to see if the ball was tasty.

So after the uprights had left the room I noticed the aquarium drawer open just a little bit. What's in there? Smells Ok.
Used my paw and my nose.
Mmmmmm fish food.

Took two tubs back to my blanket and chewed the lids off.

Yum Yum, nice fishy flakes and freeze dried shrimp a bit on the smallish side but very tasty. Hey they smell good all sprinkled through my blanket too.

Sigh dont know why my Mom is going on and on about it. I can lick up most of the flakes and shrimp for snacks over the next few days. And the fishy smell on the floor, in my bed and on my legs and beard is lovely.

Hey, what about "au de fish flake", that could be a great new perfume.

So if you have a nice home, close to a park, comfy bed, no bath or brushes, with a cat to chase and very importantly lots and lots of tasty food I'm your girl. I'm very good at cat chasing, lying about under your feet, barking, running and being cute. Oh and I'm best at finding things to chew.

PS fish food on the menu at the new home is good, skills/experience in the perfume industry a bonus
Respond to this topic here on forum.oes.org
lol! Your sheepie is so adorable and even helps himself, not bad. lol
AWWWWWW nice story!!

Think he might have a home in many OES places.
Just kidding. He is so cute.............
Jack here! Fish flakes sound so much better than what I found yesterday. A tub of raspberry flavor beeswax lip balm. My breath gave me away.......and the pink tinge to my tongue and the chewed up plastic container. Mom's purse can have some interesting things from time to time. She said no more sugar free gum though. The sugar subsitute can kill me. She's a good mom, now if only she'll get some fish flakes just for me since we don't have any fish.
Very adorable
Mim...that is sooo funny!!!!!..and sheepieboss...I can see raspberry lip balm being ohhhh soooo yummy!!!!

Thanks you two for a good end of the day laugh!!!!!
Dearest Tiggy

Don't think about moving just yet. Just think about how attractive the fragrance of "Eau de La Fish Flake" is to the cat in the house....
How the kitty kitty will be trying to get close to you for the next few days...oh life is going to be so good and interesting to you


Enjoy!

Clayden (who lives with three cats)
Dearest Clayden,

you have a very good point, thanks for the advice. Unfortunately my Mom bathed my face and legs. Now you see why I need a new home, they just keep spoiling the fun here.

Tiggy (only one cat
)

PS Maybe the new home could have flavored lip balm
Mim here,
I have jinxed myself. Despite the optometrist explaining to my hubby that you just cant leave glasses in reach of dogs because they love the smell and find them irresistable, it has happened AGAIN.

Hubby says he was only gone for a few minutes.

But when he came back having left said glasses on the coffee table...... you guessed it. CHOMPED!

Talk about finding sustenance where and when she can.
I have threatened to buy hubby a neck chain for his glasses but he says they're for women not men. Vanity pah!

Luckily I insisted on a spare pair last time he replaced the Tiggy chomped pair as he is overseas for work again this weekend and he would not have had time to replace them.

In a fit of huffs he called Tiggy an f---ing, idiot dog hah, hah, hah boy did I laugh. "who is the idiot" even he laughed when I asked him that question.
Haha, looks like she had plenty of fun
I had to giggle at 'tucker'
has Tiggy been watching too much Bush Tucker Man ??? Henry says he watched it and he can survive on the under lining of the lounges and a little water to wash it down......better than the dog beer he got for christmas!
Tiggy tiggy tiggy Tut Tut Tut


Syd needs to play with you, he also wants to know what is the count on the stuffies at your place? He says we are running out here due to him


Fish flakes Syd says he is game for anything that may be munchable
Tiggy is girl after his own heart, if mom is not quick enough to feed then let's explore what might be digestable
Buggar the fish
That is so funny!
Didn't find exactly what you're looking for? Search again here:
Custom Search