Im not sure WHERE to put this exactly, but I know the committee is VERY excited about this year's National Specialty to be held in Dixon California. The very well esteemed artist (and Beardie & OES) Breeder and all around judge has done an absolutely devine painting Logo wihch is going to be offered in many different options of a print! I was the first to put my hand up on this as it is stunning...............

I believe this will be their main fundraiser but dont quote me on this!!

2009 OESCA National Specialty Logo
Ali, Please Cross Post.
Thanks!

I'm going to TRY to insert the picture but i may need some prompting Ray!

Ali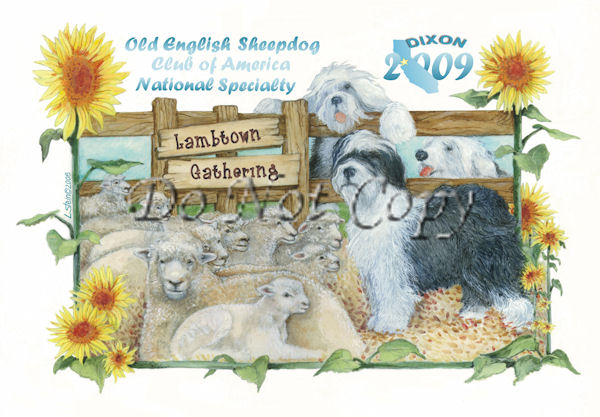 Respond to this topic here on forum.oes.org
Wow! That is great! Love it!
very nice
what a cute pic, love the fellow looking over the fence and best of luck on your fundraiser
That is really nice.
When & where will it be available for purchase? Who is helping with fund raising?
Thank you Ray! (or whomever!)
This is going to be made into a limited number of prints....... we know for sure. Still not ready on the pricing......... but we are toying with a number of items.

I am probably going to be doing fundraising for the national.......... as we know more i will let you know here...... if that is okay with Ray?!

Thanks!
Who's Ray?
Jill i don't "do" mornings LOL......... it's too cold.......
TY whoever put the picture on there for me!
I put up some basic National info up on the OESCA site. http://www.oldenglishsheepdogclubofamerica.org/

There is basically only committee, location & tentative schedule info up there now - will keep updating as I receive it from the chairperson. I will hopefully have the hotel info up there tonight too.

Congrats Ali on your fundraising committee position!!
well i havent decided definately on that yet.......... some things to get thru here first b4 i definately decide!

But Thanks!!
I think she means Ron.


Looks like things are coming together pretty good so far. I'm sure you'll make a great fund raising chair, Ali.
Didn't find exactly what you're looking for? Search again here:
Custom Search