Well another milestone - 6000 post, and a member since the summer of 2003 - although I had checked out the forum previous to joining.

Many of you have been with me when Shaggy was ill and eventually passed. Then Ole Blue, my beloved aged Blue/Heeler Lab of 19 years who passed in Aug. When I got new pup Merlin, the numerous fosters, The rescue of Panda from Hong Kong, and my newest adventures with Snoop Dog the Pit/Mastiff cross puppy. You've heard of new jobs, vacations, (rare) and adventures of baby bunnies, broken jaw, broken legged and broken legged kitties who I fostered for from the SPCA hospital. The story of one eyed Mickey the feral cat I adopted from my hero Feral Night Cat Trapper in Oregon. Thank you all for being such a wonderful group!!

I've learned a lot and continue to do so from this forum and all the wonderful people that contribute. Love you all!

Marianne, Merlin, Panda, Snoop,(The canines) Mama Kat, Daisy, Paris, Roger, Dusty, Lil Girl, Sable, Mickey, (the felines) Moppet, Aspen,Big Mama, Innie, Minnie, Moe, Meanie Boy, Seqouia, Lark, Humpty, Dumpty, Savannah, Gracie, George, Puff (the bunnies) , Snow and Squeak the Piggies and Spunky the b/w mouse.

For once I was going to list them all! whew! All the critters are neutered/spayed/(including bunnies) and the cats and dogs are microchipped and up to date on rabies and see the vet regularly. I've become a much better companion to them all as a result of the contributions on the forum.

Thanks for making this a happy place to visit! Lots of kisses from the critters!
Respond to this topic here on forum.oes.org
Let's not forget the saga of Marianne the Furniture Mover!
WOW!!!! Marianne...you are amazing!!!!!!


I hope to still be here for your

10,000

post!!!!!!!
And now Marianne the Estate owner!
I'm just trying to make 1000.
Go girl
Woohoo!
Hard to believe we've been here so long! Yay!!!!!!
WAY TO GO !!!!!!
OOps I knew I checked the list, not once but twice, including those that were naughty and those nice...and I still forgot one!

I forgot to mention Petunia, the little feral Manx kitten with protruding anus. One of these days the surgery will work!

For those not familiar with Ron's story..(LOL thanks for the memory Ron!)
Son worked in kitchen store, is asked by customer to deliver heavy heavy shelving/armoire type unit. She offers him 100 dollars to deliver it as store didn't deliver items. He called me- his skinny 100 pound mom with a van and together we delivered the unit. My job as furniture mover/delivery person ended that day.

Thanks for all the comments everyone!

Marianne and Petunia
Way to go Marianne
Don't forget the ton of bricks or the gymnasium pads!
sigh ah yes the "ton" of bricks I loaded single handedly from the good samaritan who donated them from my Craigs List ad . Took a gazillion trips and lots of muscle but I did it!!! Later I was given 300 bags of sand that had been used for a potential flood along the river. Each bag weighed aprox 25-45 pounds (depending on who filled it) and I loaded those too in my van and unloaded at home after many trips. Lastly, the donated wood from people in the community - allowed me to build my outdoor cat room. So now I'm moving...and have to start all over again...(more sighs)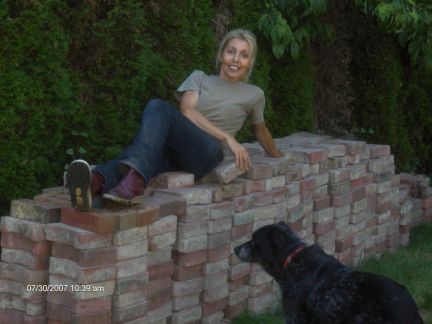 Ah yes you were all there for the numerous projects I had going on at the time, from ripping out toilets, installing new flooring, fixing my porch, ect...One day I'm going to sip ice tea and take it easy but after I start all over at the new place...Ha!
oh la la Marianne...your muscle's are showing.

You still make me tired!!!
AND the sage aof the mysterious beau that is now with you!!!!
We are all looking forward to hearing more about the mysterious man


Anyways, your posts have inspired me, given me strength and kept me positive so I wanna thank you for that!! You really are a wonderful woman!

Congrats on the milestone!
You look so sexy on top of all those bricks!!! I swear you put a twist to "Wonder Woman!"
Didn't find exactly what you're looking for? Search again here:
Custom Search